Helen Stubbings of Hugs 'n Kisses
Hailing from the picturesque landscapes of Hobart, Tasmania (Australia) meet Helen Stubbings—a pioneering force in the quilting universe, celebrated for her ingenious techniques that seamlessly blend innovation with approachability. Helen's journey is a captivating exploration of artistic passion meeting practical brilliance.
As the creative genius behind "Hugs 'n Kisses" since 2001 Helen has redefined the art of quilting through her ground-breaking appliqué paper and English Paper Piecing (EPP) iron-on products. These revolutionary methods have transformed traditional quilting into a realm of modern convenience and limitless imagination.
With a warm and inclusive teaching approach, Helen has empowered a global community of crafters to embrace her game-changing tools. Her workshops, books and patterns serve as guiding lights, illuminating the path for enthusiasts to effortlessly create intricate designs using the precision of appliqué paper or the ease of EPP iron-on shapes.
Helen's main passion is the 'therapy of stitching' and she strives to both provide methods and tools to achieve this, whilst championing the vision of 'making a difference' through our craft.
With over 500 patterns, 7 books, and several notions developed to make the process enjoyable and achievable by all, Helen has travelled the world teaching, sharing and educating for many years. Her quilts have won many awards across Australia and the USA and her methods and notions are used by quilters in all corners of the world. Her skills have also extended to fabric design, thread collections and surface pattern design.
Years of tutorials and how to's are provided by Helen to assist you with their HNK products and EasyHNK techniques at the links below. Find on our YouTube channel, on our website and at the online academy.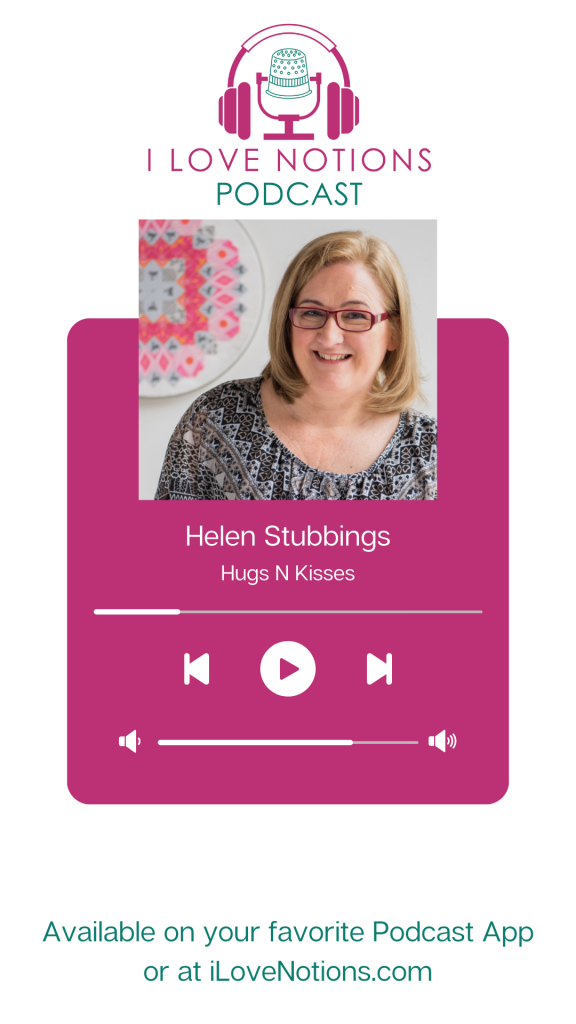 Show Notes:
Find her on Youtube Here
Find her Shop and Website Here
Find her Applique Paper Here (for USA)
and Here (for Australia)
Freebies and More
Listen to the Episode:
Click here or use the widget below to listen on Apple Podcasts:
Click here or use the widget below to listen on Spotify:
Show Transcript:
Carolina Moore:
I love notions, and I'm guessing that you do too. Hey, there, friend. It's Carolina Moore, your favorite sewing and quilting YouTuber, and now podcaster here with another episode.
So today on the podcast we have Helen Stubbings. Helen is actually joining us from the future. She is in Australia, and I'm all the way in San Diego. So you are already well into tomorrow and I'm so glad that you are here joining me from the future. Helen, welcome to the podcast.
Helen Stubbings:
Thank you very much. Thanks for having me.
Carolina Moore:
So I want to get started by hearing about your quilty journey. What got you into quilting, your origin story with quilting?
Helen Stubbings:
Sure. I grew up in the country on what we call a farm, you might call it a ranch there. So most of our days were spent trying to entertain ourselves. We went to town once a week and that was about it. So I grew up very hands-on, if you needed something, you had to make it work with what you had. I grew up with a grandmother who was a seamstress and crochet and knitter and all that sort of thing. But after school life, I actually joined the military as a full-time musician in the army.
Carolina Moore:
Wait, you joined the military as a musician?
Helen Stubbings:
Yes.
Carolina Moore:
What instrument did you play?
Helen Stubbings:
I was a trumpet player.
Carolina Moore:
Okay.
Helen Stubbings:
So something totally different. So we were soldier musicians in the army and lived all around Australia, got posted all around Australia and traveled quite a bit overseas. So totally different job, but there was a lot of time on a bus, on a bus or on a plane, like traveling to jobs, or just sitting around waiting. So I started just doing any sort of little course I could, more embroidery, all sorts of things, not really quilting at all.
One posting, I had my first child and had two years off and went and took myself to maybe what you call college. It's like an adult education, and did a certificate course there in needle craft skills. And the final elective of that you had to vote on. So the class voted and the majority won. So I voted for Elizabeth and black work, but the majority was patchwork. So that there began my patchwork journey. I wouldn't have chosen that because my sister was a quilter and I figured one in the family was enough. She could make quilts for everyone. I wouldn't need to, but it's ended up being lovely because we collaborate on an awful lot of things and have done so for a long time.
Carolina Moore:
I just wanted to say I love that Australians, and I think New Zealanders as well, use the term patchwork, because in the US it's all quilting, whether you're doing the quilting of the quilt to quilt the layers together, or whether you're putting the pieces together. And I love that y'all differentiate between patchwork, which is sewing all the pieces together, and then quilting. Because you can absolutely be a quilter that just does the patchwork and then sends the quilting off to a long armor. And I think that there's confusion here in the US with, "So you're a quilter, but you send it to a long armorer?" "Yes, absolutely. I do patchwork."
Helen Stubbings:
Yeah, and patchwork, I think maybe it has connotations of being a bit simpler or a bit old-fashioned, because I guess even here now we probably a lot more just refer to it as quilting. But yeah, in those days patchwork was the piecing of the top. And then quilting is the stitching, the three layers together. So my sister, although she can piece and applique and make the tops a lot her full-time business is the quilting of quilts, and she does an amazing job, she's won lots of awards and things. So I'm lucky to have her because quilting is not my favorite part of making a quilt. I can do it, but I'd happily pass that off and start hand piecing the next quilt.
So yeah, so another posting. I actually married an army musician, so we kept posting. And we had children, and the next one came along and I thought it was time to get back to work. So because we were only posted for a short time, I ended up starting a business. So that's how Hugs and Kisses, my design business started in 2001, and we've just kept going from there.
Carolina Moore:
So, what drew you to start a business in quilting?
Helen Stubbings:
I sort of started doing a little bit of teaching when I had small children in some of our postings, and other young moms would just come to my house with all the kids and I'd start teaching. After I did the actual course, I finished that and then went into teaching. And then from teaching other people's patterns, you were always running into copyright issues and couldn't get the pattern and that. So then I decided to start designing my own patterns so that I could teach them, and then it sort of just went on from there. So I started to, as I was designing patterns, I was developing techniques to make things easier for people and for me, I sort of pedal to the metal, flat to the floor in everything in life. And so I like things done and finished and move on to the next one.
So I identified all the pain points and try and come up with methods and techniques and then products to eliminate all those and make the process the most enjoyable it can be and still get great results. So for all levels and all sort of all genres, so hand and machine and cater to everyone. So the business started, we had several more postings where I could move it with me. Then eventually we set to where we are now. So I now have a shopfront and I won't be moving anytime soon.
Carolina Moore:
And where is it exactly that you are now?
Helen Stubbings:
So I'm in Hobart, which is the capital city of Tasmania, which is the little island that's dropped off the bottom of Australia. So it's almost as far south as you can get. We're just almost level with the bottom of New Zealand. So where the gateway to the Antarctic, all the Antarctic ships go from here.
Carolina Moore:
Oh, wow. I always think of Australia as very tropical, but I imagine it's not as tropical then where you are.
Helen Stubbings:
No. So I also had one posting in Townsville, which is almost the very top, and that was very tropical. So from the top to about a third way down is tropical, and then we get quite arid and hot in the middle, and then quite cool down the bottom. It'd be like going from north to south of America.
Carolina Moore:
Sure.
So you now own a quilt shop, but you also mentioned that you started making products, and I mean, the podcast is I love notions, so of course we have to talk about the notions that you designed.
Helen Stubbings:
Sure. So my biggest two that I market and use the most, because it's a method that I just use, although a lot of other designers and teachers are taking it on board now because it's so much easier, is a product called Applique paper. And then from that we cut English paper piecing templates out of the same paper and we call those EPP iron ons. So I actually found my turning point for coming up with this idea was actually it was an American teacher who was out here and I did a class with her. Nothing like my technique, nothing like my product, but I just had a light bulb moment when she, and it was, she said she used monopoly, monofilament thread in the bottom of her machine. And I don't know why, but something just clicked with me and I just realized I could do something, I could do this, what I'd always been wanting to do.
It really has nothing to do with the paper, but it just sort of gave me the idea of the direction to go. So I was using a product from another company for a few years, worked with them out of America, but it was designed for something different to how I was using it. And then that relationship couldn't continue, it just wasn't working, exporting it to me. So we then spent another three years researching, trying to develop the product, find someone that could make it, and well, we've probably had it for at least 10 years now. Still have issues with every shipment, it's never easy manufacturing, but we're really happy with the product when it gets here. So I can tell you how it's meant to be used and what it's used for.
Carolina Moore:
Yes, please. You have me totally intrigued because it's paper, but for applique.
Helen Stubbings:
It's paper, we call it paper, but it's almost a fabric. So it's a sheet, like a paper that can go through a printer, it can go through a cutting machine, everything like that. But it's not as crinkly as a paper. So it's sort of made in the same way as a paper. We approached several Australian paper mills to see if they could make it for us, but they couldn't because it's quite specific. So it is made up of about 50% soluble fibers and 50% non-soluble. So the idea is, it starts like a paper, so it's got stiffeners in it, and then once you've used it in the project, once you wash it, then half of it just melts away, or the stiffeners and it just stays in there like a fabric, like an interfacing, like a really soft fiber interfacing in there.
It's feasible on one side. So the concept is it's to give you a turned edge, or a needle turn applique look, so a turned edge look, without having to turn the needle. So we start with a template and whatever shape your applique piece is, fuse it to the wrong side of the fabric and then glue the seam allowances over. So just with a fabric glue pin, which is quite quick. And then all your applique pieces are pre-prepared and they're all perfect. Then you can glue them all up onto the background of your quilt, or your block. You can do all the layers at once, and then you can stitch them down by hand or machine. So it's a bit similar to the freezer paper method that some people use, but with that you have to pull the paper out. Once you've nearly stitched your piece down, you have to pull the paper out. And you can only do one layer at a time, because you do one layer, cut the back out, take the paper out, and then do the next layer.
So that's the basic premise of it. You're going to have perfect curves, perfect points. It's all prepped, all glued up, and then you just sit there and quickly stitch it down without that turning of the needle. With traditional needle turn, you have to focus on that needle and turn every little stitch. This is so much quicker and it's so much more achievable for most people. So once people try it, they would never go back to traditional, and it's still got that beautiful turned edge look to it.
Carolina Moore:
So is it a little bit transparent, or is it really opaque?
Helen Stubbings:
No, it's quite a little bit transparent so you can trace through. So you can either put it through your printer if you've got an applique
pattern from someone's, or even a coloring inkbook, whatever you want, you can just sit it on top and see through to trace through it. Yeah.
Carolina Moore:
We're tracing our design or printing it on our inkjet or laser printer, does it go through inkjet and laser, or is it really inkjet?
Helen Stubbings:
Only inkjet, because it's got glue on it. So if you put it through your laser, it'll heat and it will gum up your laser. So yeah, inkjet the cheapest $30 ones from wherever you would go, Sam's or whatever, the gravity fed ones are the best ones for it. Or as it said, you can just trace through it.
Carolina Moore:
And then you cut out the shape. So you could also run this through a die cut machine, like an AccuQuilt, and you'd omit the tracing, you'd automatically just dye cut the shape of the paper.
Helen Stubbings:
Exactly.
Carolina Moore:
And then you fuse it to the back of your fabric and then you can trim your fabric with your quarter inch ish seam allowance around the edge, use your glue and clip any curves that you need to glue that around to the back. And now you have a piece that's ready to go. There's no raw edges. All the raw edges are already tucked under.
Helen Stubbings:
Exactly. So then stitching by hand, I just use a little applique needle and a fine blending thread, a wonderful thread or something. And it's quite quick to do your blind applique stitch or by machine. You can do it by machine because you don't have to pull the paper out so you can stitch through all the layers. And I use a mono filament thread in the top and in the bottom, and a little blind stem stitch, and you cannot see that stitch. So it gives you perfect results. And I do have YouTube videos on every step of the process, so if it's not clear in your head, just sort of watch those and it'll become really obvious.
Carolina Moore:
Yeah, we'll definitely link to the YouTube videos in the show notes so people can go find those and really see the process. But I think you explained it really well. I've got it in my head of how this would work, and I see how much easier that would be than traditional needle turn. But then the question I always have about soluble things is, when do you wash it?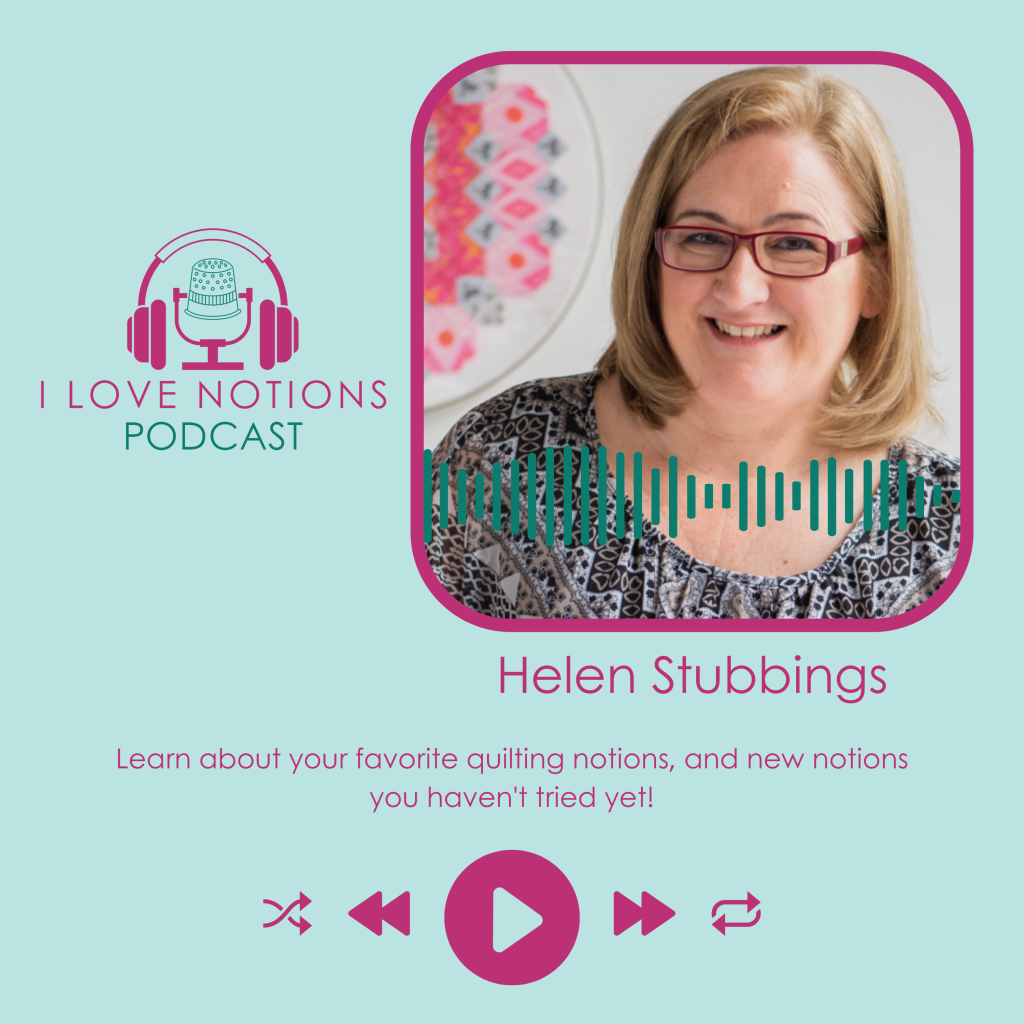 Helen Stubbings:
So, I don't wash it until the complete quilt is quilted bound and finished, because it keeps everything beautiful and stable. So like a long-arm quilter loves it because the quilt stays beautiful and stable, you can domestic machine quilt it through it, no worries. The glue is not like a tacky glue, it's just a light fusible. So once it's fused on with your iron, you can just stitch through it. The product is like a machine embroidery stabilizer product, so there's no gumming up of the needles or anything like that at all. You can stitch through it by hand. And the idea is we've actually, we've got a new and improved version now, the older version would actually soften over time quite quickly just by handling it with your hands and just the moisture in the air. You want it stiff as possible while you're turning those edges over so you don't roll the edge of the paper and change the shape.
But as soon as that's finished, it will just sort of soften just with use. But once you wash it just goes perfectly soft, get that little antiquey look. Even if your fabrics and your batting shrink that tiny bit, it will just sort of pull your seams under and any stitches that you could see will sort of sink into the fabric so you'll get a perfect result. And so much it's quicker, and it's more accurate, and takes away all those pain points. So I just wouldn't go back to doing it any other way now. I couldn't. We are fortunate too that we'd also have a large laser machine. So obviously I can personally laser cut all my designs as I'm working on them, but we're starting to include laser cut paper templates in some of our patterns as well. If not, we just include a sheet of applique paper, feed a trace and cut. But if it's a big project, we'll actually laser cut them for you so there's no tracing, no cutting, nothing. It'll all be perfectly accurate.
Carolina Moore:
I love that, because you can just get to your favorite part of making the project, which is the sewing.
Helen Stubbings:
Exactly. The sitting and the stitching, the therapy of the stitching. Yeah.
And then from that, I was teaching the technique in Norway one year several years ago, and one of the students said, "Oh, you've got to cut hexagons out of this. You just have to cut hexagons out of it because it would work so well." It would save me having to pull those horrible hexagon papers out. So that took a few more years of R&D to get a viable way of die cutting, or laser cutting, every English paper piecing shape that people wanted out of the product.
Carolina Moore:
They want all the shapes. All of us, we want all the shapes. If you don't make it, we still want it again, more of them.
Helen Stubbings:
Exactly. So I think we have about 30 that are die cut and packaged, and then we can laser cut other ones as well. And obviously I design a lot of my own EPP shapes for projects and that as well. So yeah, it works perfectly for English paper piecing because you don't have to take those papers out. So if you've got sort of loose rings of hexagons or Dresden plate rings and things like that, normally you have to take the papers out before you sew them onto your background, and the edges fray, and they go all over the place, and they don't say like a perfect circle. Well, it all just stays in there.
You can even, I've stitched, recently just done a whole EPP quilt, and I machine pieced the whole thing, so I fused them on, glued my ages over by hand, and then I machine pieced all the EPP shapes together. EPP is more of a hand therapeutic sort of method, but if you've got a deadline, if the wedding's next weekend and you haven't finished the queen as quilt, then you can put it together by machine. And again, I just used it filament thread and do it that way.
Carolina Moore:
You did not make a queen size EPP quilt? No. Really?
Helen Stubbings:
Yeah. Maybe not queen size, for you it's probably, what is the size of it? It's about 60 by 70, I think.
Carolina Moore:
Oh, my goodness. That's incredible.
Helen Stubbings:
And I just said all by machine, so it took me a couple of nights to iron it all down, cut the shapes out, and then a couple of nights to glue the edges over. And it probably took me… I possibly could have done it in a day by machine. I actually did handpiece half of it because I was doing that just quietly myself enjoying it. And then I realized my deadline was getting close, so I put the whole lot together. I handpiece some of the rings and then I just put the whole lot together in a day by machine. And you wouldn't know if it's been washed and it's lovely and soft in it, and you just couldn't tell. So it is possible because the papers don't have to come out, so it doesn't matter if you sow through them.
Carolina Moore:
That's fantastic, and incredible, and I love that. I love getting the credit for doing really intense work, because most people who were gifting quilts to anyway have maybe a base level of understanding of quilting. And so when they see all those tiny pieces, they say, "Oh, my goodness, did you sow all those tiny pieces?" And then you just say, "Yes. Yes, I did."
Helen Stubbings:
Take the glory.
Carolina Moore:
Yeah.
Helen Stubbings:
So I just think it takes away so many of the pain points. I guess the only negative of the EPP iron ons for people is that they're not reusable, so they're single use only. But I do find with the card templates, which I used to use, that I used to ruin them, getting them out anyway, so I very rarely did manage to use them more than a couple of times. But it takes away the pain points of having three-way matching scenes with holes in them because you can't go both directions. It's a bit hard to say this verbally without pictures, but you'd always get perfect points because the paper's a bit flexible. If your gluing is not perfect, you can just ease it into fit and it should always be perfect. And none of those frayed edges will have you pull your papers out, not losing the stability if you've got an open shape that's going to be applique
d onto the background.
Yeah, it's there's so many other positives to the product, so we love it. And once people have convinced, or have tried it, and have got the hang of it, then they wouldn't go back.
Carolina Moore:
Well, and it doesn't feel like there'd be a steep learning curve for this either.
Helen Stubbings:
No, the stitch is the same. So if you're already new an applique stitch, or a whip stitch, or whatever you use for your EPP, then that doesn't change. It's just the preparation and you just don't have to take the cards out. I think it's a great product, and I wouldn't do it any other way.
Carolina Moore:
Well, and it's nice that we can reuse papers, but it is what, $20 for a pack of a hundred papers, so it's not like I'm saving a ton of money by reusing my papers anyway.
Helen Stubbings:
It's not a huge amount. And compared to what you're paying for the fabric, and compared to the enjoyment you're getting out of the process, let's face it, we're all doing this for the enjoyment and the therapy of the process. So if there's parts of it you don't like, then why wouldn't you find a way that removes those bits that you don't like as much as possible?
Carolina Moore:
Especially if the end result is the same or even better quality.
Helen Stubbings:
Yeah, exactly. I mean, I honestly think that in most, apart from true experts, now, I was a very nice saying this for myself, but I was taught by one of the best in Australia, and I was quite a competent needle turner. I could do beautiful needle term work, but I would never go back to that because now I can sit and do it while I'm talking to friends, or watching binging something on the TV, because you just don't have to focus on every turn and every stitch of the needle, it's almost quite mindless.
So yeah, it's just a little bit of the hang of blueing the edges over feeling around the paper. And there's a couple of little methods. There's a pinch and gather, and there's a flat thumb method and that depending on what you're doing. And then there are tools too, because some people struggle with arthritic fingers, or fumbly thumbs, or whatever, or they have long nails, or they have no nails. So there are tools like the applique tools you might've heard of and things that you can use as well, which, if people struggle doing it with their thumb, I can use my thumb because I can always find it. My applique tools could be in one of several sewing bags. But for some people the tools are the answer because they struggle doing it with their hands. So then there's tools to help them and they can get perfect results.
Carolina Moore:
That's fantastic. I love that, because that's really what we want when we start a project, is we want to know that all these hours that we're going to put into this, and the money that we're going to put into this, is going to give us a result at the end that we can be proud of.
Helen Stubbings:
Exactly. Yeah. You look at that and think, "Wow, I could do it." I did that. And I've not seen, well, I mean, there's all levels of competencies and you sort of see what they're happy with and how some people are more picky than others, but in most cases they get a really good result. So yeah, I'm biased, but I couldn't do it any other way. And it's a little bit selfish of me because I developed the product because I wanted to make the method easier for me, and I wanted it to take away the pain points for me. So that's the only reason it was developed. It was not really developed for everyone else, it was totally selfish. It was so that I can pump work out quite quickly and efficiently and enjoy the process and get a great result.
Carolina Moore:
I'll tell you a secret, because I've been recording all these interviews for the podcast, and I think that it's just about a hundred percent of notion designers who initially designed the notion because of a pain point that they were experiencing themselves. It wasn't something that they had this altruistic, "Oh, I'm going to help the world. Because I want to do this for me, and while I'm at it, I'll help everybody else."
Helen Stubbings:
Yeah, exactly. And I don't think many of them go into it like, "I'm going to come up with an idea that I can make a million dollars without the viewpoint of solving a problem for someone else." So it's not like from a commercial decision that you come up with it. Yeah, it is personal.
Carolina Moore:
There may be a notion designer out there who might say, "Well, I started with the idea that I wanted to make a million dollars in the quilting industry, and so I decided that I was going to start finding pain points and solving these problems." There might be, but I have not found them yet.
Helen Stubbings:
No. And have you found one that actually was successful at that? No. I've been making it million. Yeah. Manufacturing your own product is not stress-free. It's fraught with pain, I can tell you. And frustration. And going through COVID, I mean, everything's been mucked up through all the pandemic, but that's brought more challenges, and more delays, and more issues, and more price increases. But we battle on through because I believe it's such a good product. I'm not a big tall notions junkie, as in I've got to have everything that's new. From other people I only get things that make a difference to my quilting life and make things easy for me. So for example, people say, "Oh, we need the acrylic templates with the set." And I do the audit acrylic template because we have a laser machine, but I say, "Well, you don't actually need an acrylic template. I think it's just a very big marketing ploy and you really don't need it."
And I actually don't sell them a template with the papers. Because I don't need it. The paper's going to be iron on, it's not going to move. So that's another nice part about it. Once you've spent a few minutes at the ironing board earning on all your templates, the rest is portable. You just sit with your scissors, a nice pair of Karen Kay Buckley scissors or something, and roughly cut out your thermolams. It doesn't have to be accurate because the paper's fused on, it's not going to move. So I don't upsell people with things that they don't need. The things that help, I'll push and push and push.
Carolina Moore:
I'm with you on that, but I'm in notions junkie because I want to try all the things, and then some of them I love, and then I want to tell people all about the ones that I love. And some of them I don't fall in love with. And that's okay. I tried it and I have that experience, and I now know yes or no and why I love it or don't.
Helen Stubbings:
Yeah. Well, you don't know if you haven't tried it. And I think I haven't been to market now for, well, since pre COVID, so 2019, and that was where you could go around and see all the new notions and think, "Yeah, I could use that," or, "No, that's not going to help in the methods that I do, that's not going to be of any use to me." So there's not a bad notion out there. And getting back to the acrylic templates. If you're a hand piecer, you do need a template. If you're doing an American hand piecing sort of thing, then you do need your template. You can mark your seam allowances and things. So they've got their place, but just not with my methods.
Carolina Moore:
Sure. And just because you could sell someone something doesn't mean that you should, because that means that there's less money that they have to buy fabric.
Helen Stubbings:
Exactly. Or more paper.
Carolina Moore:
There you go.
So you have the applique paper that has now also become English paper piecing paper, and you cut it in all the different shapes. Do you have any other projects or products that you're working on, patterns that you're working on?
Helen Stubbings:
I'm always working on patterns. So I am working on a big sort of Kona solids planes applique quilt at the moment, which is exciting. I get really excited, I design a whole heap and laser, cut all the shapes and do all the gluing, and it's when it gets to the putting it together in the quilting stage that I stall. But that's okay, we'll be sending to the sister.
So yeah, design ideas come quicker than you've got time to make them. Again, because I haven't been traveling, I haven't started traveling again since everything stopped in the world. So I haven't been to market or festival, or done any overseas teaching for those few years. I've sort of been doing smaller projects here. But the paper, I think the next step in the paper with the next run is we currently sell it in sheets of 20 letter size sheets, so they can go through your printer, and we sell it in one meter for you. It's 28 inches by 40 inches, so a meter by 70 centimeter sheets. So bigger sheets for people that do art type quilting, or even if you've got a template that doesn't fit on one single sheet, you can sort of stack it on the bigger sheets.
So we have those two options, but we are looking at doing some rolls. We've had requested to do it in rolls, 20 meters by half a meter wide, or something like that. So that might be the next version of the product. Other than that, we've just gone back and started laser cutting a lot of our patterns, so the shapes to go in them. So retro doing that.
I do have a few other products, just pressing sheets and stabilizers, and that, but they're for different. We have a really nice stitchery stabilizer that I sourced and had made, because that's really hard to get consistent. But I have a product that I'd love to have, and I've been asking about it for a few years. I'm not going to say what it is, but it's still in the back of my mind that I need an expert to develop it for me. That's a little bit out of my scope, but there's an idea there.
Carolina Moore:
Well, maybe we'll have to have you back in season two, or season three, when that's come to fruition.
Helen Stubbings:
Yeah, I think it'll be years in product and development if I can get it done, these things don't happen quickly. But yes, I would certainly tell you if I ever get it, I'll be telling the world.
Carolina Moore:
Yes. Well, I would love to hear about it, because I mean, with the products you already have, they sound amazing, and I can't wait to try them myself. Now, so you teach, I'm assuming at your shop, but do you teach elsewhere as well? Are you planning on doing any traveling?
Helen Stubbings:
I've got nothing booked. As I said, in 2020, I was coming to America and I was going to Birmingham, but I've been pivoted as we all did. I've got an online academy. And they're not live classes, but there's video classes on there. And I do lives every week and demonstrations on Facebook, so every Thursday night our time. So anyway, they're on there afterwards, whatever matches your time. I have a YouTube channel with lots of tutorials, video tutorials on that just to help with my techniques that use my notions. And I'm hoping to get back to market next end of next year. And I did have a few classes booked when I was coming last time, so I'll reconnect with them and see if they want those again.
But yeah, no, just my lives on Facebook, YouTube channel and online academy. They can reach me there. We'll follow on Instagram and there's quite often reels and short things on there.
Carolina Moore:
And I'll make sure to link to all of those. Now, generally when I'm talking about notions, I encourage people to go buy the notion from their local quilt shop, because local quilt shops are a national treasure and we need to protect them. And the way that we protect them is by supporting them and going there and spending our dollars there. Are your products available at local cool shops in the US, or do we need to order them out of Australia?
Helen Stubbings:
No, so the major distributor in the US stocks and sells their products. So the papers have some of my patterns. The newer ones, I've just sent a whole heap of new ones. So you can ask your local shop if they don't already have it to order them in, they'll use those distributors. Or you will find some places that do have it. Their local store may already have the applique paper, maybe not the EPP iron ons, but if they can't find them, I would ask their local store to ask if they can get them in. And all else fails, yes, they can order direct from me. We do ship to the US all the time. And it's not too bad with the current exchange rate, so it's actually a lot in your favor. So worry about the shipping cost, but by the time you take the exchange rate into it, it sort of null and voids it. But yeah, your local court shop can order it from their distributor in the states.
Carolina Moore:
Perfect. I mean, paying for shipping is one thing, but it's usually the waiting for the things to get to the other side of the world.
Helen Stubbings:
That's right. Good couple of weeks. Yeah. But they won't have everything because obviously they don't take all the laser cut shapes and things like that and the whole range of EPP, but certainly the basics you can get there. So get started with that.
And also, I should mention that a lot of people now have the Sizzix cutters, so they can actually put them through that, or a brother scan and cut, or a silhouette, whichever type of digital cutting machine they have where you can send an actual file.
Carolina Moore:
I'm a big AccuQuilt user, so AccuQuilt has tons of dyes as well that you can use to, like applique dyes that you'd be able to use this on.
Helen Stubbings:
Well, the first couple of years, actually, my dining room had a huge AccuCut cutter, and I had some dyes made from them by them for me just for that, and we actually manually cut all our packs of Pepsi, a couple of years. It was so labor-intensive, but that's what we started with. I've killed three AccuCut studios.
Carolina Moore:
Oh, wow.
Helen Stubbings:
Yeah. Then we had to go a little bigger. So yeah, certainly it definitely goes through that. In fact, I could get 30, 40 layers through it at once. That's probably why I was killing them, but…
Carolina Moore:
Well, and this studio, you're talking about the AccuQuilt studio, which is a little different than the AccuQuilt Go Me, or Go Big, that we have.
Helen Stubbings:
Yeah, exactly. But you can get several layers. Even on those ones, you can get several layers at once.
I do also have on the website and maybe Etsy shop as well, I'll have a whole section of download files where I've done the artwork and set it up for all the cutters to fit the letter size sheets, so to get the most out of your sheet, because I know when you do your own files in say Sizzix, or Cricuts, or things like that, you can tend to waste a lot of the paper, because it actually takes a long time to set out a tessellating shape or an application shape, and get them all as close as possible to make the most use of your paper. So they're all done. They're like $2 each or something like that. You just download it and you've got an instant file ready to put through your cutting machine or whatever you use, you printer even to print it. That helps as well. Instead of having to trace or trying to work it out on computer, or photocopy them, just cut them apart and stick them, we'll get everyone on a piece of paper and copy them back together again.
Lots of ways people try and do it. But anyway, I've done all that for you, so there's a lot more shapes on there. And if someone requests a different one, we can always whip that up as well.
Carolina Moore:
Fabulous. It feels like you've thought of everything.
Helen Stubbings:
Yeah, just trying to eliminate those pain points.
Carolina Moore:
Yes, definitely.
Helen Stubbings:
And make it usable for the widest reach of people. So I know my mother, there's no way she'd be able to work a file and send it to anything, or to a cutting machine, or do it herself, so she could probably barely trace it. So if I can do it all for her and other people like her, then they can get straight to the stitching part of it, which they're good at and they love.
Carolina Moore:
Yes, we do. I can run those machines, but I run them so that I can get to my favorite part, which is the sewing of it together, which gets my absolute favorite part, which is getting to see the finished project.
Helen Stubbings:
Yeah. Yeah.
I don't know about you, but binding's one of my favorite parts. Some people hate it, but for me, that means this project is nearly finished.
Carolina Moore:
Binding for me it's just that final hurdle. For me, generally, I want to see what it's going to look like finished, and once I see that quilt top, depending on if I had an idea for the custom quilting design, if I didn't have an idea for a custom quilting design, once I see the finished quilt top, then it's a little bit of, "Oh, okay, so that's what it looks like," and now the finishing of quilting it and binding it is just a, "Mmm, I have to do those so that it becomes a usable quilt," but my curiosity is satisfied.
Helen Stubbings:
Sure. Yeah. No, that's good. I tend, I guess as a quilt designer first, I design it all digitally first. And I don't drop the fabrics in often. Sometimes I do, if they're my own fabrics, I'll drop them in, but I've got a pretty clear idea what it's going to look like in my head from my design before I get to it. But it doesn't always turn out the same. In fact, sometimes it turns out better. Sometimes you think, "Oh, I really don't like that at all." But when you've spent hundreds of hours of hand applique, or EPPing a quilt, it's like, "Well, it's going to do well."
Carolina Moore:
Someone will love it.
Helen Stubbings:
Yeah, that's right, that's right. Oh wait, we do it for the making. Most quilters, I think, give their finished projects away. We do it for the therapy and the enjoyment of the making, not necessarily for wanting a quilt on your bed or on your lap. Well, I only have so many beds and so many laps, and I have far more quilts than that. Yeah.
Carolina Moore:
Well, Helen, it has been so fun chatting with you today. Anything else that we want to make sure to add before we go?
Helen Stubbings:
No, I think if you head to the YouTube videos and actually see how it works, you can head to my website and see pretty much every project on there that I do is either got English paper piecing or applique on it. It could also be embroidery, but most of them have it. Then you'll see that they look just like needle turn. They look perfect. Well, in most people's eyes. You can't tell that it's been done with a paper, you can't tell that it's potentially been done by machine. I still do do most of mine by hand because that's the part that I enjoy. But certainly I do all my smaller bits by hand, and then certainly putting onto the background. Quite often I would do that by machine, particularly if there's a deadline. But yeah, there's information everywhere on addressing how to set up your machine stitch to get the best result, even how to thread a needle. So I have two tos on everything, so it's all there. But I'd love you to have a go and see if you love it.
Carolina Moore:
Absolutely. Well, thanks so much for joining me from the future. It's been great having you. I'll make sure that all those links are in the show notes and people can find those at ilovenotions.com.
Helen Stubbings:
Excellent. Thank you. Thanks for having me and letting me talk about a product I love, and I hope everyone else will as well.
Carolina Moore:
Friends, that's our episode for today. I hope you loved it as much as I loved having this conversation, I love learning all these tidbits and details about our favorite notion designers and the stories behind our favorite notions. Remember that you can find all the details that we talked about in the show notes, and those are all at ilovenotions.com. And make sure to leave this podcast a review in your favorite podcasting app. Leaving it a review will let people know that maybe they should listen as well, and it will help the podcast algorithm show this podcast to other people who love notions just as much as we do.
Friends, that's all I have for you today, but I will see you right here real soon. Bye for now.