Swan Sheridan – Swan Amity Studios
Swan Sheridan lives in Tucson, Arizona with her super hero husband and teenaged daughter. She has a passion for all things textile and has dabbled in everything from spinning wool to dying fiber. In 2001, Swan made her first quilt in preparation for the birth of her first nephew. In the interests of covering a mistake in that first project, she used a little applique at the center of the project and perhaps it was that combination of piecing and applique that acted as a catalyst. Quilting has been the preferred obsession, ever after.
Swan began designing her own quilts from the beginning, making patterns on freezer paper and working to figure out her pieces from scratch. In 2009, with her daughter in preschool, Swan began to refine her applique skills and set out to push her skills to the limit, but always with unique designs. Soon after she took a job with Bella Quiltworks in Tucson, offering her the opportunity to be immersed in the quilting world in a whole new way.
Swan began producing patterns for sale in early 2013 and regularly exhibits her work in local and national shows. She teaches in Tucson and around the country, offering classes in appliqué, color, machine quilting, painting, and decorative stitches.
On any given day, you can find this quilt artist half buried in fabric, brandishing her needle and thread, and otherwise surrounded by implements of creativity.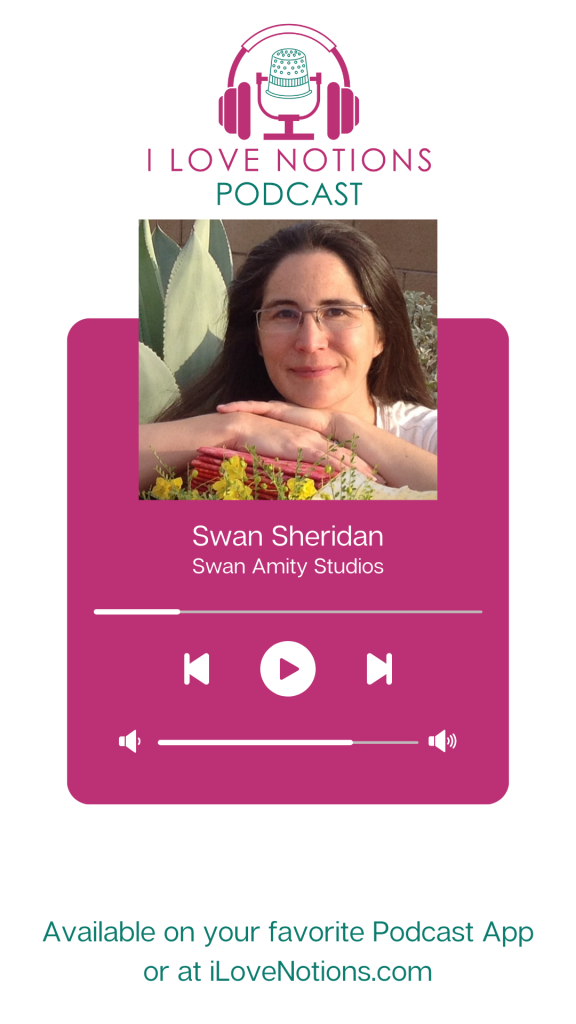 Swan Amity Show Notes:
Swan's Freezer Paper Applique Method video
Swan Amity Website
Swan's classes at Houston Qult Festival
(522) CLASS—WATERCOLOR FOR QUILTERS
(571) CLASS—CREATIVE LABEL MAKING
(645) LECTURE—ALL ABOUT THE BASE
(652) LECTURE—QUILT THE WORLD
Swan's classes at Road to California (type "swan" in the search box):
Swan Amity on Youtube
Facebook for Swan Amity
Instagram for Swan Amity

Listen to the Swan Amity Interview Here:
Follow these links to popular podcast players:
Listen and subscribe here on Apple Podcasts
Listen and subscribe here on Spotify
Listen and Subscribe here on Google Podcasts

Transcript of Interview with Swan Sheridan of Swan Amity:
Carolina Moore:
I love notions and I'm guessing that you do too. Hey there friend. It's Carolina Moore, your favorite sewing and quilting YouTuber, and now podcaster here with another episode.
So we're here today with Swan Sheridan, but you go by Swan Amity, which is your middle name, and I know you from just the quilty world in general. Incredible pattern designer, but also you have a notion, which of course is why we're here on the I Love Notions podcast. But go ahead and introduce yourself and tell us a little bit about how you got started in the quilty industry.
Swan:
Thank you. It's a delight to be here with you. I got into all of this kind of by accident. When my sister had a baby, she was the first one in the family to have one, and I was in grad school and I thought, "What could I do to do something special for my sister, for this new baby in the family?" And I thought, "Well, I can make a quilt. Isn't that what somebody in the family is supposed to do?" And that was my first one.
I have to say I was hooked right off the bat. I kept looking around being like, "Who's having a baby next? Can I make another one of these? They're fun."
Carolina Moore:
You needed permission to quilt for new people.
Swan:
I felt like I needed a reason to be a quilter. And it wasn't until later, kind of around the time that my own daughter a few years later, that I thought, "You actually need an excuse, do you? You could just make whatever you wanted." And after I made my daughter's quilt, I was absolutely good.
Several years later, I was working for a little club here in Tucson. I had made a quilt for one of the local shows, and when I came back to work one day, they said that they were taking orders for my pattern. We launched the business the next year, so here we are today.
Carolina Moore:
So how long ago was that that you started the business then, give or take?
Swan:
Oh, about 10 years ago this August. So almost exactly 10 years.
Carolina Moore:
Oh, happy anniversary.
Swan:
Thank you.
Carolina Moore:
That's exciting. So you started designing patterns and you do a lot of applique patterns, right?
Swan:
I do. I got into piecing when I had frozen shoulder. It was easier for me to sew on my machine than it was to continue appliqueing by hand, which is my first love.
Carolina Moore:
So hand applique is your first love, really?
Swan:
Really. I have to tell you, it was an accident as well. When I started hand applique was with that first quilt. I made a mistake and it was I thought an unrecoverable mistake. I'd spent all this time on it, and I sent a picture to a friend of mine. She said, "Just cut that part out and put an applique on top of it, and then use the fabulous words, that was always my plan." And I said, "Well, that's genius."
In the applique process I thought, "Well actually, this is kind of what I want to do." And it went from there. I love sitting on the couch at the end of the day and stitching my appliques.
Carolina Moore:
So is this needle-turn applique then?
Swan:
I use a freezer or starch method. I have a little series on my YouTube. It shows people all the steps that I walk through and how that makes it easier for me to travel with applique because the shapes are already there and I can just put everything in a bag and get back to work wherever I go.
Carolina Moore:
Okay. We will find that and link it in the show notes so that anyone who is interested in your applique technique can go find that. I love it.
Swan:
Thanks.
Carolina Moore:
Needle-turn applique is one of those things that I've done once or twice and I always think, "Oh man, I would really love to do that." But to sit and focus on the one thing, I don't know. I don't know.
Swan:
You might have to sit down with me.
Carolina Moore:
I would totally take you up on that. That sounds incredible. Yes, yes, a thousand times yes to that. Now, earlier you mentioned that you were in grad school when you made your first quilt. I'm curious, what were you in grad school for?
Swan:
Oh my goodness. That's a hilarious story because every once in a while somebody comes to my booth and wants to talk about which part of engineering my degree might be in. It makes my husband die laughing because my master's degree is in British literature.
Carolina Moore:
Oh, that's amazing. I love it.
Swan:
Thank you. I did my thesis on Dickens. I was happy to talk about that all day long, but that's not what we're here for.
Carolina Moore:
So we could needle-turn applique and you could tell me all about Dickens. That sounds like an amazing date. I want to go do that now.
Swan:
Oh, I can. I would teach a class on Dickens. I keep waiting to make my Dickens quilt. It hasn't come around yet. One of these days it will.
Carolina Moore:
Okay, we'll be waiting with bated breath.
Swan:
Oh, thank you.
Carolina Moore:
Dickens quilt. Oh gosh, I love that. Okay, so you started quilting, making a baby quilt for your sister's new baby. And then you got into pattern design and at some point you decided that you were going to make a notion. I'm always curious how this comes about because you have machine quilting gloves.
Swan:
I do, yes. I'd love to tell you how this happened. I mean, there were quilting gloves before mine. It's not like I put the first quilting glove on the market, but I will say I have the best quilting glove on the market. And there's a couple reasons for that. I should just tell you, it came about that I found out I needed a glove.
And I have this amazing quilting plan, but it was requiring maybe 200 hours and it was the furthest I had ever gone with a quilted project. I was doing the big no-no of quilting 12, 13 hours a day. Don't tell them that.
Carolina Moore:
Is there a limit? Is there a number we're not supposed to quilt more than X number of hours a day, that's good for our body? No one has told me this information.
Swan:
Oh, okay. So I tell my students that if you've been sitting for longer than 30 minutes and you haven't done something else, you can be hurting your body by sitting for that long trying to focus that hard on something that requires you to move pretty much your whole upper torso. So 30 minutes, get up, move around, do something else. Don't sit in your seat like I was for four hours at a time. It's a super bad plan on my part.
Carolina Moore:
Okay, good to know. Notes taken.
Swan:
Yes. And you should ask yourself after about four or five hours, even with breaks, if maybe you should be doing something else for the rest of the day. So not a good idea to spend 14 hours in your chair, it's just not good for you.
I finished that quilt and when I did, Carolina, I literally had no fingerprints left on my hands. It was so hard to finish the project. I actually had a little bowl of water next to the table and was dipping my hands in water and using that as a means of continuing to be able to control.
Carolina Moore:
Oh wow.
Swan:
And when I finished, my husband said, "Why don't you have quilting gloves? If this is such a big deal, why don't you have quilting gloves?" And I said, "Well, because the ones I bought at the store, they're one size fits all glove and that's not really a thing." Our hands are all different sizes and my hands just didn't stay where I wanted them to stay so the control that I was looking for was not really there.
So the next thing you know he was asking me why I was taking gloves apart? I had bought six different types of athletic gloves and I was in my studio taking things apart and putting things back together in that I thought would make a glove that supported my wrist, that allowed me to have touchscreen sensitivity, that cushioned palms so that my hands weren't overstretched.
And he asked me, "Why do you need those things and are you going to take apart five or six pairs of gloves every time that you need a new pair of gloves?" And I said, "Yeah, I'm going to have to." My husband comes from a manufacturing background though so when he saw that that was happening, he said, "You find prototype, you make what you want. I will find you someone to make gloves that you would like to sell. And if you want them, I guarantee you somebody else wants them." So that was the beginning of us making gloves.
Carolina Moore:
That's so fantastic. No, I've tried your gloves. I've worn them and I'm generally not a big gloves fan because I like the full tactile sensation of everything under my hands. But I also have, I've had tendonitis in my wrist since I was in high school and your gloves really do support the wrist. The difference that made was really surprising to me. And you still have some of your fingers free, so it's not like all my fingers are claustrophobically encased in this glove. And the touchscreen sensitivity, I mean, that's just so smart.
Swan:
Thank you.
Carolina Moore:
That you don't have to take off your glove to be able to, I have to press the back button on the podcast 30 seconds because I missed what they said, but I have to take off my glove to do that. No one's going to do that.
Swan:
I mean, you've just touched on a bunch of the reasons that I wanted the gloves to be available to you, not just me. And the first thing is our whole world is touchscreens these days. Whether it's your sewing machine or just a matter of, well, to answer your phone without having you rip your gloves off.
I don't know about some of you out there, but my mom calls me about four times a day. I mean, plus I have to be on call for the business. It's not like I can just sit down and quilt the way that I want to uninterrupted. So touch screen sensitivity was big for me. But wrist support and being able to touch my project because we're all kind of fabric headers at heart. I think that we love to be touching our projects.
And what you talked to the claustrophobia, you are not the only person that didn't want to put on a pair of gloves because it felt confined. And every single student I've had that's tried on a pair of our gloves feels that is exactly the little bit of open air freedom that they needed to not feel like they were trapped in their gloves. How'd you feel about the cushion in the palm?
Carolina Moore:
I liked it. I didn't think that I would. When putting it on it's like, "Oh, well, there's a distance between me and my project and I'm not going to like it." But especially over time, because we now know that Carolina doesn't know how to take breaks. Over time I mean it adds to that. I don't know if it's the wrist support or just the comfort, the comfort cushion.
Swan:
It's actually both. So all of our test group came back and told us that the cushion and the palm did exactly what I was hoping for. Two things and the first one is that it should actually bump your wrist into a slightly better performance position so that you're not dropping your wrist and putting extra pressure on that joint.
And the second is that you have all this connective tissue in your palm that the more that you stretch that connective tissue by putting your palm flat out, actually the more tired your hand gets by the end of the day. So that was also kind of our factor was making sure that all of your connective tissue wasn't overstretched so that you could quilt more comfortably and not have tired hands at the end of the day. So I'm so glad it works for you too.
Carolina Moore:
With all this detail I was thinking, "Gosh, I'm surprised that that master's degree isn't in kinesiology and that it's in Dickens because you have such a good understanding of what our bodies do when we're quilting." But I think that's one of the joys of having quilting notions that are designed by actual quilters. Where it wasn't someone said, "Oh, I bet you I could sell this thing to quilters and they'll buy it all day long," but it's not great and it doesn't really suit what we need.
You actually knew what a quilter needed because you are a quilter and you've been teaching quilters, and you were able to create that from this knowledge of having been in the industry.
Swan:
Yes. Everything that I did was really about my own personal experience with what hurt needed to be different. But I will also say that I got really lucky in the sense that my best friend currently does make her living in biomechanics. So I got to just chat out a lot of stuff with her. It felt good about all the conversations I've had with her about bodies over the years. I think that that made a difference in how we gleaned this design together with what quilters really needed to get out of it.
Carolina Moore:
Oh, absolutely. And then your gloves have a picture of a swan on the wrist, which is your logo, but I wanted you to talk about that for a minute because Swan is your actual real name. 'Cause some people make up a name when they get into the quilting industry, but you were given this name at birth, right?
Swan:
Yes. Every once in a while we actually do get that question. I'll go to teach a class and students will ask at the end, "We've been in class all day, can we use your real name?" No, I was born in the '70s. It was creative naming going on. But I also was born in the beautiful town of Bend, Oregon and there were trumpeter swans on the beautiful river there that runs through the center of town. And my mom said that she named me for the swans on the river that year.
Now her name is Robin. So I point out in all of my lectures that I come by the name honestly, and that I'm a second generation bird. So when we created the logo, I created it based on the signature that I used to use when I signed anything. And that was just my little swan, my S turned into swan and it felt natural then to use that swan as my logo.
Carolina Moore:
That's so fun. So I saw you recently in person for 30 seconds at the Long Beach Quilt Festival, so that was fun. Tell us about-
Swan:
I know.
Carolina Moore:
… [inaudible] in person.
Swan:
Sorry all I got to do was wave at you.
Carolina Moore:
Well, you were so busy, which is so good. I want you to be busy and I always know that we can catch up later.
Swan:
Oh, thank you.
Carolina Moore:
But how was the show for you? I mean, I always love getting to connect with people in person and getting to chat with them about my designs and what I'm working on.
Swan:
Well, the show was mostly pretty good. I thought it was a little quiet first couple of days, but Saturday was nice and hopping and there were so many beautiful quilts in the show. I kept sending people over to find the Rainbow Tour quilt, which I thought was gorgeous. And we met a lot of really wonderful people. It looks like it means I'll be back in California quite a bit over the next year and a half. So all good for me.
Carolina Moore:
Let me know when you're down San Diego way, we'll have to catch up.
Swan:
I would love that.
Carolina Moore:
That would be fun. So were there new designs that you were showing in your booth, new projects that you have coming out?
Swan:
So we've got a couple of things coming up that are really great. We've put out the Broken Glass line, signature line from Island Batik. It has my name on it, which is very exciting. So we have some new projects out with that one. And I think my favorite one from that line is probably the version of Rogue Cabins. I love that one too because it's kind of got a bonus pattern.
I really enjoy writing patterns right now where you use up your cutaways in a little bonus download and of course, that's free. That makes it more fun, kind of a two for one. And this September we're coming out with our next signature line, so in September you can watch for The Drops. And that one has a really great pattern that I'm very excited about. So I can't show it to you yet, but I can tell you to watch for a quilt, Modern Paws.
It gives you a queen size row size, and I think it's the prettiest variation on a bear paw block. It's really fun. I love it. It is also super easy to make, so it's really approachable for newer quilters.
Carolina Moore:
Oh, I love bear paw blocks, so I'm excited to see that.
Swan:
You won't even quite see a paw in it when you look at it, Carolina. I think you'll be like, "Oh, that's not what I expected."
Carolina Moore:
Okay. Now I was sort of kind of perusing your website a little bit, and obviously people can buy the quilting gloves either at their favorite local quilt shop. They can ask there or they can go to your site swanamity.com and we'll have that link down in the show notes. But you have another tool. I know it's not your tool, your notion that's on there, but it looks like such a futuristic weapon. I don't know. It's very scary looking. The trolley needle.
Swan:
So we should talk about that because everyone should have one. And I don't just mean applicators, everyone should have one. They're known by two different names. Trolley needle is kind of their more archaic name. It's what I kept calling it in all my classes because it's how I was introduced to it. But a lot of people also are referring to it now as a finger stiletto. I think maybe that is a better description. I might have to change that on my website. So do you want me to tell you the two great things it does?
Carolina Moore:
Well. So let's describe it first for people who can't see it. It's basically, it looks like a little helmet. A little metal helmet that goes on the end of your finger and at the tip of that helmet is a tiny sword.
Swan:
Okay. So if you were to look at it right up close in person. For you who know what an old metal banjo pick looks like. It looks like someone took a metal banjo pick and added a very thick, somewhat dull darning needle to the banjo pick. Although she's not far off with the sword and the helmet. She's pretty accurate.
But you're right, it does look like you'd be in danger if you sat too close to that. But they were really designed for something totally different, something that had more to do with bread work. And if you were an old, crewel worker then, or your grandmother was, she had one in her sewing basket. That's where a lot of my students have found them. They're like, "Oh, I didn't even know what that was for."
But the quilting world has repurposed them and two beautiful results, I think. They're one of the most useful things. I would never go anywhere without mine. And the reason is, so first of all, if you're an appliquer and you're watching my applique playlist, you're going to notice that I'm wearing mine all the time. Because I'm turning over the edge while it has starch on it and I'm using a hot iron to make that sit in place.
Well, the last thing I want is my fingertip right up next to a hot steamy thing while I've got an iron on it. So I'm wearing the finger stiletto as a means of pulling that over the edge and keeping my fingertip out of the way while I'm getting all of perfect points and curves that I want out of my shapes. So it's a safety tool in that respect.
It also really, really, really helps you get those beautiful points. So as appliquers, if you are a freezer or paper starch to pair or anything like that, I encourage you to pick one up. They're great. What if you're just a piecer? I said just a piecer, what if you're a fabulous piecer? There you go.
Carolina Moore:
Piecing is your passion and you don't need to stray from that. Yes, for some of us-
Swan:
Yes. You might say-
Carolina Moore:
… piecing is our happy place.
Swan:
… I am an applique. Why would I care about this? If you've ever had that picky little point that you don't want to bring your fingertip all the way up as you're making that last little stitch into that beautiful point connection, this is also for you. Because holding onto stiletto while you're trying to hold onto your block is hard. But if you are wearing your stiletto, you can keep your hand in contact, both hands in contact with everything you're doing.
You get to be an excellent guide and you get to keep your fingertip or your stiletto tip on the project all the way up to the needle without putting yourself in danger. So it has led me to get all these lovely connections in my piece parts that honestly some people are like, "I don't know why you don't call yourself a teaser. Look at all your gorgeous notions. They're perfect." I'm like, "Yes, that is thanks to the finger stiletto or the trolley needle." It's exactly that.
Carolina Moore:
I love that you know the Dickens'esque name for it as well. Trolley needle sounds like it would come from Dickens. But then we also have our today name of fingers stiletto. I love that.
Swan:
Right. Probably does date back to the 1800s, so it probably is Dickens'esque.
Carolina Moore:
All right. So anything else coming up that we should know about? So-
Swan:
Oh my goodness.
Carolina Moore:
… you talked about the new pattern that you have coming out.
Swan:
Well, let's see. I'm a big scrappy quilter and there are currently six years of summer scrap programming on swanamity.com. That's 36 projects for me that are free. If you want to scroll back through any of them, check out what we are offering. And it's always easy. It shouldn't ever be something that taxes you. It should make using up your scraps fun. If that is fun for you, I encourage you to check that out.
And we will be in Houston for both Market and Festival this year, so come see us and we'll be at Road to California in January. I am teaching in both of those locations. So check us out, sign up for some fun things, including free motion quilt laboratory, which we are offering for the first time at a big show in California in January this year. And some people have asked me, "What free motion quilt laboratory, I don't understand?"
And if you have free motion under your belt, if you have taken a couple of classes with me or you feel like a confident free motion person, it's a class for you to learn how to plan for your specific quilt. So you bring a quilt up or a small project to your class and we workshop your quilt. It means you don't just get my ideas and your ideas, you get a whole room full of ideas.
And we walk you through everything from thread choices to [inaudible] choices to what the difference between tight and open space quilting is, all the way down until you have a plan when you walk out the door. And that's what we offer you in laboratory.
Carolina Moore:
That's fabulous. I love that. Okay, so we will definitely have links in the show notes to your classes both at Festival and at Road to California in January. And then Festival happens in Houston early November and Road to California is January, obviously in California. It's really strange to call it Road to California and have it in Oregon, I suppose.
Swan:
It would be.
Carolina Moore:
Okay. Before we go, where are all the places that people can find you online?
Swan:
So obviously we're active on our blog space on Swan Amity, but also on Instagram once again at Swan Amity on Instagram. We're on Facebook at Swan Amity Studios on Facebook, and I just put my first video on TikTok a week ago. So we're going to start doing some little tutorials on TikTok. And for some reason TikTok requires me to have Swan Amity eight. I didn't know there was seven other ads up on TikTok, but maybe there is.
Carolina Moore:
That's funny.
Swan:
When you find the video that looks like my studio has exploded, you're in the right spot.
Carolina Moore:
That sounds very relatable.
Swan:
Of course, we're on YouTube at Swan Amity. So same Swan Amity handle on YouTube, trying to give you some fun content there as well.
Carolina Moore:
Perfect. So I'll have all those links in the show notes as well so people can go find you in all the places and check out the videos on your freezer starch, needle turn look applique method and your gloves. Then they can also go see this trolley needle and see what a banjo pick looks like, I suppose.
Swan:
If you didn't know it before, you will now.
Carolina Moore:
Yes, there we go. Well, it's been great chatting with you. Thanks so much for joining me and I will be seeing you this fall in Houston then.
Swan:
I'll look forward to it.
Carolina Moore:
Friends, that's our episode for today. I hope you loved it as much as I loved having this conversation. Remember that you can find all the details that we talked about in the show notes, and those are all at ilovenotions.com. And make sure to leave this podcast a review in your favorite podcasting application.
Leaving it a review will let people know that maybe they should listen to it as well, and it will help the podcast algorithm show this podcast to other people who love notions just as much as we do. Friends, that's all I have for you today, but I will see you right here real soon. Bye for now.