Julie Luoma – Off The Wall Quilt
Julie accidentally started quilting in 2010 and hasn't looked back. She has taught all across the US and brings a fun, relaxed teaching style to every venue. From publishing 2 books, traveling around the country, inventing new quilting toys to teaching, lecturing and running a business, she brings a wealth of life experiences along with her own style of quilting. Currently, she and her husband live in Florida where they run Off the Wall Quilt, a company specializing in custom rulers and templates.  They've raised 3 children, hosted 12 exchange students and moved across the country.  Traveling to quilt shows, they've seen most of the USA and in between visited a few other countries.  Julie sees life as an adventure and is eager to see what comes next.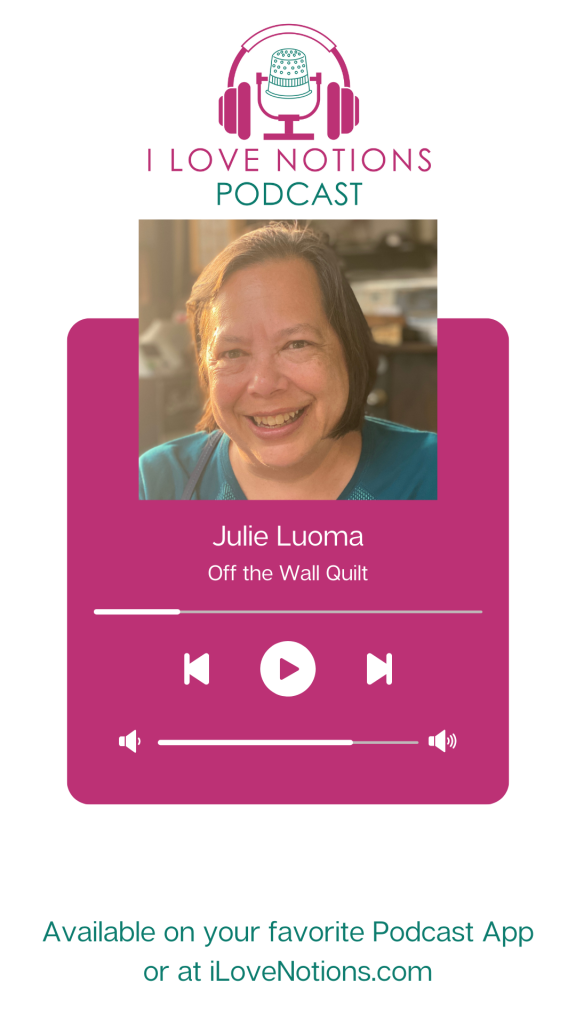 Show Notes:
Off the Wall Quilts website
Angle Play Templates
Youtube
Facebook
Instagram
Listen to Julie Luoma's Interview:
Click here to listen on Apple Podcasts, or use the widget:
Click here or use the Widget Below to listen on Spotify:
Interview Transcript:
Carolina Moore:
I love notions, and I'm guessing that you do too. Hey there, friend. It's Carolina Moore, your favorite sewing and quilting YouTuber, and now podcaster here with another episode.
So I'm doing another live episode here at the H and H Show, and this is the last day of the show. So we're all a little wired from being here, but I'm sitting with Julie of Off the Wall Quilts, and this show is actually the first time I've gotten to meet you in person, but we've known each other online forever years.
Jullie Luoma:
Yeah, for sure.
Carolina Moore:
So this is really fun to get to sit down with you and get to monopolize some of your time for a little bit to have this conversation and learn a little more about you. So Julie, if you would introduce yourself and what's your origin story?
Jullie Luoma:
Oh, my story's kind of crazy. Okay, so Off the Wall Quilts was an accident actually. And I started quilting accidentally, and people don't believe me until I tell them this crazy story. I was an embroider, a machine embroider, and my sister was turning 50. And I digitized pictures of her as an infant, as a young adult, and then turning 50.
Carolina Moore:
Okay. When you say digitized pictures, what does that mean?
Jullie Luoma:
You take a photo and you make it into stitches that your embroidery machine is going to stitch out.
Carolina Moore:
Oh, wow, okay.
Jullie Luoma:
It takes a lot of practice.
Carolina Moore:
So you're taking the pixels and turning into thread.
Jullie Luoma:
There you go, yes. And I was doing it a lot then. I was pretty good at it, so it came out really cool. And I got ready to embroider it, and I don't really know much about sewing either. At that point, I didn't. And I had a picture in my head of the kind of fabric I wanted to put it on. And I had been walking around for 20 years with my friend that quilted, but I was never going to be a quilter. So she was out of town. And so I went to a quilt shop, and they didn't have anything even close.
They only had quilting cotton as you'd expect. So I don't know why I did this. I went over to Goodwill and started looking around on all the racks, and I found a chair cover, one of those that you pulled down over…
Carolina Moore:
Like a seat cover?
Jullie Luoma:
A folding chair, yeah. and it was exactly what I wanted. People have told me since then, that's called jacquard.
Carolina Moore:
Jacquard, okay.
Jullie Luoma:
Yeah. So it was the weave of the fabric, texture and stuff that I liked. So I took it home and took all the seams out, and you have this really weird shaped piece of fabric. And I embroidered my sister's face right in the middle of it, and it came out beautiful. And then I had my sister's face embroidered in the middle of a weird piece of fabric, and I didn't know what to do.
So I realized I'd have to cut it down to some kind of rectangle, and it would need probably a border around it. So I jumped online, and this is back in 2010, I think, and I figured out how much to trim it and do some stuff. And I realized I learned what a quilt sandwich was. I'd need some batting and layer on the back, but I didn't know how to do the borders. Well, I decided to jump into a class called Angle Play by Margaret Miller. She has her own line of templates called Angle Play that we now own, by the way. But I grabbed my machine and went up to her class. And just in case anybody ever thinks they're going to blow it, I forgot my cord from my machine.
Carolina Moore:
Oh, I've done that.
Jullie Luoma:
Yeah. That's embarrassing.
Carolina Moore:
It doesn't go without it.
Jullie Luoma:
No, it just won't go anywhere. So the shop lent me one. I had used a rotary cutter, but I was really dangerous with one and had no clue what a corded inch seam was. So Margaret was a great teacher. And thank goodness, there are a lot of people in class. So I just watched what everybody was doing too. And I learned enough in that class that I came home and made a border that I still look at. And it's really cool, with all elongated triangles with sharp points. And I put that on that quilt, and I looked up how to bind it even and quilted it, all from just nowhere.
Carolina Moore:
Wow. So you quilted it on your domestic machine?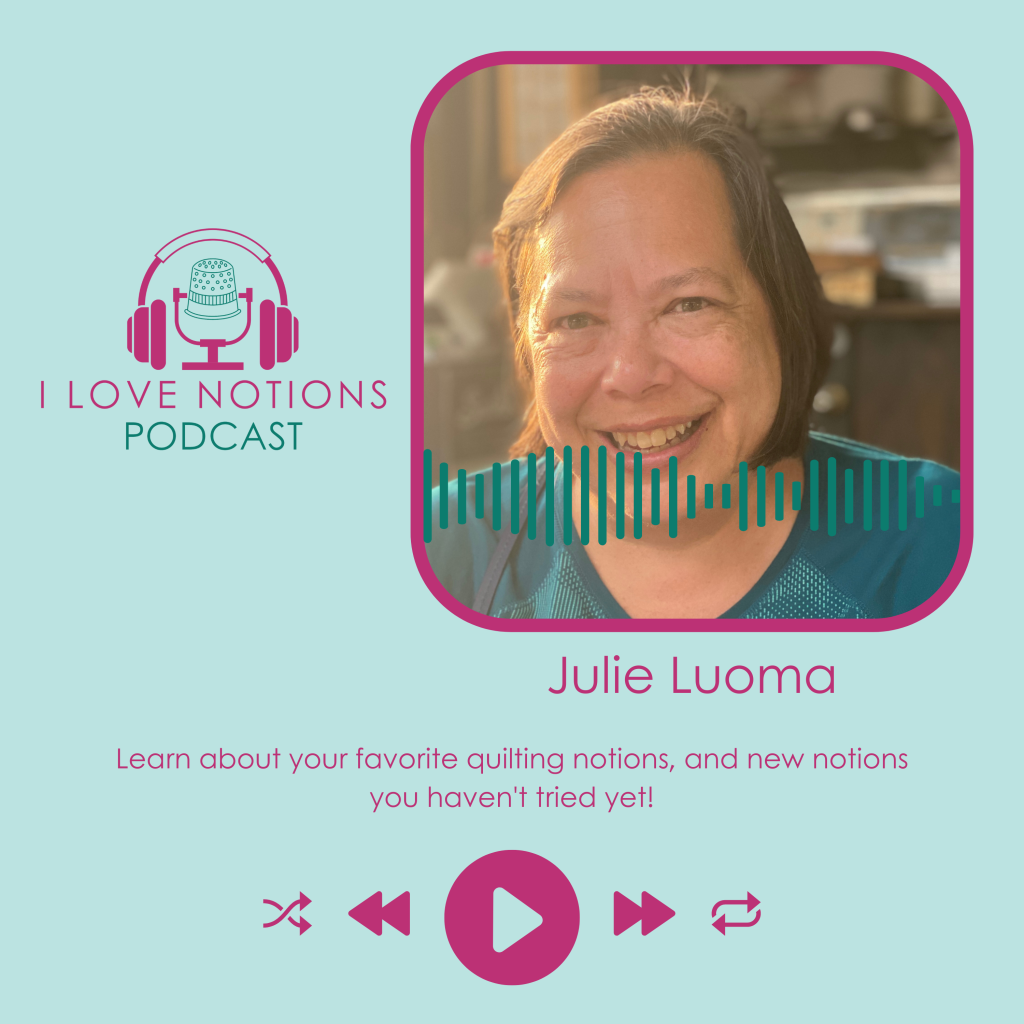 Jullie Luoma:
Yeah, I didn't know about those big ones, and it's just a wall hanging anyways. But then I went back online to thank somebody in a group that I had learned, gotten some good links from and to thank them.
And somebody posted on this general board, look at my quilt. I entered it in the McCall's Design Star contest. And I thought, well, if she can enter hers, I can enter mine.
Carolina Moore:
I love the confidence of a beginner, right?
Jullie Luoma:
Exactly.
Carolina Moore:
And I wish we kept that confidence throughout our entire journey.
Jullie Luoma:
Yeah. And I'll tell you a little bit more about that because that was a big deal to me. So I went on and I saw it was juried. And I thought, oh, they'll see it's a beginner. It won't even get in. But all you did was upload pictures. So it was no big deal. I uploaded them, and I was chosen as a finalist.
Carolina Moore:
And this was this quilt that you'd done of your sister?
Jullie Luoma:
Yes.
Carolina Moore:
So this wall hanging, your very first quilt, you entered it in the McCall Design Star contest and you made it into the finalists?
Jullie Luoma:
Yes.
Carolina Moore:
That's incredible.
Jullie Luoma:
That's why I say I accidentally started quilting.
Carolina Moore:
Sure.
Jullie Luoma:
So the deal was you had to make more quilts? Well, that was a problem because I didn't know how to do it. So my friend, thank goodness, came home from her vacation. And you could have somebody else help you with the piecing. I just had to do the designing. They had fun stuff. They'd send you a bundle of fabric and say, you can only use this, you can't add anymore, and you have to make a quilt. We kept winning rounds, and they would send us boxes of stuff, prizes, boxes. I didn't know what any of it was. Books, fabric, rulers, scissors.
Carolina Moore:
So now you have a sewing room just to store all this stuff.
Jullie Luoma:
It was like Christmas every time. And so we made it to the final, final round, the top eight, and I didn't win it or anything, which wasn't as…
Carolina Moore:
Still, that's incredible.
Jullie Luoma:
So I had quilts in magazines, published in magazines, and won prizes before I learned how to quilt.
Carolina Moore:
I love that.
Jullie Luoma:
Isn't that crazy?
Carolina Moore:
I absolutely love this story.
Jullie Luoma:
So I guess I've been a designer before I was a quilter. And then along the way I was picking stuff up and I thought, well, I really should learn to quilt now.
Carolina Moore:
Well, now that I…
Jullie Luoma:
I did a contest. So I realized what it was, that there's different styles of quilts. And what I am not is a traditional quilter. I love to look at traditional quilts, but somebody's already made those. So I really like to make my own. The other thing I realized is I can design a quilt and I can write a pattern, but I cannot follow a pattern. I'm always thinking of a better way to do it or to rearrange it a little bit.
So it's kind of funny because a lot of people don't get that because they only do patterns, and I only undo patterns.
Carolina Moore:
You only undo patterns. It's hilarious.
Jullie Luoma:
So that's been fun. And so now I am quilting. And we did end up buying Miller Quilts from Margaret Miller, and we started with Angle Play quilts, still my favorite thing because you can make those great elongated triangles with very little effort. And I start beginners on it all the time, and I always say, get a lot of bang for your buck. So that's something to check out is Angle Play Quilts.
Carolina Moore:
Especially when you're a beginner, when you get to make a quilt that is easy for a beginner to make, but that people say, oh, you made that. And then you say it's your first quilt. They go, oh my gosh, for your first quilt it's so impressive. And you get that confidence, that boost of like, oh yeah, I can do this.
Jullie Luoma:
And people would look at it and they'd say, "Why are your points so sharp?" And I'd be like, "Well, duh. It's a triangle." I had no idea why I did that.
Carolina Moore:
The number of times that most of us have cut the points off of our star quilts, it just either you get used to it or you just try to get better maybe. But still, I mean.
Jullie Luoma:
Yeah, that was fun.
Carolina Moore:
It's tough.
Jullie Luoma:
And so I kept creating and designing stuff. And I had said to my friend during this whole contest, "Are there any rules about quilting I need to know?" And poor thing, she says to me, "I'm sure I can sew anything you can design." And it wasn't until years later, she told me that she learned a lot that summer.
So I made some that had to be paper pieced, and I didn't even understand what paper piecing was. I had never done it, but people explained it to me and I got it. So I was designing paper piece patterns before I ever tried. I just tried it last year.
Carolina Moore:
Oh, really?
Jullie Luoma:
Yeah, I just started learning it. So it's just kind of funny. I've just done everything backwards. But that's one of the things I like.
Carolina Moore:
Who says what's backwards and forwards?
Jullie Luoma:
Exactly.
Carolina Moore:
Just because everyone else has done it in one direction doesn't mean that that's the right direction. It's not traffic. We don't all have to go the same way. And do you know what's on the other side of the freeway? People going the other direction. Traffic actually does go both ways.
Jullie Luoma:
And I tell people that a lot that that's what I love about quilting is there's more than one way to do every single thing that we do.
So if you tried something and you didn't like that, learn it from somebody else or watch somebody else's video. And try it a different way, and you might be surprised. Or you might decide you really do hate doing it and just don't do it then, just don't. I meet people that never use a rotary cutter, and I can't imagine.
Carolina Moore:
So do they use an AccuQuilt or do they cut with scissors?
Jullie Luoma:
They use scissors.
Carolina Moore:
They use templates and scissors?
Jullie Luoma:
Yeah, but it works. They make beautiful quilts too. Nobody ever looks at a quilt and goes, whoa, they didn't use a rotary cutter.
Carolina Moore:
You can't tell.
Jullie Luoma:
No.
Carolina Moore:
I've judged quilts. I've judged quilt contests. There's no way for me to know if someone used a rotary cutter or an AccuQuilt or scissors, or if they ripped their fabric.
Jullie Luoma:
Yeah, if it works for you, you should do it.
But the thing about confidence is I was crazy at first. I just designed quilts I look at even now, and go, I can't believe I did that. I've been quilting a year. But then I started learning the rules and went to some shows that were judged and stuff, and I started to lose confidence. I wasn't good enough. My stuff was crazy. It didn't follow any lines. And then I wondered. I missed that beginner confidence. And I wondered if I'd ever get that creativity back because that level of creativity is insane. I think of something and I just make it. But then as I learn rules and stuff, I think you can't do that. And it has come back. It has come back. But I had to do it deliberately. I needed to recognize that I was struggling with that, and I was letting other people's… They weren't doing it on purpose, but what other people did, their standards and their ways of doing things, I was letting that trip me up.
And so I still do that sometimes. I think, oh, nobody ever does that. The quilt I just made only has binding on three sides.
Carolina Moore:
What does the fourth side have? It's folded over?
Jullie Luoma:
It's falling apart.
Carolina Moore:
Oh, okay.
Jullie Luoma:
It was for the Cherrywood Monarch question, and it's going to be too far out there. You're not going to see it in their contest because I can tell you it's a perfect monarch on one side, and it's fading, and then it falls off the quilt. And my stuff, a lot of times I get it, people just look at it and go, 'That's really out there." But I actually went back and undid that side. It was very traditionally finished, and that's not what I'm trying to say with this. So I went and took a…
Carolina Moore:
So you're really an artist quilter.
Jullie Luoma:
I prefer art quilting, yes. I do things that are not art quilting for my customers to be able to use templates for what they need it for. But my joy and my creativity is really in art quilts, just throwing stuff together.
Carolina Moore:
So when did you turn quilting into a business then?
Jullie Luoma:
Really early on, we bought out Miller Quilts in 2013, so I'd only been quilting about three years. And Margaret had invited me to become a certified angle play instructor. And so I went and we became friends through that. And then she asked if we would like to buy her business. And so we did. That's a real problem too. As soon as you own a quilt related business, you're considered a professional quilter. And so I had to hang my quilts up in our booth in public, and that was probably the best thing that could happen to me because you know what? Everybody comes and looks at them real close, and everybody feels obligated to critique them for me.
Carolina Moore:
Oh, that's rough.
Jullie Luoma:
And you just learn that it's just people's opinions. Judges are just individuals with an opinion and some training to look for certain things, but individuals who are coming to your booth, they just have an opinion.
And it doesn't bother me. I've had people come up and tell me, this is the ugliest quilt I've ever seen.
Carolina Moore:
Oh, no. Do they know at that point that you're the one who made it?
Jullie Luoma:
I don't think they're always aware of that, but it opens a conversation, is how I see it. I was taught way back in sales, is that when people complain or tell you they don't like something, they're giving you the chance to justify it. So those are the people you can have a conversation with.
Carolina Moore:
See, I've learned that the opposite of love is not hate. The opposite of love is indifference. And love and hate are so closely intertwined, and you see that a lot of time in marriages. So people love each other and then there's not really a period of indifference. They hate each other. And there's these really messy divorces because love has big passion.
The big passion's still there. It's just not channeled through love. The big passion is now hate, and that's why they're so close. So someone really hates something. They have passion for it, and it's much easier to translate that passion towards love or channel it towards love.
Jullie Luoma:
And that's how I see it now too, is that, wow, my quilt really provoked a reaction in that person. And that's what art is. So now I say to people, what is it about that quilt that bothers you? And you know what's funny? Lots of times it's the color. People just don't like the color.
Carolina Moore:
You don't have to make it in that color.
Jullie Luoma:
Yeah, exactly. And one lady, I remember she's in a motorized wheelchair and she could raise it up and down. So she's just going along at street level, I guess, and she stops, screeches in front of her booth, pops up, raises her chair up.
So I have this funny picture of her in my head. But she goes, "I hate pointy quilts." I'm almost on the floor laughing. I go, "Anything else you hate?" She goes, "I guess that wasn't very nice, but I have tried to make triangles and I just can't do them." And I go, "Well, you just wheel yourself right over here." So she didn't hate pointy quilts. She hated how much she struggled.
Carolina Moore:
Exactly.
Jullie Luoma:
With making quilts that had points. And if I had taken offense, we would've both missed an opportunity because you know what? She bought my whole set of AnglePlay templates and went off excited to make pointy quilts.
Carolina Moore:
That's so awesome.
Jullie Luoma:
And that's why I love what I do. It's really helping people to do something they don't think they can do to be successful. Everybody. And not just women, because we get a lot of male quilters too, and in life, men are just as uncertain. They just bury it better than women do. So if we can help anybody to be confident and to understand their own artistry, just because it doesn't look like that person's over there or it's never won a ribbon, anybody really can create something out of nothing. Paper, glue, fabric.
Carolina Moore:
So I know Off the Wall Quilts as a company that makes templates for all kinds of quilters. So if there's a quilter, even whether they're an industry quilter or whether they're a hobbyist quilter and they have an idea and they just want a couple made, or they want hundreds, thousands made, then they can come to you to take this paper template that they're using and turn it into an acrylic piece that they can use over and over and over.
Jullie Luoma:
Yes, and especially if you're doing more than one of something. I always trim my paper template, somehow every cut, and they get smaller and smaller. So the acrylic's really good. And we have just added to ours about six months ago now, a product called Easy Grip, and it's ours. It's a patented product that is very pleasant to touch, gives a little texture to the bottom of your templates, but they don't slide.
You can slide them into place, but then any weight, your finger on them will hold them while you cut.
Carolina Moore:
There are rulers out there that don't have anything on the back, and we put sticky dots and whatnot on the back to make them rip. But usually those sticky dots aren't super clear, so you're careful about where you put those dots to make sure that your ruler still stays clear. And then there's adhesive sprays that you can spray on the backs of your rulers. And then some rulers come with grip. So you have a grip, and it's across the entire bottom of the ruler. So it's not in strips of grippy. The whole thing is grippy. And it's super clear that you can see right through it, right?
Jullie Luoma:
You can. And we've been doing some fun testing with it. So I've been running them through my dishwasher.
Carolina Moore:
Just because?
Jullie Luoma:
To see if it was going to come off. I'm trying to see if it's going to stay on. And even with a hot dry cycle. And it's funny because you open the dishwasher at our house, you never know what you're going to find in there. And it's not clouding up. It's not coming off. So then, this is funny, I put some in the freezer and I was going to leave them in there overnight. And I put them in the freezer at work in our warehouse. And then of course, the next day I'm packing to go somewhere, and I forget. And we went to Hawaii. So it was two weeks before I got back to it, and my daughter works for us. She goes, "Mom, can you take those rulers out of the freezer? Nobody else can use the freezer."
I said, "Ooh, sorry, I forgot." So I went and got them out. Now, usually with acrylic, because we've gone to shows in the far north where it's very cold, and when they freeze, they shatter if you drop them. Shatter like glass. And so I just took one out, walked out of our break room and just dropped it on the cement floor in the warehouse. Nothing happened. So I picked it up, and I threw it on the floor. Well, now all our staff is gathering around and laughing because I'm throwing rulers around, and they just didn't even break. Now we don't advertise it. Easy grip is keeping rulers from breaking, but.
Carolina Moore:
Wow. And I wouldn't advocate throwing rulers.
Jullie Luoma:
No, but it was kind of fun.
Carolina Moore:
Sure, sure, sure.
Jullie Luoma:
So anyways, and that's not really the point of it, but it does seem to help it when you just hit it against something and you've shattered a ruler or something.
Carolina Moore:
I have a couple of rulers with some nicks on them that I just use the other side of them because rulers aren't cheap. And also, I mean, I bought it to last a lifetime, and so it kind of should, but I've taken them into retreats, and then they've fallen out of my bag. And so they got dinged on one side.
Jullie Luoma:
So it does help. And that's the other thing with our rulers too, is our lines on our rulers are etched. I've had a favorite ruler that was silk-screened, and I've worn off the lines, and you simply can't use it anymore. And when we add color to our rulers, which we do, that's UV printed, which is very permanent, so you're not going to rub that off. And that's the reason why. And then the easy grip stays on. So that's why we test them and throw them in the dishwasher, we freeze them.
Oh, we're from Florida. We make these in Florida. We throw them in the hot car just to see what happens to them.
Carolina Moore:
I lived in Vegas, and I've ruined more than one rotary mat by leaving it in the backseat. Yes.
Jullie Luoma:
In fact, when we moved, we moved from Washington State six years ago to Florida, the first thing we put in our pods were all my cutting mats.
Carolina Moore:
So they were flat on the bottom?
Jullie Luoma:
Yeah. We used them just on the bottom. And my husband's like, "Oh, they're going to get dirty." And I was like, "We'll wash them." We washed them, and they were fine. But yeah, I was really worried I was going to ruin all my cutting mats when we moved.
Carolina Moore:
And those really big mats are not cheap.
Jullie Luoma:
No.
Carolina Moore:
And if I'm going to spend more money on quilting, I want to spend it on something that I am consuming, like fabric or a new ruler, not the same cutting that I already have.
Jullie Luoma:
So when we switched to Easy Grip and we started switching all our rulers over, we had a plan for the first, I think about 50 of them that we were going to start putting them in production. And then we turned to customer requests. So everything we produce now is customer driven. So we're coming out with new rulers all the time because customers asked us for them.
Carolina Moore:
Oh, great.
Jullie Luoma:
So it's really fun. And the other thing we do is a customer will come sometimes, like you were saying, and they just want one thing. Here's a good example. A woman named Connie came to us, and she really wanted to make a Texas star, which I didn't even know what it was. And she said, "They're so hard to make, but I want templates." So we looked it up, and my husband, by the way, is an engineer, works for the Boeing Company on airplanes for 30 years.
So it's kind of an unusual service that we offer. He does all the design work. So your points are going to be perfect. Your angles are going to be exactly. Everything's going to match up. He's very meticulous. AK, he drives me nuts, but he's great. He's great at that stuff. But Connie came to us, and we're figuring out how to do these stars. And Rick kept redesigning and redesigning. You do them with paper and stuff first, and he's cutting me some. And he had a set, and he goes, "This has to work. There's no other way you can do it." So I played and played and played. And on about the 10th star, I figured out it was the order. If you do it in a specific order, it works perfectly. If you take it out, sync it all one step, it doesn't go together right..
Carolina Moore:
Oh, interesting.
Jullie Luoma:
So I have this whole pile of wonky stars. It's pretty funny. I should make them into a quilt.
Carolina Moore:
That'd be a great quilt.
Jullie Luoma:
And I made them out of scraps. They're really crazy. So we finally got this, and we sent Connie's star to her. She got it free because it was her idea. And we named it Connie's Texas Star. And people buy it a lot on our website. And the thing we tell them is watch my video and do what I do. And another friend and I were just going around and round because she kept telling me that my templates didn't work. They didn't work. And I said, "Did you follow my directions? Did you follow my video instructions?" She goes, "Well, I haven't done that yet."
Carolina Moore:
Well, it's like the people who find a recipe online, and it requires sour cream. And they didn't have that, so they just used milk. And it needs eggs. They didn't have that, so they just substituted that with peaches. And gosh, this thing, it just didn't turn out right at all.
Jullie Luoma:
That's what that template's for, but it's really fun. It's actually easy when you follow my sequence. You're just like, you're going, just doing this. And it is done. The whole thing's together, and it really looks paper pieced. I still look at that one and I go, "That's just amazing that we figured that out."
Carolina Moore:
Now, I think I saw, correct me if I'm wrong, that if there is a pattern that I make over and over and over again that has paper templates and the designer has put paper templates in there that I can reach out to you, and you'll connect with the designer to get permission from the designer to be able to make an acrylic set for that?
Jullie Luoma:
Yes. Either you can talk to the designer and get permission for one set, and we need to see it on an email or in writing, and we'll make that set for you.
And we won't ever make another one without permission. But lots of times we reach out to a designer and they say, "Oh, I didn't know where to get acrylic templates made." And so we can produce them then for that designer, so he or she could sell them. So it works both ways. But we're really, we are so strict with ourselves, we will not make templates for a pattern that somebody else wrote unless it's a basic shape. I mean, if you want a six-inch square, we'll make you six square. But yeah, we respect people, and we treat other people the way we want to be treated. We don't care if somebody else will make them for you and cheat. We won't do it.
Carolina Moore:
It's just the right way to go about things. And I also think that this industry is really, really small, but it's also really, really big. We don't know everybody, but although sometimes it feels like we do. So it's nice to reach out to someone and say, Hey, I've got a customer of yours who also wants to be a customer of mine and wants me to make these acrylic templates for them of your pattern. Are you okay with this? And then now you are working with the designer as well, maybe to make more of them. Or the designer says, yep, that's great. And now they have an even happier customer who gets to use acrylic templates to make that pattern that they love.
Jullie Luoma:
Exactly. And again, Rick, my husband, goes over all the pieces, and he's actually been able to help a couple pattern designers get their shapes improved.
Carolina Moore:
Oh, wow.
Jullie Luoma:
And they're going, "Oh, I wondered why we struggled with this so much." And he's like, "Okay, you need to shift this angle to make this angle work." And so we can help.
Carolina Moore:
That's so fun.
Jullie Luoma:
It's pretty cool. And we often get people for the templates that come to us with scribbles on napkins. He just designed a knitting ruler for somebody by talking to her. It's Pam de Moore, and she makes socks all the time. And they sat and talked. And Rick, who doesn't knit at all…
Carolina Moore:
Sure, neither do I.
Jullie Luoma:
And he went and made a drawing, and they went back and forth a little bit. And the new template's going into production now.
Carolina Moore:
That's so great.
Jullie Luoma:
Just from a conversation with him. We really want to stress with people that you don't have to be a professional drawing artist and get everything right. We're going to check it, and we can usually make stuff work for people or even make it better. People say, oh, I was afraid to ask for that, or, oh, I didn't think of that.
And it's fun. That's the part of the business we love the creativity and doing all that. So yeah, people shouldn't be afraid of their ideas. Somebody can help you get it going if you can't quite get it. And sometimes it does take a rocket scientist.
Carolina Moore:
Sometimes it does take a rocket scientist, that's hilarious.
Jullie Luoma:
He's not really a rocket scientist, but he did…
Carolina Moore:
Close enough.
Jullie Luoma:
Well, he worked on a space shuttle.
Carolina Moore:
There you go.
Jullie Luoma:
Yeah. So he did work with NASA on that. So we joke about that all the time. Hey, we need a rocket scientist over here. This isn't working.
Carolina Moore:
That's great.
Jullie Luoma:
So yeah, we just have a lot of fun with the templates, and I love to teach and lecture too, using our products. And again, like we talked about, helping people to have confidence that they can step outside of what they've been doing.
And I have to tell you about my friend that I quilted with. She never made another traditional quilt after that summer.
Carolina Moore:
Really?
Jullie Luoma:
Yeah. She was making crazy stuff because she'd been doing it with me quietly, not telling me that. She'd only ever followed patterns and made traditional quilts.
Carolina Moore:
But there's nothing wrong with that. If you love following a pattern and you make these traditional quilts, and that's where your joy is, yay. And then if you discover something else, and now that's where your joy is, yay.
Jullie Luoma:
You can totally shift around, yeah. And you can mix. I teach a border class, and in that I mix modern and art and traditional, and I just love taking a traditional block and breaking it in half and making it into a border and doing something like that. And I get people that are just in classes, they're so excited. I never thought about taking what I already know and just cutting it in half as simple as that.
Carolina Moore:
You have my brain buzzing right now with, oh, what are the things that I can just chop in half and make a whole thing out of?
Jullie Luoma:
And lots of times when you want to make an interesting border on a quilt, I'll give away one of my things I talk about in my lecture is take a block that's already in your quilt, and change the colors and put it in as a border.
And you could get, I have some examples in my book, and they're so easy. One is just all the same block for the whole quilt, but the outside row is done in, we flipped the colors.
Carolina Moore:
Oh, interesting.
Jullie Luoma:
And it looks like there's a really cool border on that quilt.
Carolina Moore:
Well, there is a really cool border on that quilt.
Jullie Luoma:
There is. But it was just so easy to do. You didn't even have to rethink anything. It was a two color quilt and two fabric quilt, and we just switched the fabrics.
Carolina Moore:
That's incredible.
Jullie Luoma:
So yeah, you can do fun and easy stuff. And lots of times in my class, I feel like what I'm just really doing is giving people permission to try something new. Somehow we feel like somebody has to tell us it's okay.
Carolina Moore:
So you're talking about teaching classes, so guilds can hire you and shops can hire you to come out and teach workshops?
Jullie Luoma:
Somewhat, yes. We're trying not to travel so much.
Carolina Moore:
That's right.
Jullie Luoma:
After 27 shows, and I'm counting all the classes I taught last year.
Carolina Moore:
Oh, wow.
Jullie Luoma:
And then we started the year by doing, I think we did seven shows in eight weeks or something like that. And I wasn't having fun. And we don't do this unless we're having fun, because then we're just grumpy salespeople. So we always try to be the most fun booth at the show. And my classes are fun. I start my classes by telling people, if you're not having fun, it's my fault, not yours. If you're frustrated, it's my fault. That's the teacher's responsibility. And I'm really good at ripping. So I rip stuff for my students so they can just keep sewing and keep going on. There's a reason I'm good at ripping, a lot of practice. But yeah, quilt classes should be fun.
So yeah, I do try to get out and teach. I'm teaching a couple shows down by Daytona next month, and it's fun because I'm finally home long enough to teach at some of my local shops.
Carolina Moore:
Oh, that's fun.
Jullie Luoma:
I didn't even know these shops were there because we're gone so much. So we're trying to.
Carolina Moore:
You moved to Florida and then just started travel quilting and yeah.
Jullie Luoma:
We actually moved in the middle of quilt season, so we did shows.
Carolina Moore:
You're a glutton for punishment.
Jullie Luoma:
We're really organized though. That helps. We moved our stuff to Florida, but left our show van and Truck in Oregon. Flew back up there and picked it up and did seven shows.
Carolina Moore:
On the way down?
Jullie Luoma:
On the way back to Florida, yeah. And in the middle of that, we even flew home. My daughter was there trying to set up the house and was lonely.
And so we had a few days between shows. So we jumped on an airplane and went.
Carolina Moore:
And because now you've dumped her in Florida and she knows nobody, and she's just setting up the house.
Jullie Luoma:
We were surprised when we decided to go, she wanted to go. And she was only, well, it's been six years, so she was about 24 or so, 25. And at that age, it's so hard to make friends. You're not in school, if you're not working a job with other people. So she did some other jobs for a while too, mostly to make some friends.
Carolina Moore:
When we were kids, you would go to the playground and you say, oh, you have a red shirt. I have a red shirt. We should be friends. And it's that simple.
Jullie Luoma:
It's hard now.
Carolina Moore:
And if I were to go to the park now and see another person who looks relatively like someone, if I walked to them and said, "Hey, you have a red shirt. I have a red shirt. Let's be friends." They would turn around and walk away because I would sound like a crazy person. This is maybe not. There's so many like we want to know what are your hobbies? What does your time look like? Are you someone who's going to monopolize my time? Maybe are there some political differences that are going to become a problem? There's so many other things that we look at. We just can't pick friends on the color of their shirts anymore.
Jullie Luoma:
Exactly. And I think that's why a lot of us turn to quilt classes and quilt shows and stuff. We want to go and make some friends. And I want the shows to become more fun and to be more social oriented where there's opportunities to make those friends.
Carolina Moore:
Yes. Where you're walking with people in the aisles, and you're getting to know them and learn about them and chat. And Yes.
Jullie Luoma:
We recently had these two ladies in our booth. And one of them is just so enthusiastic about our easy grip rulers. And she goes, this is such a good one. You really need this one. And I'm thinking, they're good friends. And they had just met up at lunch, and the one lady had one of our rulers sticking out of her bag, and the second lady asked her about it. They just sat at the same table. They didn't know each other.
Carolina Moore:
That's so great.
Jullie Luoma:
And they came over to our booth together and they were shopping together, and they went off just talking and giggling. And I thought, I hope they stay connected.
Carolina Moore:
But even if they don't, it's okay to make these friendships for a day because we have this connection of we both, you love quilting. I love quilting. I'm here without anyone. You're here without.
Jullie Luoma:
You just go with your heartworm.
Carolina Moore:
And then maybe you stay in touch, but if you don't, you still have that day.
Jullie Luoma:
And you want to go again next year to see if you find that first.
Carolina Moore:
Right. And see if you run into each other, see each other in the aisles.
Jullie Luoma:
So that's what happened with my daughter though. She made a few friends locally, but not real good friends yet. So once in a while she comes to a show with us. And from going to some of the shows, she has now made some friends all across the US now because they're vendors and stuff who travel in, but kind of have her same mentality. They're hard workers, they're very creative. And so she started going to some of the other cons in Florida, there's every con in the world. And so she's creating some stuff out of acrylic too.
Carolina Moore:
Oh, fun.
Jullie Luoma:
So all of a sudden she's really motivated to learn the programs and to use the lasers. And so we're really happy. We don't have to push because we want her to learn all that. And some of the stuff that she creates, I'm looking at it going, "Wow, I never would've thought of that. That is so cool." And she's got friends, and she goes and works in other people's booths. So creating a crafting brings us together.
Carolina Moore:
It's like a community. It's like the quilt shows circuit. I find it's very much like a circus. It's all these people, they're breaking down their booth, and they're going to the next town and they're setting them back up again. And there's this crazy circus and we don't have a beard… Well, maybe there's a bearded lady or two. Yeah, it's our crazy circus.
Jullie Luoma:
And we are like family. We'll help each other out. We fight like family. You're over the line there. I'm sure I have a table you can borrow. In fact, I borrowed a table here. Somebody drove some tables up for me, and we take other people's stuff all the time. So a funny thing happened when the whole COVID thing happened. We were actually at a show, the shutdown. We were at a show in Atlanta, and they shut us down in the middle of the show and sent us home. And no more shows. So I just started wondering though about all our friends, all our vendor friends. We don't keep in touch except for at shows. So I started a Facebook group and invited seven or eight vendors that I was friends with on Facebook. And well, the group is about 500 now. And you're on that group.
Carolina Moore:
Yeah, I'm in that group as well.
Jullie Luoma:
And you can learn anything about a show that you want, more than you want to know.
Carolina Moore:
I did a couple booths last year. I did Long Beach Quilt Festival, and then I did Santa Clara last year. And that group was invaluable for me. I had never done a show before. What do I need to know? What are these things? The contract says this thing, is that real? And the number of people who had never read the contract and said, wait, what? That's not real.
Jullie Luoma:
And this week I asked people, the vendors, to list their website if they sell wholesale to other vendors, and I'm blown away. When you get a chance, go in and look at that list, what people wholesale and the people in that group. So this is going to be a fun way that we can get more of each other's products out to customers. Because those of us who sell at shows, it's actually very limited. We can't get to every show.
Carolina Moore:
No. And I'm impressed by those of you because you travel the entire US. I only did two shows on the West Coast because I live in San Diego. I can't imagine going all the way out to Pennsylvania and Tennessee and Paducah. And I'll fly to these events and walk the shows, but to bring a whole booth of stuff.
Jullie Luoma:
But it does become a routine. The setup isn't hard. My husband and I can set up a 30-foot booth in four or five hours. I mean, it's the driving in the van, it gets so boring. We'll go out to dinner with people and they're like, "Oh, you probably want to sit by your husband." And I'm like, "No, you don't understand. We just spent three days sitting next to each other in the van, we want to sit by somebody else."
Carolina Moore:
That's so funny.
Jullie Luoma:
But yeah, it's fun. It is a lot of fun. But it is, like I said, kind of limited too. It's only people that come to the shows then that you see. So we have to make a real effort. That's why I teach. That's why I have a website and Facebook group and stuff. But what's funny to me is different areas of the country are different for quilting and sewing and stuff.
Carolina Moore:
What do you find different areas of the country being different?
Jullie Luoma:
Okay, here's the funniest of them all. I still do this on purpose now because it makes me laugh. So we used to be out in the Seattle area and lots of rabid Seahawks fans out there, and we enjoyed them too. So one of my best ever selling patterns was a Seahawks pattern quilt.
So it was green and blue, and I liked green and blue before I knew anything about football. It's always been my favorite color. It's a Northwest thing too. Everybody up there likes green and blue. And we would travel then as far as Arizona, and there's a lot of people in Arizona that also like the Seahawks. So our stuff sold really well. And I just have some cute stuff in green and blue. When we go to the East coast or now, if I put up a blue and green quilt… Well, actually, so on the West coast when I have anything blue and green, people say, "Go Seahawks." If I put up anything green and blue on the East Coast, people go, "Well, those are interesting colors."
Oranges sell a lot better. And browns and yellows sell a lot better on the East Coast, and blues and greens on the West Coast.
Carolina Moore:
That's so funny.
Jullie Luoma:
It just fascinates me. And it makes me laugh every time. Like I said, I'll just throw a blue and green quilt up there to get the reactions and so I can laugh about them.
Carolina Moore:
That's fun.
Jullie Luoma:
Or people will come by and go, "Wow, I never see quilts that color." Isn't that funny? So yeah, it's just different.
Carolina Moore:
Come to the West Coast, we've got them for you.
Jullie Luoma:
Yeah. That's where all the green and blue fabric goes.
Carolina Moore:
So what's next for you? What are you working on?
Jullie Luoma:
We are getting ready to release subscription boxes.
Carolina Moore:
Oh, fun.
Jullie Luoma:
So you'll get some different rulers and templates and patterns every month.
Carolina Moore:
That's so fun.
Jullie Luoma:
And we'll have videos to show you how to use and lots of cutting tips. I do a lecture and teach, actually a three-hour class. It's called Cut Straight, Sew Straight, Press Straight. And I've learned all this from observing hundreds and hundreds of students and what they struggle with. So I'll be sharing those tips each month too. And you'll be at home where you can practice it.
Carolina Moore:
Okay. So I'll make sure to have links to that in the show notes so people can find out all about your subscription boxes. And also where can they find you online?
Jullie Luoma:
Offthewallquilt.com. There's actually no S in our name. Off the Wall Quilt. Do you want me to tell you how that name came about? It's not what people think.
Carolina Moore:
Okay.
Jullie Luoma:
People think it's because we're a little odd and quirky and we are. So thank goodness it fits ,and we've just kind of gone with that.
Carolina Moore:
Is it your quilt wall?
Jullie Luoma:
Well, no. We had that name before we bought the design walls. I have obviously been a designer since the start. And my husband, everywhere we've lived, he just lines several walls for me with insulation board and flannel. And so I can use it for a design wall. And my husband and my kids, we always take the living room. We like to get a house with the formal living room. And that becomes my studio because we found that my husband and my kids don't want me to be off in another building or on another floor of the house.
So it works really good for me to be in the middle of the house. There's no closet in the living room. So anyways, I always had all this design wall space, and I was always building quilts. Like I said, I didn't really follow patterns, and I'd build them on the wall as I went. Well, the rest of the family liked to walk through and rearrange for me.
Carolina Moore:
They would come switch the blocks around when you weren't there.
Jullie Luoma:
So I literally take a lot of pictures. But sometimes what they came up with was they weren't just being goofy, it looked really cool. So some of my designs grew from that. So I never told them, don't do that. And we had exchange students all the time too, and they would always help a little bit too.
Carolina Moore:
Help in air quotes, right?
Jullie Luoma:
Yes. So you keep rearranging. And it gets more and more exciting, but at some point you have to take it off the wall and quilt it.
Carolina Moore:
Yes.
Jullie Luoma:
So that's where our name came from.
Carolina Moore:
Well, Julie, it's been so fun hanging with you. I hope everyone enjoyed this. And that if they didn't know you before, they have also fallen in love with you. And if they already knew you, they fall even more in love with you. Go check out all of her amazing stuff. Reach out to Julie and her rocket scientist husband to help you out with all your quilting. Thanks so much.
Jullie Luoma:
Well, thanks. It's been fun talking to you, and I got to sit down during the show. I love it.
Carolina Moore:
All right. Friends, that's our episode for today. I hope you loved it as much as I loved having this conversation, I love learning all these tidbits and details about our favorite notion designers and the stories behind our favorite notions. Remember that you can find all the details that we talked about in the show notes. And those are all at ilovenotions.com. And make sure to leave this podcast a review in your favorite podcasting app. Leaving a review will let people know that maybe they should listen as well, and it will help the podcast algorithm show this podcast to other people who love notions just as much as we do. Friends, that's all I have for you today, but I will see you right here real soon. Bye for now.