Andi Stanfield – True Blue Quilts
Andi Stanfield is known for creating fabulous designs with easy-to-follow patterns for adventurous quilt makers. She is the self-published author of two books, and teaches classes on her techiques.
Her first career was as a high school teacher, and she now uses those skills in the quilting world. And, she didn't stop there. When creating her block of the month "A Little Bit Different" she created an acrylic template to make the process easier.
Learn more about this trailblazing quilter in this episode of I Love Notions.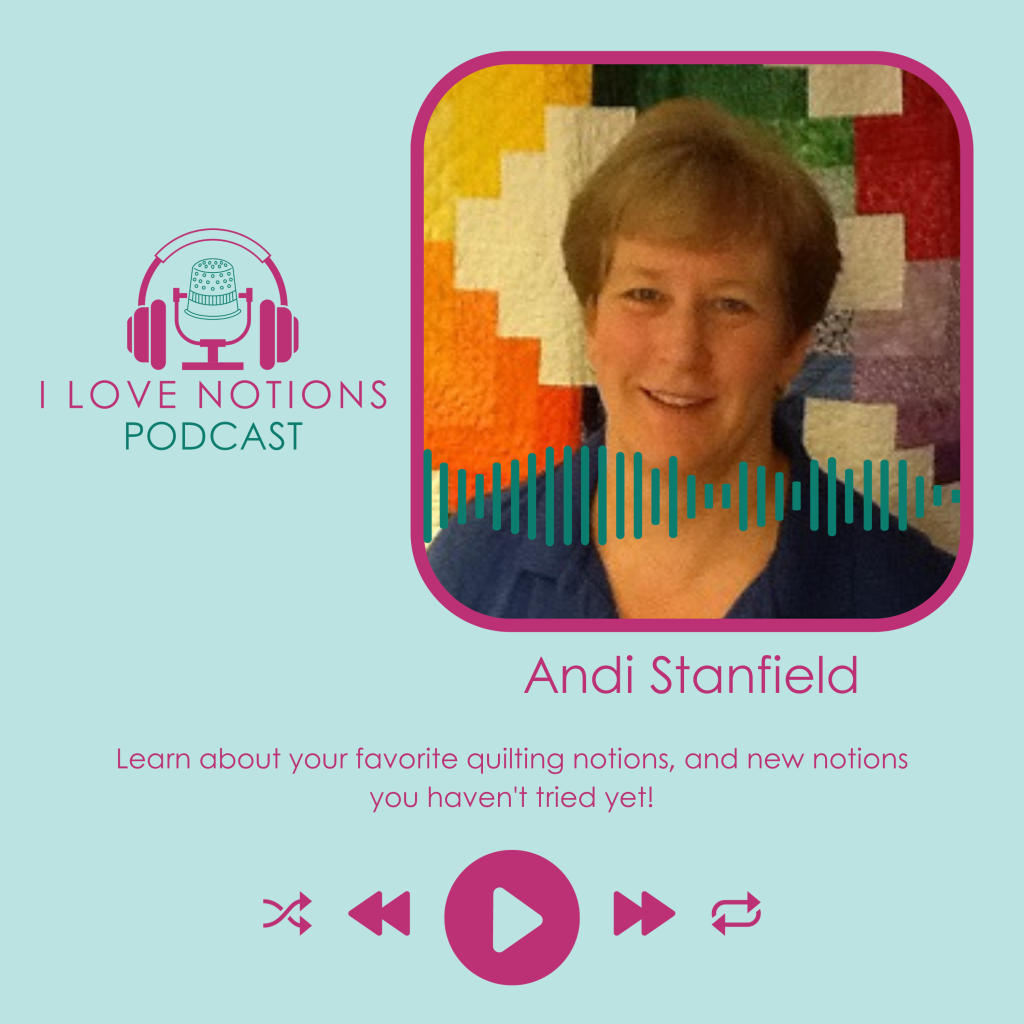 Show Notes:
Visit the True Blue Quilts Website
Find the "Long Dash" Churn Dash here
Check out the Little Bit Different Stretched Star here
Find the Little Bit Different Ruler on the True Blue Quilts Website
Check out the Little Bit Different Block of the Month
Find True Blue Quilts on Youtube here
True Blue quilts on Instagram and on Facebook
Listen to the Episode Here:
Follow these links to popular podcast players:
Listen and subscribe here on Apple Podcasts
Listen and subscribe here on Spotify
Listen and Subscribe here on Google Podcasts

Transcript of the Episode:
Carolina Moore:
I love notions and I'm guessing that you do too. Hey there friend. It's Carolina Moore, your favorite sewing and quilting YouTuber, and now podcaster here with another episode.
Today's guest is Andi Stanfield of True Blue Quilts, and I really want you to get to know her by having her introduce herself. So Andi, welcome to the podcast and please introduce yourself.
Andi Stanfield:
Thanks, Carolina. Great to be here. I am Andi Stanfield and I live in Phoenix, Arizona, and I followed in my mom's footsteps into this world of quilting because she opened a fabric and yarn store in the early two thousands as a retirement project. She thought it might be interesting, and I followed along and helped her out while the shop was open and just fell in love with everything about it. I started making quilts. I bought a long arm. I just went head over heels and I continued to teach high school during the day and worked at the shop on nights and weekends, and she has since sold her business and encouraged me to pursue other avenues in the quilt world, whether that is teaching or designing patterns, which I love.
So that's it in a nutshell. True Blue Quilts really emerged in about 2015 when my mom and I published a book about monochromatic quilts, so it ties in with that True Blue Quilts name and we explored a bunch of different color options just focusing on one color family for each quilt. So that's been a lot of fun and she feeds me a lot of ideas. So it's been a wonderful working relationship over the years.
Carolina Moore:
So you're really a second generation quilter and second generation quilting business owner in your family?
Andi Stanfield:
Yes, actually, yeah, she probably wouldn't see herself quite as that trailblazer, but she really did provide a wonderful example for me and it's always a delight to collaborate with her. Obviously, there were some other quilters and sowers in our family going back through the years. We have a wonderful family heirloom quilt that her aunts I believe, or great aunts, I'd have to look at the label again to double check, but they started some blocks for her uncle in the 1940s, and then once he found out she started quilting, he sent her all the blocks because they hadn't been finished. So they're these beautiful red work Americana blocks that she set with modern fabric, and we have this wonderful historic quilt that has been worked on by several generations of our family.
Carolina Moore:
Oh, that's incredible. What a precious heirloom that you have.
Andi Stanfield:
Yeah, the stories are so fun and obviously with modern technology, she was able to take a picture of the original packaging and tell the whole story, and so we have that printed label on the back and so yeah, it'll be a wonderful treasure for hopefully for future generations as well.
Carolina Moore:
Oh, absolutely. That's incredible. I love that.
So my other question, you started out by working in a quilt shop. Did that make you think, "Oh yes, I want to be a quilt shop owner when I grow up," or, "Oh, this is really a lot of work. Maybe being a quilt shop owner is not what I wanted to do when I grew up."
Andi Stanfield:
The problems with the brick and mortar things, and I think a lot of quilters that love the industry so much, they get those stars in their eyes like, oh, I could just do this all day, but a quilt shop owner is doing the business stuff and not the quilting stuff. So yeah, you definitely see how much goes on behind the scenes and how little quilting time those owners actually have. So yes, I'm quite happy to just be the teacher that comes in a couple days a week and not the person in charge of everything.
Carolina Moore:
Yes, quilt shops are a national treasure and their owners should be protected at all costs because we need our quilt shops, but there's a lot of hats that a quilt shop owner wears for sure.
Andi Stanfield:
Yes, yes.
Carolina Moore:
So you were basically born into quilting. Did you love quilting or was it something that you fought against a little bit? Did you start it when you were younger and then leave and go do something else and then come back? What does that story look like?
Andi Stanfield:
Yeah, it actually is very much an adult hobby for both my mom and I. She sewed all my clothes, well, maybe not all, but she sewed quite a bit when I was a young child. But I think she was very aware of the dynamics and did not ever push me or try to teach me. I think we would've butted heads if I had learned to use a sewing machine with her at an age earlier than 35, which is when I started. So she did make one quilt for me when I was about seven or eight years old, and I still have that. So that's a lot of fun to go back with the wonderful bright orange and harvest gold colors of the 1970s. But she really returned to it as the retirement project and me obviously being the younger generation, I was always bringing down the average age of the quilt groups when we would attend events together. But yeah, it's been a wonderful hobby to share as adults.
Carolina Moore:
That's so fun. My mom started quilting as well, so we both have quilting in common and it's fun to share fabric or work on patterns and there's one template that I'll never use again, and she said, "I want to try that quilt." And I said, "You can have mine." I'll never do another pineapple block in my life.
Andi Stanfield:
Oh my goodness.
Carolina Moore:
"You may have it." Yeah, that's fun. So at what point did you go from sewing, making quilts for yourself to working on your own business? Did it start with a book or was there something before that?
Andi Stanfield:
There were a few steps earlier than that I would say because I definitely am a teacher at heart. I mentioned I taught high school for many years, and so it was fairly natural for me to want to teach quilting as well once I had gained experience and learned what I was doing and was in a position to have some knowledge to share with others. And so I ran a strip club when jelly rolls first hit the market, and that was one of the classes that she had at the shop that she let me take over. And so I ran that program and I just choose a different jelly roll based pattern and curate the fabric for it. And so having that consistent program as an endeavor that I was in charge of sent me on the path.
And then she came up with the idea for a book a few years later and we worked on that as self-publishers that, even working with a traditional publisher, to put a book out is obviously that many more times more work than just putting out a single pattern. So it was definitely a long process. But yeah, there were some other classes and themed events I guess, that I worked on first as I took steps to gain my confidence in being a quilt entrepreneur.
Carolina Moore:
Yes. So you self-published the book?
Andi Stanfield:
Yes, I remember pitching our second book. So we just wanted to get the first one, the monochromatic book out in the world. So we looked at the Amazon publishing options, which has since been called Kindle Direct Publishing, KDP, and that is actually a fairly simple process to create the document. Obviously everything else that goes into writing patterns and putting graphics with them and all that sort of thing, getting the layout exactly right, but once the document is ready, putting it onto the platform and offering it for sale is very clear cut, fairly simple process through KDP. So that's been fun to have that out there.
And then when we talked about a second book on a totally different topic, which was angle plate templates, which make half rectangle triangles, we did pitch that to a traditional publisher and they were not interested and we said, well, rather than shop around to the other half a dozen publishing companies out there, let's just do the self-publishing thing again. So yes, I have two titles out that have been self-published.
Carolina Moore:
I think that's fabulous and I love that self-publishing means that we can have more of these books out in the market because a traditional publisher, they only have room in their catalog to publish so many books per year and they have to make decisions, and there's various reasons that certain books get published and others don't, and it isn't necessarily because the ones that the publishers aren't publishing aren't great books that need to exist. So I love that the great books that need to exist have a path to exist regardless of aligning with a traditional publisher's catalog for that season.
Andi Stanfield:
And for quilters especially that may not sell thousands of books, the self-publishing print on demand option is really attractive because you can do those smaller print runs and still be known for that one thing and have that book available without having to rent a storage facility for extra pallets of books that are going to weigh you down for years thinking, how am I going to market these and get my information out there?
Carolina Moore:
Well then making that financial risk, especially with either your business's money or your family's money of I'm going to spend this many thousands or even tens of thousands of dollars to do a run of books that might take me years to actually sell and make my money back.
Andi Stanfield:
Yeah, I think it's a great option, but I'm always open to all the different routes. So if I was able to work with a larger company and do a more traditionally published book and have a team of people, that's certainly attractive because as we know, the solopreneur job juggling all the hats of marketing and distribution and everything else can get a little overwhelming at times. So there is the pluses and minuses to every option.
Carolina Moore:
Yes. Trying to do all the things. And so you were doing all the things and then said, "I should also design a ruler." I should add that, right. Is this the thought that you had? How did the ruler come about?
Andi Stanfield:
Well, no, because I looked at all the tools that are already available and said that is a path that I probably will not go down. But I mentioned that we had worked on a book about half rectangle triangles, so I am intrigued by that shape, that unit in quilts.
And in 2023, I am working on a Block of the Month program called Little Bit Different. And the thing that sets it apart is that I am working with six by nine inch blocks instead of a traditional square block. So as I make all my blocks rectangular, that means I'm working with more half rectangle triangles to incorporate or reinterpret traditional blocks into this new size.
And I got a few months in and said, you know what? I'm really tired of searching for those six by nine inch lines on my 12 by 12 ruler, and you know what? I know a guy who makes rulers, so let me see what he can do for me. And so that began the discussion of the ruler, but it really did just naturally evolve as I need a thing to do this one step. And I luckily had the contacts to put that all together. So it was a situation of necessity as the mother of invention. So there we go.
Carolina Moore:
So you knew a guy who made rulers. How do you get these kinds of people in your sphere is I'm sure what everyone wants to know.
Andi Stanfield:
Right? Well, it's the contacts you make in the quilting industry because this circles back around to the angle plate templates because when my mom and I wrote our angle plate book on half rectangle triangles, the quilter who initially designed that template is Margaret Miller. Well, she was ready to retire, so she sold her templates and the rights to that to Julie and Rick Loma, and we worked with Julie and Rick on our angle plate book and obviously have kept up that relationship over the years. They have since expanded from just the angle plate templates into other rulers and manufacturing of templates. And so when I had the idea for a new size ruler, that was my first thought of Rick is the guy I need to talk to make rulers and templates because that's part of his business. And we had been in contact pretty regularly over the last few years.
So yeah, we spent a few weeks going back and forth with design options and ideas because since he's manufacturing the rulers, he could get all the special markings that I wanted so that it has very clear lines for your seam allowance. It has the diagonal markings for the half rectangle triangles. It's got very specific sizes for obviously the ruler trims, the six and a half by nine and a half block that I'm working with in my Block of the Month. But there are also clear markings for the two-inch by three inch units that I use to make the bigger block each month. So it's been really exciting to see that develop and have it manufactured and show up on my door.
Carolina Moore:
So folks who have been listening to the podcast in order or this season one in order know Julie Loma already, that name sounds familiar because we had her on the podcast talking about their business. So it's really fun to talk to someone on the other side of that relationship who connected with them and said, "Hey, can you help me make this?" So can you talk a little bit, how easy was that process? What did you need to know? What do you wish you knew before jumping into that process?
Andi Stanfield:
It's similar to the self-publishing. You read the guidelines of what you need to submit. So that's the way I approached the ruler. I talked to Julie and Rick and said, okay, I am thinking this size. And then he was able to ask about the markings that were going to be so integral to making it a useful item specifically for my program, and then just evolved as a natural conversation.
Obviously, you want to go in, if you're having a physical object produced, you need to have some idea in your mind of what it looks like, the sizes and those things. And then luckily Rick has the resources and was able to say the biggest stumbling block that we found was thinking about how the numbers would go on a ruler and as a right-handed quilter, it was one of these things where I had to put the rulers that I already had down on fabric and sketch out how I work because the image he sent back looked backwards to me, and we had this back and forth on email for a while of, wait a minute, I'm doing things in these specific steps with the ruler in this orientation and how can we make it useful?
And since it is a six and a half inch ruler, obviously that's not symmetric. You have full inches from one direction and that extra half inch on the other side. So we did figure out finally, it's one of those silly things that are like, oh, you just have to rotate 180 and then the numbers will be right side up for a left-handed person instead of trying to flip it over and that thing. So we got there eventually.
Carolina Moore:
I love that you were thinking about both right-handed people, which make up a majority of the population, but not all, and then left-handed people who tend to get left out in that minority.
Andi Stanfield:
And I think that comes from teaching because they're always are those people in the minority that you need to be aware of what the struggles might be for beginners or people using your tools and patterns and don't just assume that the way the majority does it is working for everyone. So yeah, I was happy that I did have that thought and took the time to figure out how it would be useful.
And the other great thing about working with Julie and Rick Loma is that their production process uses an easy grip surface on their rulers and templates. So this is a non-slip ruler. You don't have to add any other pieces or stickers or whatever to the ruler. It stays in place very easily, and I know a lot of quilters appreciate having that non-slip surface because you don't want to get to the edge of your cut and then slip on the ruler and there you've made an error and have to start over
Carolina Moore:
And then you cut into that precious fabric in a way that you did not intend to.
Andi Stanfield:
And then you have to go back to the store and then you see something new and wonderful and then a hundred dollars later.
Carolina Moore:
Well, I mean going back to the store and picking out more fabric. I mean, I'll cut into my fabric wrong all day long to get to go back to the store and pick out new things. This does not sound like a downside.
So you had the template designed with your purpose in mind and how it needed to work for your students. You thought about, and then there was the time to make the decision of, okay, yes, I'm going to order these, we're going to have these made. What were you feeling at that point?
Andi Stanfield:
I was very appreciative of a company like Off the Wall Quilt, Julie and Rick, that can do small runs again, I said that was a benefit of the self-publishing and I did not have to outlay thousands of dollars. I was able to get a small production run of these rulers and test out the concept. Yes, there are a lot of nerves going when you have something brand new and are thinking, are people going to like this? Is this going to be useful? And my audience, my quilt group loves it. Everybody at my in-person sew day when I debuted it, everybody wanted to take one home. So that was great. I was able to reach out on my Block of the Month audience. Obviously that group has been interested in it. They've been sewing along for six, seven months now at the time of recording, so they find it useful. I do have a substantial audience on my YouTube channel and was able to demonstrate through YouTube videos and it's gotten a good reception. I'm happy with it.
Carolina Moore:
That's phenomenal. I love that. So do you have more plans of things that you want to do with this ruler or more rulers that you want to do in the future, or are you going to go a different direction?
Andi Stanfield:
I found it so serendipitous that just this idea came to me in conjunction with the Block of the Month program that I was doing. I don't want it to just be a single item, single pattern tool. I find that very frustrating and I'd like to be able to expand on an option. And that was the reason we wanted to, my mom and I wanted to put out the angle playbook several years ago is because there weren't a lot of patterns out there, and when you buy a set of templates to make one quilt and then they gathers dust, that seems very, very frustrating.
So I do have plans to continue the little bit different series of blocks, so hopefully there will be after the 2023 Block of the Month ends there, that will continue into future years and we can continue using that little bit different ruler because six by nine inch blocks are fun to take the traditional square quilt block and reinterpret it.
Carolina Moore:
Yes, absolutely. I love that. Not everything has to be squares and half square triangles. You can play with rectangles as well. There's so many options and ways that you can go quilting.
Andi Stanfield:
The one thing that you have to remember that makes half rectangle triangles a little harder to deal with than half square triangles is they are not perfectly symmetric. You have to have a right-hand and left-hand version, a right facing or a left facing unit, their mirror images and not just, you can't just rotate it 90 degrees and have it line up. So that has been a design challenge. That is fun for me because when I taught high school, I actually taught algebra and geometry, which ties into quilting so beautifully that those design challenges and quilt math are something I actually enjoy.
Carolina Moore:
I loved algebra and geometry as well in school, but I know not every quilter loved those kinds of subjects, and I love that quilt pattern designers can put together these patterns so that people who don't love the quilt math don't have to do the quilt math.
Andi Stanfield:
Right. Just reach out to your nearest designer and there's a lot of us out there and we'll be happy to help.
Carolina Moore:
Well, and likely we already have a whole stack of patterns for you to pick from that are already ready and set to go.
Andi Stanfield:
Exactly. There you go.
Carolina Moore:
So you mentioned teaching as well. You're still teaching at the shop, or can people bring you to their guilds or bring you to their local shops to be able to teach as well?
Andi Stanfield:
Yes, to both of those options. I do have some classes regularly occurring at my local shop. There's a bunch here in Phoenix, so I don't recommend visiting during our 2023 record-breaking heat wave, but we are a lovely destination in January and February when you're tired of the weather in other parts of the world. Those are our prime tourist days. But yes, and I'm happy to do Zoom lectures for guilds and travel if we can work that out. I do still have a full-time job. I've left the public education world, but I develop training now for other organizations. So my schedule is not completely open for quilting, but I do try to work it in as much as possible.
Carolina Moore:
I love that when you have a quilting business, it can work around whatever other obligations you have, whether it be another job or family or other family. [inaudible 00:27:38].
Andi Stanfield:
Yeah, my family has learned that if we can plan vacations around quilt destinations and find a little something for everyone to be interested in, then mom's a happy camper.
Carolina Moore:
Oh, that's fun. What quilting destinations do you like to go for or have you already seen then?
Andi Stanfield:
Let's see. I did take my sewing machine to my daughter's summer camp one year. I would drop her off as a day camper and I would sew in the hotel room, so that was fun. We haven't made any wild trips. We did take a trip to Hawaii and luckily there was a quilt show on the islands we were there, so I was able to do that. It wasn't a full on destination, but the quilt show was a bonus. Hawaii was a big draw, but.
Carolina Moore:
You haven't convinced the family to do a family destination in the very, very exotic Hamilton, Missouri, or Paducah, Kentucky.
Andi Stanfield:
Right. Those may have to be girlfriend trips, but I would love to get back over to England, and if I could line that up with one of their festival of quilts, that would be a lot of fun. Or one of the quilting cruises is a very attractive option as well, because then I can go do my quilting thing and there's plenty of entertainment options on the cruise ships, so I think everybody would be happy with that.
Carolina Moore:
Yes, the quilting cruises have gotten very popular. I did my first one this past January, and I'm doing one later this month in August, and the August cruise, my husband is coming along, so I'll be teaching during the day on all the sailing days, and we'll see if he's entertained enough bopping around the ship on his own. But that's definitely a fun option for sure.
Andi Stanfield:
Yeah, I'd love to get these family perspectives of what's going on. I was talking to another friend who said that she made QuiltCon last year, a family event because it happened to be in a location where she had lived when her children were young, and so they were able to return and say, "Hey, this is where you grew up," and the whole family came and saw the show. So that sounded fun as well to get an outside perspective. Sometimes being in the industry, it's refreshing to have those other opinions as well as the quilt civilians come and see your work.
Carolina Moore:
Oh, I love being a quilt tourist, and I mean, I started in this industry as a hobbyist as well, so that's still very much part of my roots, and I love being a hobbyist whenever possible. It's fun. Although I've had people, I was in a class at, I guess two years ago now where one of the other students knew me and she said, "Well, what are you doing taking the class?" And I said, "Well, I mean, I want to learn this technique too." There's nothing about being a professional. That means that suddenly I knew all the things, and plus it's a great teacher. I wanted to learn from this teacher. I wanted to learn the technique she was teaching. Even on this side of quilting, there's so much more always to learn.
Andi Stanfield:
Yeah, and quilting is such a big industry, big tent of options that yeah, you can't know everything and it's fun to dabble in things that are not your primary interest. So yeah, I think that's a wonderful attitude, a wonderful experience. And I try to take classes regularly too, just so that as you said, you can learn from these great names in our field and you can just have a fun creative day learning something new. That's always a time well spent.
Carolina Moore:
Absolutely. So you have some new videos that you're working on. You're finishing up this Block of the Month. Have you planned out any patterns that you're doing for next year already? I mean, it's still early in this year. We've got to finish out this year.
Andi Stanfield:
Things are just percolating right here in late summer. And then we'll see. As I said, I really have been energized by this six by nine block size, and I think there's a lot of things to explore. So I have been developing individual patterns that go along with each monthly block so that quilters will be eventually able to use them as sampler patterns, obviously with the 12 blocks. But then there are also other options if you wanted to take one block and put that as the featured blocks.
So I have lots of pattern ideas that I haven't had time to publish yet, so eventually I can work through the backlog there. I've heard one of the memes that tends to go around is I have so many unfinished objects that I have to finish before I die. I am going to live to 867, and that's how I feel with patterns that I want to get out in the world because I'll sketch them out and I'll write a few bits of the initial construction and then I get busy with the next thing and never get back around to it. So yeah, there's always something that I could be launching fresh, I suppose is the way to say it, but we'll focus on the little bit different six by nine blocks for a little while longer. Well,
Carolina Moore:
I think these really are a fresh take because I mean, you've got a churn dash block that is six by nine, and I think a little bit different is the perfect words to describe it because I can tell it's a churn dash block, but you've got this new twist and new take on it.
Andi Stanfield:
Yeah. The other favorite one from the spring was the Stretched Star. When I did the Friendship Star in that rectangular format, that was a lot of fun as well.
Carolina Moore:
Oh, I'll have to find that link and I'll make sure to add it to the show notes as well so people can go see the churn dash and the Stretch Star to see what these look like in a six by nine format, that rectangular format, rather than the traditional square format that we're used to seeing.
Andi Stanfield:
Yeah, I love that design prompt. My mom always laughs at me when I say that I am joining a swap or a challenge because she's like, "You have all these other things to do." And I'm like, but I just enjoy the design challenge, the prompt aspect of what could you do with X, Y, Z components? And in this case, the six by nine idea. I had seen a sampler quilt years ago with that format. I tried a few blocks and then I sat down. I was trying to say, can I make 12 blocks out of this? And the ideas flowed pretty quickly, so I said, hey, let's go with this. And then just a few weeks ago I was re-imagining a different project and I said, hey, could I make this work in six by nine? And I could. And then I've got another whole set of blocks. So yeah, it's been really fun to see where you can go when you just have that first seed of an idea.
Carolina Moore:
Absolutely. That's so fun. Now, is there anything else you want to add before we sign off for the day?
Andi Stanfield:
No, I'm just happy to talk to some new people about my little bit different ruler and Block of the Month program. Thanks so much for having me. And look for me on YouTube primarily and as True Blue Quilts, and people can also find me on my TrueBlueQuilts.com website. Instagram and Facebook are the other places I generally hang out.
Carolina Moore:
We'll make sure to have all those links in the show notes, and those will be @ilovenotions.com so people can find those show notes and click on all those places, follow you and be inspired by your journey into the rectangle.
Andi Stanfield:
Thanks so much. It's been a pleasure.
Carolina Moore:
Thanks for being here. Friends, that's our episode for today. I hope you loved it as much as I loved having this conversation. Remember that you can find all the details that we talked about in the show notes, and those are [email protected]. And make sure to leave this podcast a review in your favorite podcasting app. Leaving it a review will help the podcast algorithm show this podcast to other people who love notions just as much as we do.
Friends, that's all I have for you today, but I will see you right here real soon. Bye for now.