Debbie Wendt – Wendt Quilting
Debbie is a home economics teacher by profession. She began quilting in 1986 after taking a Continuing Education class. Growing up she was enthralled with her grandmothers and their abilities as seamstresses. When fitting clothes took the fun out of the sewing, she turned to quilting. It was a great way to collect fabric and continue using her sewing skills.
Her quilting passion grew when she moved to Egypt. With her friends, she began a quilting group that was later named "Quilters in deNile". Now a resident of Massachusetts, Debbie continues in many quilting endeavors. She designed the tool "Brilliant Bindings". In 1999, a dear quilting friend Lil Griffin showed her a binding ending technique so the seam was the same as all others in a continuous binding. She made her own template to simplify the process and used it to teach others for years. She was encouraged to put the idea into form and had Brilliant Bindings made in 2007.

Her Brilliant Bindings tool shape, a trapezoid, proved to be a great jumping off point for many unique quilt patterns. Any of her patterns with "Brilliant" or "Tool" in the title uses Brilliant Bindings as a cutting template to make the quilt.
In 2017, Hex-a-ma-jig was created. A 3 1/2″ half hexie shape template with more lines for more cutting options – Half Hexie, Full Hexie, Partial Hexie. The Hexie family grew in 2018 with Hex-a-ma-jig Jr. for 2 1/2″ strips and Hex-a-Mini for 2″ strips was introduced in 2021.
Her self-published books include:
Construction and Production – Making and Binding a Quilt on a Longarm, Midarm or Shortarm
Chenille Made Easy on a Longarm
Hexie Speak – Say it with Hexies A Design Workbook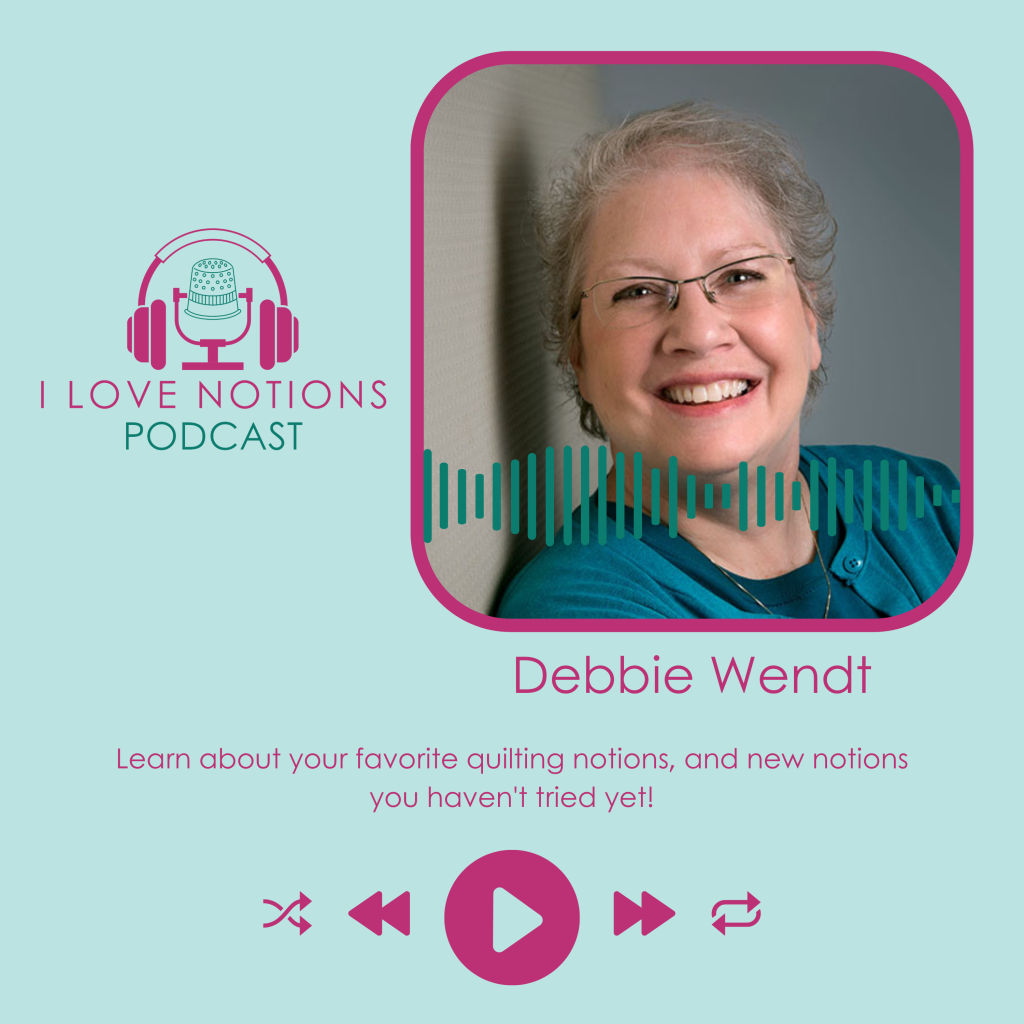 Show Notes:
Find Debbie Wendt's Website Here
Follow Debbie on Facebook here
Check out Debbie's Instagram here
Subscribe to Debbie's YouTube here
Listen to the Episode:
Follow these links to popular podcast players:
Listen and subscribe here on Apple Podcasts
Listen and subscribe here on Spotify
Listen and Subscribe here on Google Podcasts

Transcript of the interview with Debbie Wendt:
Carolina Moore:
I Love Notions and I'm guessing that you do too. Hey there friend. It's Carolina Moore, your favorite sewing and quilting YouTuber, and now podcaster here with another episode. So today on the podcast we have, Debbie Wendt from Debbie Wendt Quilting. She has a couple notions actually this she's going to tell us about, but I'm going to let her introduce herself first and tell us about how she got started in quilting. But welcome to the podcast, Debbie.
Debbie Wendt:
Thank you Carolina for having me. Yeah, so back in 2007, I finally got a tool for binding that I was happy with and that's actually when I started my business Wendt Quilting. From there, I've come forward to 2023. It seems like a very long time at this point. And I was a home economics teacher by I guess you would say education and that was my first job. I taught home ec.
Carolina Moore:
What grades did you teach home ec to?
Debbie Wendt:
I taught seventh and eighth grade for seven years and then I bumped up to the high school for one year and I did the foods classes. So it was definitely out of the sewing realm of it, but still incorporated under the home economics umbrella. And then in 1992 there he was across a crowded room was Bob Wendt. So we got married in '93 and I quit being a teacher, moved to Cairo, Egypt and that's actually where I started teaching quilting. It was a way to sew without having to fit clothes. So it fit right in with my love of sewing and fabric. And then as I mentioned, the tool came several years after that. So that's how I got started in the business.
Carolina Moore:
So I want to go back. So you moved to Egypt and this is in the early '90s, so this is before the widespread internet where you could Google things easily and it was also the time when long distance calls were really expensive. So making a big move like that, that can be really isolating for some people.
Debbie Wendt:
Yeah, absolutely. At the time it was a $1.50 a minute, so we had a very expensive long distance relationship when that started. My parents were actually living there. My dad was working on a joint venture with two engineering firms and my husband Bob was actually working with my dad. So as far as internet, yeah, pretty much non-existent. The big old clunky computers. We finally did get internet in Egypt and I don't remember what year, but it was I'm guessing the mid to late '90s and any fabric, good fabric, the Egyptian cotton is exported. So any good fabrics we brought back in our suitcases when we went home for the summer. So there's several companies that got lots of business during that time.
Carolina Moore:
That's funny. So the cotton was then grown in Egypt, exported to the US where you bought it and then brought it back to Egypt as finished goods for you to be able to make quilts with?
Debbie Wendt:
Right, exactly. There was fabric there, they would tell you it was cotton even if it wasn't. So there was a lot of guessing what you got, some of the tests to make sure that it was cotton. We didn't go into all of that with some of the vendors. We just knew where to go. A street of the tent makers, the Egyptian tent makers was one spot that we knew we could get really nice cotton fabric.
Carolina Moore:
So you learned all the secrets. So were you part of a guild then in Egypt? How did you learn? How did you pick up quilting?
Debbie Wendt:
There was a guild, but it was more of a church related guild. We had different groups that made things for a Christmas bazaar that we did once a year to raise funds for local charities. We called it Maadi Women's Guild, M-A-A-D-I. That was the area that I lived in, but it was more of a church organization to help with supporting charities. As far as quilting goes, we did start a quilting group and I did teach quilting at was called Community Services Association in Maadi, so it was a place that newcomers could go, they would teach newcomers, they had classes and eventually I did offer some quilting classes, more beginner just to get people interested and learning about the basics of quilting.
Carolina Moore:
Oh fun. So how long did you end up living in Egypt?
Debbie Wendt:
It was eight years total. So when I first moved there it was four years. We went to Louisiana for two and then they asked if we would go back and that was about the year 2000. So we went back for four more years. I'm originally a Kansas City, Missouri girl and I now live in Massachusetts.
Carolina Moore:
You've really been all over.
Debbie Wendt:
I have been, yes.
Carolina Moore:
I won't ask you to pick a favorite. That's not fair at all.
Debbie Wendt:
Probably each one at the time.
Carolina Moore:
Oh, that's great that you love the moment you were in when you were in that moment. I love that.
Debbie Wendt:
Yeah, Egypt was tough, but yet that challenge was so rewarding when we were there.
Carolina Moore:
So you picked up quilting, you started teaching quilting. Did you teach quilting when you lived in Louisiana as well or was it just while you were in Egypt?
Debbie Wendt:
Yes, I did. There was a quilt shop in West Monroe called Quilt N' Stitch, I believe they're still in business and I worked for the shop for a year. I actually learned how to longarm quilt at that store and then I taught some classes for them and then there was a guild. And I did teach, I'm thinking probably one or two classes during that time I was there.
Carolina Moore:
So for most people in the industry, they start out as consumers, as quilters, as hobbyists, and then at some point maybe they start with pattern design. That's generally like a first foray into the business of quilting. Is designing a pattern, was that true for you?
Debbie Wendt:
Exactly, yes. When I started teaching, I was looking at other people's patterns. I was looking at books and the light bulb went off that I could write a pattern. I have ideas using at the time… Well still to this day I use a lot of blocks that are already out there in the public domain and then as they say, make it your own. So I worked with design, with layout, different color combinations, changing up where colors went. So yeah, absolutely, that's how I did start and wrote my first pattern and then it kind of went from there. The tool actually was kind of joint with that and the timing. So the tool was what actually brought me into what I would say the big quilt world.
Carolina Moore:
So tell me about the tool.
Debbie Wendt:
So the tool is Brilliant Bindings and it's the original trapezoid shape tool for bindings. It is to do your perfect Mitre corners to finish those tail ends and then because the tool is a trapezoid shape, I did quarter inch lines across it. So you can use it as a template for different patterns. So if you look at a quilt block and see maybe a rectangle with a half square triangle on the end of it, if I combine that into one piece, that's the shape of what my tool looks like and then full color instructions and I've got video online on how to use Brilliant Bindings.
Carolina Moore:
So what was that moment where you said "There needs to be a solution," or "I want to create this tool"? What was that process for you?
Debbie Wendt:
Thanks for asking that because I forget to include that part. I learned this technique from a quilter down in Louisiana where she showed me how she marked the end at a 45 and then she added a half an inch. And in teaching it myself to other people, it was difficult for people to understand, okay, where's that 45 line in comparison to the edge of the ruler, even though we do have lines on our rulers with those marks.
So I made myself a little plastic template for my own use and my dear friend Barbara Chainey from England, she's a teacher and well-known author in England. As I said, she's a friend of mine and I was showing her what I had and she said, "Debbie, everybody else needs this too." So that was the moment of, okay, it's not only for me, most everybody puts a binding on a quilt and this can help them to take the guesswork out of those finishing ends. Instead of just shoving that fabric underneath and the binding and having all that bulk, we make that last seam look like all the other seams in the binding.
Carolina Moore:
That's so clever. I love that. Okay, so you learned the technique and you wanted to make the tool. What was that process like of going from I have this idea for this tool to actually having a tool in your hands?
Debbie Wendt:
Yeah, we're talking early 2000s, so there wasn't, well in my eyes, I didn't think there was a ton of tools other than the big companies. So I had to think about, okay, who makes tools number one, and will they accept someone else's drawing? There was a couple of companies that I went through. I was not happy with one, so I kept looking for the company that best fit my needs. And I ended up, at the time I was in, probably… No, I was here in Massachusetts, I found Rulersmith way out in Washington State and they made the Omnigrid Omnigrip rulers. So I actually was out there visiting my aunt was able to tour their facilities and showed him my idea. Of course we have the legalities of proprietary information and they drew it up in their CAD program and then I got to go through the process of "Yes, move this line here. No, that's okay." They made me a prototype and we went from there.
Carolina Moore:
And so then you made the leap into, "Okay, I'm going to write an order for this and hope that people love it as much as my friends and I do."
Debbie Wendt:
Exactly. So the process was finding a company writing directions, and at that point I really hadn't done much. So it was learning how to use a program on my computer to write instructions, finding a printer that would print my covers, finding pattern bag companies that all of this would go into. A lot of preliminary behind the scenes before, as you well know, having a tool out there. Before you actually get to put it in front of the public eye.
Carolina Moore:
Yes, a lot of weeks, months, sometimes even years of logistics and sorting out before you can get to the point of I can talk about this and it's a real thing.
Debbie Wendt:
Right.
Carolina Moore:
So you order them, you got them out in the world. Do you remember what the initial response was?
Debbie Wendt:
I immediately put it with Checker Distributors. So they took it right off the bat, which hindsight, I didn't realize how exciting that… Well, I knew it was exciting, but you hear of designers now going to distributors and just pitching your idea to them. I went to Quilt Market to bring it out even further into the quilt world. And that was two years after it had already been into Checker and I realized I needed a website. I didn't have it at that point. Social media was a more, what? In its infancy. So getting those things started, it's much different now with getting something out there because you can put it on Facebook, you can put it on Instagram, boom. But we didn't have any of that when I started. So it was a lot of word of mouth going to Quilt Market and then going through checker and keeping things current because I had the tool. Then it was like, what else can you use it for? And I started designing patterns using that tool as a cutting template.
Carolina Moore:
So I saw that you have, this is the Brilliant Bindings tool and there's also a version for longarm quilters. What would be the difference for a longarm quilter needing a different version of the tool?
Debbie Wendt:
So Brilliant Bindings, what I call eighth inch thick for all quilters is just that. It's the regular tool thickness that we get with any of our rotary cutting tools. Then for Brilliant Bindings a quarter inch thick, it's a quarter inch thick acrylic. That's the thickness that you need to use with your longarm or now we're doing it with our domestic machines. We weren't at the time that this came out, because your hopping foot can hop up over that thinner version. So with the quarter inch thick, your hopping foot runs alongside it and it's much less chance of that tool slipping under your hopping foot and getting hit by the needle. So for the long-arm version, that's actually how I came into teaching and what I would say is the big teaching shows. I taught for MQX and did a class on finishing your bindings while your quilt was still on your longarm frame.
Carolina Moore:
So the way that… I don't have a longarm, and I think most people probably don't have a longarm, although they're becoming much more common nowadays, which is fabulous. But I finish free motion quilting my quilt or using my walking foot to quilt my quilt. Then I take it to my floor with my cutting mat and my rotary cutter ruler, and then I square it all up and then I attach my binding. But here the quilt is on the frame of the longarm. It's been quilted and before taking it off the frame and squaring it up, you're already attaching the binding?
Debbie Wendt:
Correct. Yeah. So my example that I give people when they say, "Oh, but I don't square it up." Well, you can actually square it up on your frame by drawing your lines. So if your corner is a bit wonky, you can draw a line to square that up on your frame and then you have that perfect edge to attach the binding to because you're not removing any of that batting or backing that's extending beyond your quilt top. So you can actually create what will be your edge. By putting it on the frame you don't have to push it under your machine, your domestic machine. You can do your perfect Mitre corners, right there.
There is a lot of rolling your quilt back and forth on your liters because your machine can only go so far with those poles. And then going across the bottom and the top, it's one fell swoop and I do it by hand. I don't lock it into a channel lock or anything like that because as we all know, fabric moves and I want it to be as precise on the quilt as it is in front of me. So yeah, it takes out a couple of steps and then it takes out having to push it under your domestic machine. Because that gets a lot of weight and it does get heavy.
Carolina Moore:
For sure. All of us who have sewn on our binding know the struggle of pulling that whole quilt up onto the table and getting it underneath. And when you're talking channel locks on a longarm. That's something that we don't have on our domestic machines, but it's a way to kind of lock a horizontal or vertical line in place so that when you are pulling the machine across the frame of the longarm, it stays right in that channel. Right in that straight, perfect line. But you're saying that you don't lock it in place because you want to be able to eyeball exactly where that binding is going on there?
Debbie Wendt:
Yes, exactly. If you've got a seam that you're going up over, something like that, you want to just make sure that it stays with what's happening on the quilt as opposed to where the machine thinks it's going to go.
Carolina Moore:
There are definitely times in quilting where we the maker are better than the machine doing its quote "perfect" way of sewing it, for sure. Yeah.
Debbie Wendt:
Yeah, I agree. Good point.
Carolina Moore:
So I noticed that the Brilliant Bindings tool is not the only tool that you have. There's a Hex-a-ma-jig tool as well.
Debbie Wendt:
Yes, there is.
Carolina Moore:
Could you tell me a little bit about the Hex-a-ma-jig?
Debbie Wendt:
Absolutely. So Hex-a-ma-jig I designed in 2017 and it's 10 years after Brilliant Bindings. There was a point where, okay, how much more, how many more patterns can I do with that trapezoid shape of Brilliant Bindings? And I've always been in love with hexagons and I think a lot of people have those grandmother flower gardens, some of your triangles, your diamonds, those shapes are very intriguing and make for some amazing patterns. So yeah, 2017 I did Hex-a-ma-jig for three and a half inch strips. With that tool, as it says, three and a half inch strips for cutting half hexes. Those half hexes can be sewn one on top of the other to create a full hexie. I do have instructions for using a bigger, wider strip of fabric. So you can create a full hexie. Let's say you want to do an I spy. There's also lines on the tool for your triangles.
There's no diamond line, but in the instructions I show you how to create those diamonds because baby blocks, the finished shape is a hexagon. You can do your triangles and diamonds to create those baby blocks and it doesn't have to have a Y-seam. It can actually be vertically pieced to create baby blocks. Edge pieces, one of the things when I first started doing a hexie and you have that, what I would say, a zigzag edge, because your hexagon has that 60 degree, I didn't like wasting the fabric of chopping that off when I was finished. So there's lines on the tool that you can actually cut those edge pieces beforehand and then once you sew those rows across, you have your finished edge instead of going back and cutting them off.
Carolina Moore:
Oh, I love that because sometimes you can only get so many units out of a strip and then you're going to cut off half that unit anyway, so why did you need a full unit? And also if you're using scrappy fabric, sometimes the scrap is big enough to make an edge piece, but your template is only designed to make the full unit. So this lets you get more out of your fabric every time.
Debbie Wendt:
Yeah, exactly. Exactly. And then in the directions, people like things, they like things for free as we all do.
Carolina Moore:
Well, yes.
Debbie Wendt:
I went ahead and put in six different quilt layouts using the tool with some of the different shapes. So you've got your grandmother's flower garden, you've got one where they're all smooshed together. I call it a mixed flower garden. You can do your full hexes with your Y-seams but you can also do those hexies to look like they've been created as a full hexie with two halves. And by creating two halves, one on top of the other, we can strip piece that and that is in the booklet as well as a freebie on my website. And then those good old baby blocks or tumbling blocks with that vertical strip piecing and seven sister star is actually created with diamonds. But when we split that diamond in half, we have triangles in diamonds. So again, we don't have to have it sewn together as a Y-seam or that set-in seam. You can actually create triangles and diamonds to get that same block.
Carolina Moore:
My brain is just buzzing with ideas. There's so many different ways that you can use the tool. So this is the Hex-a-ma-jig, and I'm curious because you already had the Brilliant Bindings tool for a decade before you launched the Hex-a-ma-jig. Was it less nerve wracking to launch a second tool, or was it just totally part of doing business or was it you were already really confident because you had a successful tool and so launching a second one was a breeze?
Debbie Wendt:
I'm going to say a little bit of a mix. I wasn't afraid to put it out there. I knew at that point I made it an edge tool instead of the lines printed on it and I went to someone else to do that work. I went to a different manufacturer. But there are hexie tools out there. There are half hexagon shapes, there are triangles, diamonds. Have been for years because this is a very well-known shape and I didn't want to step on anybody's toes that were already have a tool like that. So I made sure, this is the nerve wracking part of it. I made sure mine had different lines. It has only one size on my particular tool, so it wasn't a multi size tool that you see a lot of when you see hexagon shapes. And I created it so I felt it was a little different, a little unique. Yes, there are other tools out there, but I made it different that it did what I wanted it to do that I didn't see in some of the other tools.
Carolina Moore:
That need of, it's not just to create a tool to create a tool, but creating a tool that fits a hole that you've found in trying to make these projects.
Debbie Wendt:
Yeah, exactly.
Carolina Moore:
So it's available in a couple different sizes, right?
Debbie Wendt:
Yes. So Hex-a-ma-jig was the first one for three and a half inch strips, and then there are so many jelly roll patterns and options out there. I did Hex-a-ma-jig Jr. And that came a year later for your two and a half inch jelly roll strips or strip units. It's kind of like Kleenex and tissues, jelly rolls. So a lot of companies have their own version of that two and a half inch strip, so that was Jr. So it was fun to take a size fabric that was already out in the quilt world and say, "Here's a tool that you can use to do something different than what you've already seen with simple straight, for lack of a better word, straight rectangles and squares."
You're cutting your half hexie shape to create some really cool things. And then just, let's see. Well, it happened during COVID. But in 2021 I did Hexa Mini for two inch strips because I sat and colored in paper during COVID and I started looking at inspirations of when you go to an old town and you see their entryways, a lot of them have tile work like with Welcome or the name of their store or what date they were established, and it was the light bulb moment.
I can do letters and numbers with those half hexie shapes in a strip pieced layout and create letters and numbers and some really fun borders. So Hexa Mini happened for the two inch strips to make a letter that wasn't the size of a bed because Hex-a-ma-jig with the three and a half inch strips was very large for the letters. Jr. was still, in my opinion, too large, but the many seemed to be a good size to get a letter that was very visible on a quilt. And so I did a book of letters and numbers and borders called Hexie Speak and Hexa Mini fit right in to accompany that book. So you didn't have to cut out paper templates. You could use Hexa Mini with the acrylic template to make those designs in Hexie Speak – Say it with Hexies.
Carolina Moore:
Oh, that's so smart.
Debbie Wendt:
A very long answer to a short question, but yes. So now I have three sizes. As of this date I'm probably going to stick with those. I've had requests for bigger or smaller, but as we all know, there's only so small you can go without being a hindrance of making sure you're not going to cut off a finger when you rotary cut around a piece of acrylic. And going bigger, that template size is more expensive, and is there enough people out there that are interested in something bigger than what I created with the three and a half inch Hex-a-ma-jig?
Carolina Moore:
Sure, yep. That's always the question of I want this thing, but does the world want the thing?
Debbie Wendt:
Exactly.
Carolina Moore:
So you've been designing patterns, designing notions, teaching for a while now. What's next for you? What do you have on the horizon?
Debbie Wendt:
Oh, it's as I say, keeping it going. People want new. I look back at some of the things I've designed, let's say 10 years ago, even eight years ago. They're still good patterns, but putting different colors to them really changes up what the look is. I don't have any new tools on the immediate horizon, although that's always in your mind, but patterns and possibly little booklet types teaching is my favorite thing to do. That's how I started. That's been my love since I went to college and I'd like to do more of that.
I am a vendor at a lot of shows, especially the AQS shows, and I'm usually in Houston for the International Quilt Festival, but it's trying on your body. I know you've vented a few times and-
Carolina Moore:
Yes.
Debbie Wendt:
… it's a lot of work. It's a lot of schlepping all of your stuff in and all of your stuff out, and the aesthetics of making it look inviting, and it's a lot of work. I will continue to do it for a number of years, but there's a point where, okay, do I want to keep doing that? I am trying to be positive that I'm still young enough and I can do it and I can lift those heavy suitcases and those grid walls. So I'll continue to do the shows. But as I mentioned, teaching is my love and that's what I've loved to do is just go out and teach.
Carolina Moore:
Yes, teaching is definitely fun. It's all that interaction that you get at a show, but without having to carry quite so much product around.
Debbie Wendt:
Right.
Carolina Moore:
Well, I know that folks can go to their local quilt shops, and I always say support your local quilt shops whenever you can. So you can go to their local quilt shops and if their shop doesn't already carry the Brilliant Bindings tool or the Hex-a-ma-jig, they can ask for the shop to special order it. Most shops are happy to do special orders, and also shops generally love it because then they get introduced to a new tool that maybe they didn't know about before, and that's how we get new tools into all different kinds of shops. But where can they find you online?
Debbie Wendt:
Yes, I do have a website under the business name Wendt Quilting, and it's a work in progress. As we talked earlier, I didn't grow up with computers, so I'm kind of self-taught, and so I'm just going to call it a work in progress. But there's where you can find all the products that I have created and have out there in the quilt world. I am on Instagram, and that is my name, debbiewendtquilting.
I do have a Facebook page under the business name Wendt Quilting. That's the big three. I say it every time and I'm going to hold myself to it, is to do some more videos because I do have a few out there. I have done some when we've done Meet the Teachers, the International Quilt Festival, when I've taught there, and then we have little videos of these are the classes. But some how-tos because that's one of the questions I get when I demo at shows is do you have a video on how to do this? And the answer is yes for the tool, but I don't go into, "Here's this quilt, here's how you make it." So it's on the list
Carolina Moore:
And videos are great.
Debbie Wendt:
Will be coming. Yeah.
Carolina Moore:
Yeah, I love videos for connecting with people and being able to show and tell at the same time. So as a home ec teacher, I'm sure you understand the different learning modalities and how all of our brains process information in slightly different ways. So the more ways we can get that information, the easier it is for us to consume it.
Debbie Wendt:
Exactly. And photos. Well, there wasn't a photo for that step, so I didn't read it. So it's something as the quilters and as the consumers, we try to make sure that you do understand all of that with the instructions and put in as much as we can. But as you mentioned, videos is a lot of times the aha moments.
Carolina Moore:
I'm definitely guilty of looking through the images and saying, "Oh, I can do that," based on the photos and then getting halfway through and then saying, "This is not working. Let me go ahead and read those instructions as well. "
Debbie Wendt:
Right, exactly. I have friends that do that. That's why I… They know who they are.
Carolina Moore:
Yes. My overconfidence maybe or just a, oh, it's fine. It'll be fine. And it's just fabric and it's just thread. I'm very comfortable with my seam ripper. If it doesn't work the first time, I can rip it out and do it again.
Debbie Wendt:
Exactly.
Carolina Moore:
Well, Debbie, it's been so fun hanging out with you today. Thank you so much for joining me. I'll make sure that I have all those links to the places that people can find you in the show notes, and those show notes are at ilovenotions.com if someone is looking for those. But thanks for joining me today on the podcast.
Debbie Wendt:
Thank you so much for having me. It's been a pleasure. It's always good to talk quilting and tools.
Carolina Moore:
I agree. Friends, that's our episode for today. I hope you loved it as much as I loved having this conversation. Remember that you can find all the details that we talked about in the show notes, and those are all at ilovenotions.com. And make sure to leave this podcast a review in your favorite podcasting app. Leaving it a review will help the podcast algorithm show this podcast to other people who love notions just as much as we do. Friends, that's all I have for you today, but I will see you right here real soon. Bye for now.