Jessica and her sister Jamie are the creators of SewTites® magnetic sewing pins. One day in early 2017, while working on a bag, Jamie decided to use magnets to "pin" the leather pocket in place while piecing. She called up Jessica and told her about the simple and functional idea. Jessica, who is a career marketer and graphic designer, replied "That has to be a problem other people have – we should market it!" The idea went by the wayside, however, for about a year while we were working on another business. But Sew Tites were too good an idea! They created prototypes to use as a giveaway in their 2018 QuiltCon booth. The response was overwhelming.
Within a few months, SewTites were available through distributors and in local quilt shops, and today are availabe in the US, Canada, Australia, Europe, and worldwide through SewTites.com
Their mission is to empower themselves and others to "Live Magnetically" – as fully and intentionally as possible. As a part of that mission, they donate 5% of annual profits to FCCLA, an organization that teaches teens life skills, including sewing, on their path to adulthood.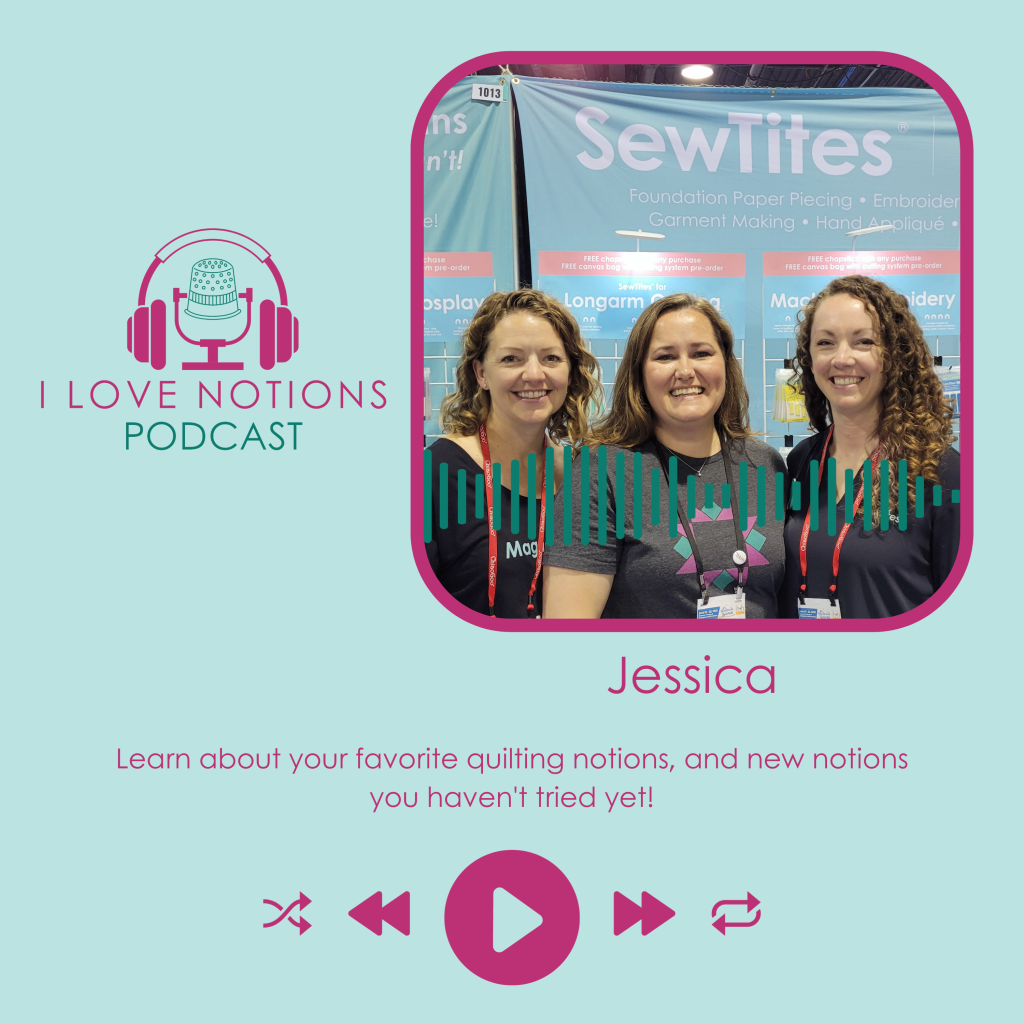 Show Notes:
Click here to purchase Sew Tites through the Affiliate link.
Learn all about the Sew Tites Magnetic Cutting System here, and use code CAROLINAMOORE for 15% off
Follow SewTites on Instagram
Check out SewTites on YouTube
Listen to the Episode Here:
Follow these links to popular podcast players:
Listen and subscribe here on Apple Podcasts
Listen and subscribe here on Spotify
Listen and Subscribe here on Google Podcasts

Transcript of the Episode:
Carolina Moore:
I love notions, and I'm guessing that you do too. Hey there, friend. It's Carolina Moore, your favorite sewing and quilting YouTuber, and now podcaster, here with another episode.
I'm here with Jessica, one of the magic brains behind SewTites. You probably don't know this, but I've been your fan since I discovered your product. I just think it is so genius, so clever. We need more magnets in our lives. Throughout the process, you have continued to create more and more magnets. You've built this entire brand around all these amazing magnets that make our lives easier. Before we get into all the new stuff that you have going, let's start at the very beginning. Where did you get this idea?
Jessica:
My sister, Jamie, she's really the quilting and sewing half of our business. I'm the marketing and design-
Carolina Moore:
Nice.
Jessica:
That aspect. We were in business previously. It was actually our parents in 2017, they're entrepreneurial, but they're retired, but they had some friends making money online, and I knew how to do that, websites and marketing. So my parents came and were like, "We want to start a business. You know how to do it. Come up with an idea of something online, and we're going to do it." I was like, "Okay." Then my sister and my mom both quilt and sew, I was like, "Well, how about we involve Jamie too, and we do that?" So we ended up doing a fabric subscription box first. We were a modern fabric subscription box, only for a year and a half. But our first-
Carolina Moore:
What I know the name of it? [inaudible 00:01:55]
Jessica:
It was called Culcita. It was orange boxes. I'm not sure. We didn't have that many subscribers.
Carolina Moore:
But, not everyone… You don't always hit a home run your first time at bat, and that's okay.
Jessica:
Yeah. At first, we did not just fabric, but we also did bag making kits. Jamie was making a blog tutorial for the buyers of the box, to help with making the bag. Actually, I think it was our first month. She was sewing a leather handle on the bag, and it was away from an edge, so she couldn't use a clip, and then she didn't want to put a permanent pinhole through the leather so she couldn't use a pin. She happened to have some magnets, and thought of it, and put some on there. Then she also happened to tell me about the idea. She was like, "Look at my really good idea." I said, "That has to be a problem other people have."
Carolina Moore:
Absolutely.
Jessica:
You should think about doing something with that, sell that product. But, we were focused on that business. We were trying to make that business really run.
Carolina Moore:
The box business?
Jessica:
Yeah. About a year later, we were going to QuiltCon in Pasadena in 2018, and we were trying to think of something to get people to come, like a freebie handout, a promotional item.
Carolina Moore:
Sure.
Jessica:
In January, it's a February show, I said, "Maybe we should see if people think that this idea, magnets for sewing, is a good idea. Just take some prototypes and hand them out for free, and see." So we got some prototypes made, they were just black at the time, named them, which is still the same name. We brainstormed really quickly. In a couple of days, named it, and then put a singular magnet on a business card, assembled them while we were driving down to Pasadena with our friend Susie, who was working for us at the time, and then handed them out, just showing bag making. We actually still have some of the same demos now that we still used then.
Carolina Moore:
That's awesome.
Jessica:
People started bringing their friends back and were like, "Oh my gosh, I use soup cans to hold things together right now," or whatever, using some random way. So we were like, "This is a good idea." So we went home, I threw up a website. We had our first run made, but I didn't really initially think about retailing them, I just thought about selling them online.
Carolina Moore:
Sure.
Jessica:
So, I didn't make them retail ready. We sent them out in our box, and we sent them to the industry friends we had made so far. One of those was Kitty Wilkin Night Quilter. She was like, "I think this would work for EPP." So, she was the catalyst for that. Then we could see that we needed some smaller ones for the smaller hexes, and whatnot. But about six months after we launched, which was very quiet because we didn't trust fully that people would really buy them, especially compared to straight pins, they were really expensive. So, we just didn't think that people would necessarily find the value in them to pay that much money. But, they are durable. You use them over, and over, and over again.
Carolina Moore:
You don't lose them like a pin.
Jessica:
Right.
Carolina Moore:
Nobody in your sewing room steps on them, like they do a pin.
Jessica:
Right. Yeah. Yeah, exactly. But then in August of that same year, six months later, I got a call from E.E. Schenck, asking me if I wanted to distribute through them. Then I got a Checker call.
Carolina Moore:
E.E. Schenck and Checker are big distributors in this industry. So when you get a call from them, that means something, they want to sell it because they'll buy it and go sell it to quilt shops.
Jessica:
Right.
Carolina Moore:
Now you'll have your stuff in quilts shops.
Jessica:
Yeah. I was like, "Oh, this must be actually a really good idea because a distributor-
Carolina Moore:
'Cause they sought you out.
Jessica:
Is calling me. I'm not even having to pitch them. They literally found us online, or heard about us from somebody. I, again, didn't even have the packaging retail-ready, but that's what I've done my entire career. So I bought the UPC codes, made the packaging much prettier for retail, and they're not much different, even now. They've evolved a little bit since then. Then we were being carried by all major distributors in the US, by that market. Then we just kept having customers suggest ideas, or uses, or industry friends. That's how we kept adding to the line. But Annie with ByAnnie, she was like, "The originals aren't strong enough when you're using our Soft and Stable," so we did our HDs, and we're actually hopefully going to be coming out with a yet even stronger version when you are using really a lot of layers of [inaudible 00:06:17].
Carolina Moore:
Oh, wow.
Jessica:
Then Magnum, Sarah Thomas of SARIDITTY has been a good supporter of ours. Those loading on long arms, and-
Carolina Moore:
The longarm ones are genius. So those are big, giant-
Jessica:
Right, they're longer.
Carolina Moore:
SewTites that can get put on longarms for-
Jessica:
Yeah, but they're still easy to handle. They're not so big that they're unwieldy. They are very strong, so they don't pinch your finger. There's lots of benefits to the size. We do get requests still for even longer, but they would pinch, generally.
Carolina Moore:
So you've done the testing to make sure that what we're getting and on our end is something that we're actually going to want to use, rather than what we think we want to use.
Jessica:
Right, yeah.
Carolina Moore:
Please tell me about your new product. So you came out with this new product. When someone said, SewTites has a cutting mat, I thought, "Well, I already have a cutting mat. My cutting mat is fine. There's nothing wrong with my cutting mat. I see no problems with my cutting mat." Honestly, I've got to tell you, I was really "nah" on it.
Jessica:
Right.
Carolina Moore:
Then I saw a video of you demoing this cutting mat, and I was sold immediately. So yes, please talk about this new cutting mat.
Jessica:
So, it's a full system. It's a mat, ruler, and extra magnets. We're calling it the Sew Magnetic Cutting System. The mat is a seven layer, double-sided, self-healing mat that's magnetic. It has a metal interior. One side is light gray with black lines, one side is dark gray with white lines, depending on the kind of material you're using and how you want to see it. Or else, there's plenty of people who are content creators and things that want the match to coordinate-
Carolina Moore:
The match of color.
Jessica:
Or look better in a photo or video. So that's why we did that. It is 20×24, so you can put a full fat quarter on the mat and still see all.
Carolina Moore:
I think that's so genius, at a full fat quarter, because we'll get these smaller mats because they fit our space. But the designer of the mat was just thinking about, whatever their requirements were for cutting something off.
Jessica:
Whatever everybody's done before, I think it what's-
Carolina Moore:
And, didn't consider a fat quarter.
Jessica:
Right.
Carolina Moore:
When was the first fat quarter invented? They haven't been around as long-
Jessica:
No idea.
Carolina Moore:
As quilting has. I'm sure cutting mats have been around longer than fat quarters have.
Jessica:
Maybe even cutting mats were just more paper products and stuff initially, and then it came over and they just did the same size. I have no idea.
Carolina Moore:
So you reinvented the cutting mat for actual quilters-
Jessica:
Right, yeah.
Carolina Moore:
Just based on size, and we haven't even gotten to the cool magic magnetic stuff that it does.
Jessica:
Right, yeah. It does have whole inch mark numberings on it, and it also has half inch numberings on one axis. So you rotate the mat depending on how you're cutting, what kind of cuts you're making. Then the ruler has embedded magnets in it. So it's a typical quilters acrylic ruler. It's actually a little thicker than a typical ruler, because we have the magnets in it. It's 6 1/2 x 24. So there is, again, one axis that has full inch numbering, and then half inch on the other side. They're different colors. It's turquoise and black imprint.
Carolina Moore:
Those colors are so cute too.
Jessica:
Oh, thanks.
Carolina Moore:
Anytime, turquoise everything.
Jessica:
Turquoise everything.
Carolina Moore:
Yes.
Jessica:
You just rotate it. We are doing both a true left-handed system as well as right-handed. There are two different skews. The ruler is, like so many other people are doing, where their numbering's mirrored for lefties. Our mat is also for the left-handed skews. So the numbering is mirrored for those people who cut that.
Carolina Moore:
So a left-handed quilter can get a different mat and a different ruler that will be perfect for them as a left-handed quilter.
Jessica:
Correct.
Carolina Moore:
And, they don't have to wait. It's not like when a new app comes out for iPhone, all the Android users have to wait six months for theirs. When a new tool comes out for quilters, all the lefties have to wait six months, but you're not making the lefties wait six months.
Jessica:
No. Nope.
Carolina Moore:
They get theirs when all us righties get ours.
Jessica:
Yeah. I hope they buy it because we estimated our production.
Carolina Moore:
All right, lefties, this is your chance to show up and say, "Yes, we appreciate products that are made for us and have us in mind." Is there a lefty in your family that made you think of that?
Jessica:
No. Jamie, my sister, she owns a quilt shop now, also. She bought a quilt shop in April, 2021 in Calgary, and she has a person who's left-handed that works for her, we just thought… I think I was maybe looking at something and I saw a left-handed one, and I was like, "We should probably think about doing left-handed." It's not really more. It's more, but it's not more, to produce that kind of a product for left and right.
Carolina Moore:
But it's one more thing that you have in storage-
Jessica:
It's one more thing to keep track of.
Carolina Moore:
For you, as a company.
Jessica:
Yes, but that's fine. We have the both skews, and then it comes with 12 extra cylindrical magnets that we're calling boosters. They're turquoise also, with our logo debossed on them, and they make the ruler even stronger. It's a non-slip system, I guess I haven't really said that yet. So the ruler has magnets in it, and it makes it so you don't have to put as much pressure on it when you're cutting.
Carolina Moore:
So if I'm understanding this, the mat has a metal core basically inside it.
Jessica:
Correct, yeah.
Carolina Moore:
Then I take your ruler that has magnets embedded in the ruler, and those magnets don't interfere with me being able to see my lines or do any cutting.
Jessica:
Right.
Carolina Moore:
But those magnets will pinch my fabric between the ruler and the mat so that it stays put, and so all of us who have carpal tunnel, arthritis, any problems with our wrist, I have really bad tendonitis in my wrist, we don't get that hand fatigue from cutting because we don't need to hold down the fabric so much.
Jessica:
Right.
Carolina Moore:
The ruler and the mat together are going to hold that in place.
Jessica:
Correct, and it will hold several layers of quilting cotton on its own, just the ruler with the embedded magnets. You do still have to put a little pressure on it. It's not like you can't touch it at all, but it is strong enough too, that it will hold it things in place with a little bit of additional pressure, but a lot less than you're used to. Then you can still shift it when you need to align it, make your measurement and everything.
Carolina Moore:
So it's not like my really heavy duty fridge magnets that, if I have a paper on my fridge and I put the magnet on top, I need to really pull the magnet off and then move the paper and then the magnet snaps back on.
Jessica:
Right. Right. Then the short ends of the ruler also have a beveled edge, so you can use that to lift the ruler also, so you don't have to do the hand claw to get it off of the mat.
Carolina Moore:
Oh, nice.
Jessica:
So it has a little bit of that to help you take it off as well. But it also shifts just horizontally while it's on the mat, very easily.
Carolina Moore:
So the beveled edge means that your finger slips underneath the ruler more easily to pick it up, rather than those flush ends which are squared off.
Jessica:
Right.
Carolina Moore:
Oh, perfect.
Jessica:
Which, even a typical ruler is harder to pick up because it doesn't have that. You have to slide it off the mat, generally. This one, you can just lift it.
Carolina Moore:
So that's, again, for people who have pinching and finger grip. I love accessibility in quilting, especially since the average quilter is in her 60s. One of these days, I'm going to be a quilter in my 60s-
Jessica:
Right.
Carolina Moore:
And, I want all these tools to make my life easier as well.
Jessica:
It's been one of the magical things about our products. We didn't know when we were starting it, but we have so many people tell us how grateful they are for them because they didn't think they could hand sew anymore, and now they're using SewTites, and it's enabled them to for EPP or applique.
Carolina Moore:
Because a lot of the pinch that you need when English paper piecing, or when appliqueing, all that finger strength that you need, and then the hand fatigue that you have the next day.
Jessica:
Absolutely. We've already had comments on our social media, since we've started promoting this product, "This is going to be great for adoptive sewing." Then the little cylindrical root magnets that I was telling you about, snap onto the ruler to make it even stronger when you get those really thick projects, like the Soft and Stable pre-quilted projects, wools, leathers.
Carolina Moore:
I love this because this is where science and quilting come together. We talk about quilt math all the time, and pattern designers make patterns so that people don't have to do their own quilt math, the math is already done for you.
Jessica:
Right.
Carolina Moore:
You've done the science, because magnets and the strength of magnets, the more magnets you stack up on top of one another, the stronger that magnetic pull becomes.
Jessica:
Right.
Carolina Moore:
You knew that because you're smart people. Most of us, when we deal with magnets, we're dealing with refrigerator magnets, and they're usually decorative, so we don't stack them on top of one another.
Jessica:
Right.
Carolina Moore:
But physics teaches us that the more magnets you stack on top, the stronger they are, the stronger the whole unit will become. They work like a team.
Jessica:
Right.
Carolina Moore:
So now, if I'm doing a bag and I have fusible fleece or Soft and Stable on that metal match, and then I put the ruler on top, the ruler itself won't have the pull to pinch the fabric between. So you put these little cylindrical units right on top of the existing magnets, and they just team up and buddy up to make them stronger.
Jessica:
Correct, and it's great. So it really does make those even thicker, harder to cut things just that much easier to cut. Then you can also use those boosters we're calling for pulling down acrylic templates as well as garment patterns and things that you don't want to put a pinhole through, or you can't 'cause it's acrylic.
Carolina Moore:
So if I have a ruler that isn't one of your rulers, isn't a SewTites ruler, I can use those boosters on top of just a regular ruler, and it'll help pinch the ruler and the fabric underneath?
Jessica:
We haven't tested with other rulers, but it would probably help with one layer or two layers of quilting cotton. But again, it wouldn't be strong enough for those thicker times. But, it probably would help with those.
Carolina Moore:
Oh, nice. But also, if I'm doing any paper patterns, like a softie, or a banner, or certain bag patterns that have templates, I can use those boosters on top, or garment making. I can put those boosters on top and they'll act like pattern weights.
Jessica:
Exactly. You can use our HDs as well, but it does come with 12 of those boosters. So, you can hopefully have enough.
Carolina Moore:
When say HDs, what are the HDs?
Jessica:
HDs is another one of our products, it's the long blue one.
Carolina Moore:
Oh. Because, of course, I can use any of your existing SewTites magnets that I already have right on top of this mat as well.
Jessica:
Right.
Carolina Moore:
So it's not a standalone product, it works with all the other stuff that I already have in yours that I love.
Jessica:
Yes.
Carolina Moore:
That's fabulous.
Jessica:
So it is a patented system. It's being sold as a set currently. We are going to develop more rulers, sizes of mats.
Carolina Moore:
Well, I would hope so.
Jessica:
Individually, as well, so you can mix and match. But it is just the initial lots currently.
Carolina Moore:
Sure.
Jessica:
Yeah. We're taking pre-orders now. Retail shops can buy it through us wholesale, or through Checker, or other distributors that we have around the world. Then, it's shipping in September. We're just saying, in September at some point.
Carolina Moore:
Okay. So quilter should have this in their shop hopefully by October, November, we would hope?
Jessica:
Yeah. Shops should have them on their shelves. Yes, by October.
Carolina Moore:
You have it as one whole system, so I don't have to worry about going to the shop and they only have the ruler, they're out of the mats. If I can go get it, I can get my hands on all the parts at the same time. I don't have to go find the pieces and piecemeal until it's really out there. People are able to have what they need, and then they can go get the add-on pieces.
Jessica:
Correct. For quilters that don't have a dedicated cutting space, the box that it comes in is a reusable box. It has a carry handle, and there's foam inside of it, so it will help with storage. Of course, you can still throw it away.
Carolina Moore:
Also, take it to your retreats-
Jessica:
You can take it to your retreats, yes.
Carolina Moore:
And have an easy way to show off your brand new, amazing… We know that we quilters love to bring all of our stuff to retreats so we can show off to all our friends, "Look at this cool stuff that you also need to get."
Jessica:
Right. That's how we found out about all the great notions.
Carolina Moore:
Right. Well, congratulations.
Jessica:
Thank you.
Carolina Moore:
Thank you for coming up with an amazing notion that we didn't even know that we needed. But now that we know it exists, we definitely need it.
Jessica:
Yes.
Carolina Moore:
I can't wait to see all the new stuff that you all come out with because-
Jessica:
Thank you.
Carolina Moore:
You just keep coming out with more and better stuff.
Jessica:
Yeah, we have more magnetic things coming.
Carolina Moore:
Of course you do. Yay.
Jessica:
My sister says it's like ketchup, we just put magnets on everything.
Carolina Moore:
Friends, that's our episode for today. I hope you loved it as much as I loved having this conversation. Remember that you can find all the details that we talked about in the show notes, and those are all at ilovenotions.com. Make sure to leave this podcast a review in your favorite podcasting app. Leaving a review will help the podcast algorithm show this podcast to other people who love notions just as much as we do. Friends, that's all I have for you today, but I will see you right here real soon. Bye, for now.