Annie Unrein – ByAnnie.com
A creative lifetime quilter, Annie Unrein of ByAnnie.com and Patterns by Annie has been designing patterns and teaching since 2000. Her easy-to-understand patterns include complete instructions to guide makers every step of the way.
With a focus on practical and useful projects, Annie's patterns appeal to sewists of all ages and levels and serve as a great base for classes. Annie is the creator of ByAnnie's Soft and Stable, an innovative product she designed to add body, stability, and a professional finish to purses, bags, home dec items, and more.
A popular Bluprint/Craftsy instructor and BERNINA Ambassador, Annie has a broad range of information to share from using the proper supplies and equipment to easy techniques that give professional results.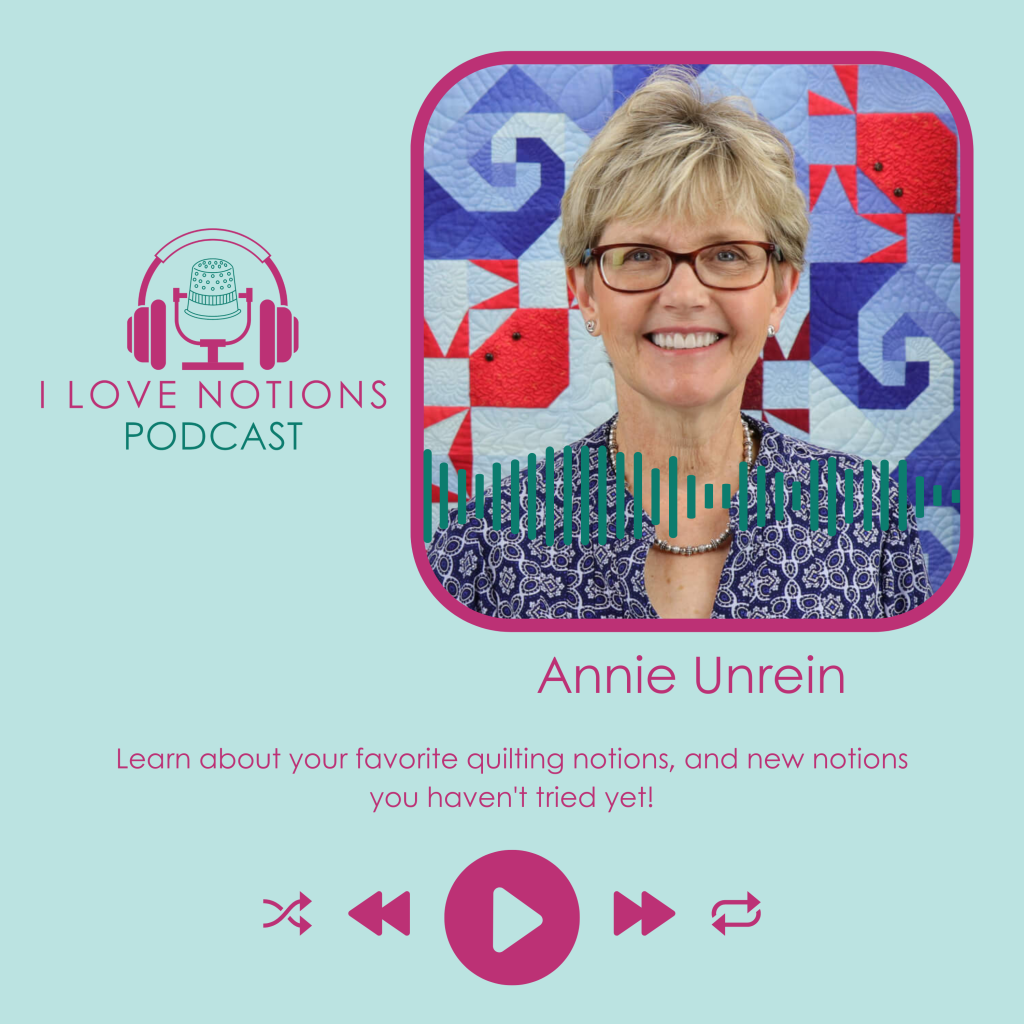 Show Notes:
By Annie Website
NEW: Double-sided Basting Tape
By Annie on YouTube
Patterns By Annie on Instagram
Listen to the Episode Here:
Follow these links to popular podcast players:
Listen and subscribe here on Apple Podcasts
Listen and subscribe here on Spotify
Listen and Subscribe here on Google Podcasts

Transcript of the interview with Annie Unrein:
Carolina Moore:
I love notions, and I'm guessing that you do too. Hey there, friend. It's Carolina Moore, your favorite sewing and quilting YouTuber, and now podcaster here with another episode.
So I'm sitting here at the h+h show with Annie, the Annie of ByAnnie, who makes all of our favorite bag making products. I'm so excited to sit down with you. Usually when I see you at shows, I'll walk by your booth and you're always having a conversation with someone. And I don't ever want to interrupt because you're always in these great conversations. So that I get you to myself for just these few minutes is so fun. But introduce yourself. Tell us a little about you and where you got started.
Annie Unrein:
All right. Thank you for inviting me to be part of your podcast. I'm really excited to talk to everybody and tell you a little bit more about ByAnnie. So I actually started as a quilter. My kids had grown, they were off to college. I'd moved to a new town. We'd had an inn in Alaska. And-
Carolina Moore:
Wait, you owned an inn in Alaska?
Annie Unrein:
We did. We actually homesteaded 160 acres in Alaska.
Carolina Moore:
Oh, wow.
Annie Unrein:
The requirement that we had, to clear and put into production half of the ground within five years, and we quickly realized that making a living farming in Southeast Alaska, there was no hope of it, that we had to figure out a way to do it. So we actually petitioned the state from whom we'd gotten the land for permission to do an inn so that we could sell the produce we produced or we could use the produce we produced in our garden. And they agreed, because otherwise we wouldn't have been able to do anything.
We'd done that for 10 years, 15 years, and so much of my life had been measured by what I got done in a day. And all of a sudden we'd sold that business and I wasn't working and I had nothing to do. I actually went into a little bit of a funk. I spent probably two months hanging in a hammock and reading books and looking at the sky and thinking, "Now what am I going to do?" And I found the local quilt guild and joined the guild and made amazing friends that will be my friends for life, and just fell in love with quilting. I'd always done handicrafts and sewing and things like that, but quilting was my thing.
I'd done that for a while. I was doing scrapbooking and I wanted a way to pay for my quilting habit without taking money out of the family budget. My husband, I did all the bookkeeping, he never would've known what I was spending. I wanted it to be my money that I was spending, so I didn't have to account for it at all. So I thought "If I wrote a pattern, I could probably sell a few patterns and buy a few yards of fabric." And at the time I was doing scrapbooking, having workshops and things in my home. And one of my customers, her brother was the publisher of Memory Makers magazine.
Carolina Moore:
Oh, it's who you know sometimes.
Annie Unrein:
Sometimes, yep. And she came to one of my workshops and I had made this organizer to go on the back of a door that was just canvas and it had all kinds of vinyl pockets, but I'd sized them to fit rulers and stickers and paper and scissors and all the things that you needed. And she said, "That is such a good idea." She said, "Would you mind, we're getting ready to do a spring-cleaning [inaudible]." And she said, "Would you mind if I took a picture of that to put in the magazine?" And I said, "No, not at all." Go ahead. And I knew that if I found this useful, other consultants would find this useful too. So I said, "Why don't you put in that I have a pattern," which I didn't yet, but I knew I could.
Carolina Moore:
By the time the magazine would come out, because that usually takes a couple months, you could have a pattern-
Annie Unrein:
Yeah, several months actually. I could. So she said, "Okay, how much is it?" And I said, "$10." And she said, "Okay." So she put it in. It actually took several months and not long after we talked, my youngest sister' husband found out that he had cancer, and he died within just a few months. And she had two little girls. She was just devastated. And so I was spending a lot of time in Colorado with her trying to get things in order and take care of things. And one day my husband called and he said, "I don't know what you've done, but you are getting all kinds of mail with $10 checks." And I thought for a minute, I was like, "Oh yeah, that organizer pattern." I said "Oh, okay. Well, it's this pattern that I'm going to write."
And fortunately, I was headed home not long after that. An email existed in those days. And so I was able to email everybody and explain the situation, and everybody was very understanding and I got to work right away. So within probably two or three weeks, I had the pattern done and I was able to send it to people, but it was so nice to get a $10 check in the mail and know I could go buy another yard of fabric to add to my stuff. And so I got hooked at that point.
About that time also, I had volunteered to be in charge of our guild's retreat, and another member of the guild, Heather Purcell, who with her husband had started Superior Threads, volunteered to help me. So Heather and I were spending a lot of time together doing this. I was working on a couple of quilt patterns, and she said, "If you make one for me, I'll take it and hang it in my booth and sell your patterns." So she gave me a real good little leg up.
And so it wasn't long before I had three patterns ready to go. And I took a class at the college, learned how to write HTML code, made me a website, started byannie.com with all of three patterns and checks were coming in fairly steadily or payments through PayPal. However I did it, I don't even remember at this point. And then Bob and Heather had a product called Charlotte's Fusible Web, which I think they still have. It's a fusible thread. So I wrote patterns for that. They invited me to go to… Well, I actually invited myself to go to Houston. They were doing demos of the fusible thread, and Heather said, "I think we're going to do this. What do you think?" And I said, "It'd be awesome, like magic people will really enjoy it."
So Fusible Thread is made with many, many filaments of nylon thread and nylon melts when you hit it with an iron. So you put it in your bobbin, you trace your design onto your fabric, you stitch around the line you trace. So say you want to do a heart, you trace your heart, you stitch around it, and then you cut just as close as you can to that line of stitching, and you put it down on the piece of fabric that you want to fuse it to. You hit it with your iron, and that bottom thread melts fussing it, and your top thread comes out. But your design is fused in place only around the outside stitching edges.
Carolina Moore:
So it's the very finest, finest, finest line of glue.
Annie Unrein:
Yes. Yeah, it's just a really thin line of glue. So you don't have that stiff flat look that you get with Wonder-Under where everything's fused together. If you've put it on something that maybe is patchwork, it has seams, you can cut that out. When you go to do… I usually would do a blanket stitch or a satin stitch to finish the edges off, it's not shifting and sliding. You don't get to the end and have a pucker because your layers didn't move easily. So really cool.
But anyway, she said, "I think that's what we're going to do for our demos." And I said, "That's fabulous. It's magic. People will love it." But I said, "You really need to take me because you've never even used it." And she looked at me really funny, and I thought, "Uh-oh, I've really overstepped my bounds here." But the next day she called me and she said, "I thought about it, and you're right, I need to take you." And she said, "I'd like you to do market and festival with us." And she said-
Carolina Moore:
Oh, wow, you jumped in with both feet.
Annie Unrein:
And she said, "We'll pay you." And I said, "Oh, no, you don't need to pay me. Just getting to go." And she said, "No, you're going to work really hard."
Carolina Moore:
Yes, you are.
Annie Unrein:
And oh my gosh, I had no idea. I'd never done anything like that before. But I worked really hard. But it worked well. I had a great time, and I ended up probably doing 20 or 30 shows a year with them for quite a while.
Carolina Moore:
That's like two a month. That's a lot.
Annie Unrein:
It was a lot. I was on the road all the time. We were all over. We went to Hawaii, we went everywhere, but we had a great time.
So all this time, I'm writing a few patterns here and there, and they're letting me take my patterns and display them in my booth, in their booth. So I was exposed to a huge audience that I never would've been done before.
Then we were at a show and somebody came through and they had this fabric that was all crinkly and textured and showed it to Heather, and it was a new product. She came and showed it to me and she said, "What do you think of this?" So what it was was a polyester fabric that when you steamed it it shrunk 20% in each direction. So if you sewed it to another piece of fabric that wouldn't shrink, when it shrunk, the fabric that you sewed it to would create texture. And she said, "What do you think of this?" And I said, "Oh, I think we could have fun playing with that. And she said, "In order for it to be a viable product, we have to have patterns to go with it. Would you write patterns for it?" And I said, "Sure, I can do that."
That was October. And in February, we were having our first School of Threadology with Superior Thread. So we had store owners coming from all around the country to learn about using Superior Threads. And we thought, "That would make a fun project to do." So between October and February, we had to figure out how to use it, what to call it, how to market it, write some patterns for it. So I was super busy, but when we came out, we had it, people loved it.
Carolina Moore:
I remember when that came out.
Annie Unrein:
Do you?
Carolina Moore:
Yeah.
Annie Unrein:
So I named it. I basically did everything. It was kind of my baby, but their product. We came actually to this exact convention center here in Rosemont. That was our first show that we did with it. And we were the bells of the ball. We had people lined up at our booth at 7:30. Before the show opened, all the vendors were there wanting to find out about it. And I demoed all day until half an hour after the show was over because everyone was so excited.
Carolina Moore:
It created the kind of texture that you used to have to do by hand, like hand work. And it was just a couple lines on the sewing machine and then hitting it with a steam iron.
Annie Unrein:
Yes. And depending on the stitch you did, the fabric you used, how close you were, how far apart, you got really different looks. And it was so simple and easy to do, and it was permanent and it was even. So I had done texture by pushing things through the hole in the cooling pad, one of those, all the little gridded holes and then fusing, interfacing on the back.
Carolina Moore:
Oh, like a trivet?
Annie Unrein:
Yeah.
Carolina Moore:
Okay. Yes.
Annie Unrein:
Something like that. There were so many ways you could do it, but this was super simple and easy and it didn't wash out and you could cut your piece out and it wasn't stretchy and loose. It was a flat piece of fabric when you were done. So it was really fun. But we sold everything we took for the show the first day, and we told people "We're going to ship some more in, it'll be here like 10 o'clock in the morning." We were staying at a hotel across the street, and Todd, their son, went over to the hotel to pick up this big box. He came in the door and there were women waiting at the door reaching their hands in the box trying to get the stuff. It was just absolutely insane. I felt I knew what a movie star who was being hit by the paparazzi.
So I became known as the texture magic lady for a long time. But making that product really made me realize what goes into developing a product. And all along, I had been making patterns for purses and things and using a product in them to help them stand up. But it wasn't a product I could buy at a price that I could sell it to stores. And so I thought, based on this, it's like, "Okay, I am going to develop a product that I can use in purses and bags and buy it at a price that I can afford to sell it to distributors so it can be distributed worldwide." So I worked about two years and developed what became Soft and Stable. And it kind of revolutionized bag-making because you didn't-
Carolina Moore:
It absolutely did, not kind of. It really did.
Annie Unrein:
You didn't have to put five layers of batting and some kind of stiffeners that would get all wrinkly after you turned them right side out. You could do one layer of this. It was simple and easy to do. And that turned… Actually, texture magic turned me from a hobby to a business because all of the distributors picked up my patterns at that point. But Soft and Stable really took it up to the next level. So Soft and Stable I think was my first big new product. And then I did… I can't remember whether I did zippers first or that, but then we did our line of handbag, zippers, and then we've just grown from there to add…
Our goal, because lived in Alaska for 20 years, and this was before the internet existed, and I knew how hard it was to get things. We lived in a tiny community of a hundred people that was on the mainland, but not accessible for anywhere. You could only fly there. We got one barge in a year. So you ordered groceries for a year. The first three years we were there, we had no electricity. So we ate canned food that we ordered on that barge for a year.
And so if I needed sewing supplies, we got them when we went for a trip. I still have laces that I bought back in those days because you stocked up, you didn't know how much you'd need, and-
Carolina Moore:
You really needed a stash.
Annie Unrein:
You needed a stash. But I knew how hard it was if you wanted to make something and you couldn't get that stuff. So I thought "If I'm going to call for it in my pattern, I want to make sure that it's something we have available other than fabric, because there's no way I could do all the fabrics that somebody wanted." Our goal basically was anything you need to make your project other than fabric you can find from us and stores can find from us.
So I did that for a long time. I had a couple of employees about 10 years ago. My husband wasn't very involved in the business, but he liked to cook and he loved to grocery shop. So he took all that over and he did all the running around, picking up the stuff. Soft and Stable comes to us in a truck, and we have independent contractors who cut it and package it for us. So he would deliver that to the cutters and pick it up. And all of a sudden he was gone. Did I say my husband died? That's where I was headed with that.
Carolina Moore:
That's okay.
Annie Unrein:
My husband died about 10 years ago, very unexpectedly, had a heart attack, not that unexpectedly. He told me since the day we met in high school that he was going to die at 40 because his grandpa, his dad, everybody, all the men in his life had died of heart attacks fairly young-
Carolina Moore:
But we don't ever truly believe that.
Annie Unrein:
No, not at all. And he actually made it to 60, so he made it 20 extra years. But he lived his life like he was going to die at 40. So a week or two before he died, he told me, "I don't know what I'm going to do with the rest of my life. I've done everything I wanted to do. I'm happy with what I've done and what am I going to do now?"
But it was a huge adjustment to have that happen. And I was all of a sudden responsible for all of these things that he had done, and I was struggling to get everything done. And my son had gone to Spain. He'd gotten his MBA there. He had actually had met a gal in Peru when he was working there for a while. They had fallen in love. They had come to the US basically just for her to come visit and meet us, and found out when it was time for her to leave that trying to get a visa and stuff would be hard, that the best solution was to get married because then she could stay.
So they got married and a month later my husband died. But Casey was working as chief of staff to the president of the university in Spain, [inaudible] California. And Glo really wasn't doing much of anything. So I took a sewing machine out and some fabric and taught her how to sew. And so she started sewing. So a month or two later, I called and I said, "So how are you liking your job by now?" And he said, "I'm not really loving it. I'm not doing what I got my MBA for. I'd really like to go somewhere where I can grow a small business." And I said-
Carolina Moore:
Guess what?
Annie Unrein:
"I have a small business you can grow." And I said, "I'll match your salary. I'd rather pay you than give it to the IRS. And Glo can have a job. She likes to sow. She can do whatever. I want to turn over all the day-to-day stuff to you. All I want to do is write patterns, film videos, and travel to teach."
It took us about three years to get to the point where I was ready to give up all those things and let them take them over. But once I did, it's like I never want to do those things again. And now there's no way I could run the business without them. But he had such a great big picture vision and was so good at taking us to the next level and convincing me that you can't do everything, you have to let these things go. Because if you try to do it all your time is limited and you will never grow.
Carolina Moore:
You only have 24 hours.
Annie Unrein:
So he was really instrumental in taking us to the next step. When he came to work with me, we were still working out of my three car garage. We moved shortly after that to a 2,500 square foot warehouse, which was full the day we moved in because I'd had stuff spread throughout my house.
Carolina Moore:
I know nothing about this.
Annie Unrein:
Everyone who works on their own knows this.
And the next year we moved into 5,000 square feet. We expanded the next year, double that. I don't even know what our footprint is now, but we've taken over a whole lot more of the building we're in. And yeah, we try to keep two or three years of stock on hand, which during COVID was just insane. We thought we had that and it was gone in three months. And then it was, how do you get it here? Because things aren't running. So it's been a crazy few years, but hopefully things are mellowing out in that department-
Carolina Moore:
Hopefully.
Annie Unrein:
And getting back in order. But that's kind of how I got from writing patterns to pay for my quilting habit to not having any time to quilt anymore.
Carolina Moore:
That's one of the things that I find when I talk to different quilty business owners that we had this hobby and we thought, "Oh, I could make a little money on the side doing this." And then there comes this point where you make a decision of, "Okay, am I going to go all in on this? And it's no longer my hobby, it is my business and it's responsible for paying for things in the household, or am I going to keep this a hobby because I don't want deadlines attached to my fun."
Annie Unrein:
Yes. And it really does change. For me, it's still fun. And when people say, "Are you thinking about retiring?" It's like I would be doing exactly the same thing if I was retired. Maybe not with quite the same deadlines, but for me, the big thing that changed was having additional employees and knowing that I am responsible for supporting this family and that family and that family and that family, that puts a whole different spiel on it. It makes it much more important that I maintain new patterns so that the business keeps growing so that I can afford to pay for everybody's salaries [inaudible].
Carolina Moore:
I find for a lot of people, especially women that failing ourselves is… We can usually live with that, but failing other people is that's a burden we can't bear. And so it just makes you work that much harder.
Annie Unrein:
Yeah, no, fortunately I have lots of good helpers.
Carolina Moore:
So you've come out with some new products lately as well. I've heard great things about the basting tape that you have.
Annie Unrein:
Yes. People have really loved our basting tape. So we had a basting tape that we used for a long time that we really loved. It was an eighth-inch wide. I liked the really narrow basting tape. And then the company just disappeared. I didn't want a wide basting tape, and I wanted something that was really sticky that would hold in place, and we just couldn't find anything else to replace it. So we work with a really great company who does almost everything that we need. They do our zippers, they do our mesh, our fold over elastics, all of that. And we said, "Okay, we need a basting tape." And they sent us rolls and rolls of basting tape to try. Some that were ironed on, some that… Just everything under the sun.
And we tested and tried and finally found the one that was the stickiest, that the paper came off the easiest, that was the right width, and got that made. But it's perfect if you… For instance, a lot of times we are putting handles on a bag, and you've got two or three layers of quilted fabric. You've got your fabric that goes over your strapping, you've got your strapping in there. It's really hard to put a pin in, but we're working with vinyl, and you don't want to put a pin in because it will leave holes. The basting tape, just one little strip of it down the middle of your strap holds it in place. It's really easy to keep it there until you get it sewn in.
We purposely made it really narrow so that you could avoid it when you're stitching. We put place it like if we're doing… A lot of times on our mesh pockets, we'll bind the upper edge of them with a two-inch strip that becomes a half inch once it's sewn in place, and then we'll attach that on our zipper and sew it in place. We put the basing tape right down the middle of the binding so that you can sew on either side of it so you don't have to sew through it. It's a little bit sticky if you sew through it so we try to avoid it. If you do happen to sew through it and it gets gummy on your needle, just use a little bit of alcohol on a cotton ball or something and clean your needle off and then it will work fine. But our goal was to make it so we didn't have to sow through it.
But what I love about it is its stickiness. It just holds things in place super well. It's great if you want to put a hem in or-
Carolina Moore:
For all those pants that we don't want a hem.
Annie Unrein:
Yep. I think it would probably hold it forever. It's so sticky.
Carolina Moore:
I worked a corporate job for years before going into quilting, and there was a gal who didn't want to hem her pants. She would hammer her pants with a stapler and she would just staple the bottom of her pants. And that was fine.
Annie Unrein:
And probably no one ever noticed.
Carolina Moore:
No one ever noticed.
Annie Unrein:
Yeah. I'm short, so I have to hem pants all the time. I never thought of that. I'm going to remember that. That's a great tip. Or grab my basting tape.
Carolina Moore:
Or yes, yes.
Annie Unrein:
But people like it for putting zippers in, holding them in place, doing the fold over elastic with the mesh.
The thing that I found, if you're using it with fold over and elastic and mesh, both of those are a little bit stretchy. And that's one of the qualities that we like about them is that they expand to hold things. Your photo over elastic isn't stretchy.
Carolina Moore:
Oh, the basting tape isn't stretch-
Annie Unrein:
Basing tape isn't stretchy. Sorry. So I'll put my basing tape on my fold over elastic. I'll put them together, and after I have it sewn in place, I just take it and stretch it. And you can hear the basing tape breaking along-
Carolina Moore:
Snap a little bit.
Annie Unrein:
As it goes, but it served its purpose by that point. So it doesn't matter if it's not one continuous piece at that point. So then you've got your stretchy edge back again on that.
Carolina Moore:
That's so clever.
Annie Unrein:
You figure out how to make things work.
Carolina Moore:
And I found out that y'all have treated the side especially, so that it doesn't stick. If I'm putting it on my cutting table, it's not going to pick up every single thread on my cutting table. It's not going to stick to my cutting table so I have to yank to try to pull it up. So you really thought of everything.
Annie Unrein:
We tried to do that. We tried to think of… I think one thing that makes a huge difference for us is we sew every day and we make models. Every new pattern that I come up with, I sew it once when I'm thinking about how to do it, then I write the pattern, then I make it again to test what I've written. Then my in-house testers make it, then I send it to outside testers, then it comes back to me and I make it again based on all the input they've given us. And then depending on what our timeframe looks like and how busy my model maker is, I may have to make more. So we're sewing all the time and using these products and figuring out what do you need and how does it work, and what's the best way to do it? And making it so that it's easy. It's not like somebody up there in an office saying, "Oh, here's what you need" and never using it themselves. We try it all and figure out the easiest ways to make it work.
We have a tool that we developed called Stiletto & Pressing Tool that came about too because I was sewing and finding that I needed something to hold pieces in place. So we spent probably two years developing a stiletto. It has a wooden handle on it that's turned. So it's really lightweight, it's really easy to hold. We went through, I don't know how many iterations trying to get just the right shape and size. And then we send the tips of it to a needle-making factory and they sand grind them so they're a little bit rough. But it has a really sharp point on it. It's a little bit rough. So when you're working with it it doesn't slip and slide off. You're not sewing along and it's constantly falling off what you're doing.
Carolina Moore:
So it has that grip like your finger would with a fingerprint.
Annie Unrein:
Yep. And so it stays in place, but it's in my hand constantly as I'm sewing. So usually I have like six of them that I put into my wool pin cushion next to my sewing machine because I'm sewing along and then I need to go press. It's in my hand, I lay it down while I press. So I leave one at the ironing board. And then I need to go make a note on the pattern that this would be better worded this way. So then one's laying at my computer. And then I go to Wonder Clip something at my work table, and there's one laying there. So when they're all gone, then I go gather them around the room, put them back and start again. But I really don't think I could sew without that. It's perfect when you're putting in a zipper.
Our method of zipper installation is really super easy. And I think people who are afraid of zippers are always surprised at how easy it is. But our zippers that we use are handbag zippers. They're specifically designed for purses and bags. So they have a wider zipper tape. They have extra big pulls on them. It makes them super easy to install. But we'll take our zipper and we'll put it right side down if we want to put it in a pocket. We let it overhang by about an eighth of an inch at the top so that… Because our next step after we sew it in is we finger press it to the lining side of the pocket, and we stitch along the very edge of the zipper tape and we hide all the raw edges of that seam underneath the zipper. But the stiletto, if you run it right along that seam, it just makes it fold. And then you've got it right there to push any loose threads and raw edges and things under. But it just makes all the difference.
If you're putting binding on a project, a lot of our bags and purses, we don't like loose linings. I don't like a loose lining that's all falling around in my pocket. I like my lining attached to my bag. So I usually quilt my main and lining fabric together and then cut the pieces out for my project. And then after it's all sewn together, I use binding to cover the raw edges. And the stiletto for holding your pieces in place, making sure that all your edges are matched. And then when you go to put the binding around to the other edge, you can use that little grippy tip of it to just lift your fabric up and say, "Okay, it needs to be right here." Hold it in place until you sew there, move your extra extra inch down. And it just makes all the difference in the world. So a lot of people have said that was a game-changer for them in terms of attaching bindings and making them look the same from one side to the other.
Carolina Moore:
I love it when it's quilters making the tools because we know what we need because we're using it all the time. And these are problems that we've bumped up against and bumped up against and thought "Someone has to have a solution for this. Wait, no one has? Now I'll figure it out. I'll figure out how we're going to solve this." And we've solved it for all of us, not just ourselves.
Annie Unrein:
Exactly. Yeah. Which is wonderful when people do something like that to go out and then share it with everybody.
Carolina Moore:
Yes.
Annie Unrein:
And teach them how to use it.
Carolina Moore:
Yes. Which you do such a great job of.
Annie Unrein:
Thank you.
Carolina Moore:
So you do a lot of videos as well on your bags and projects?
Annie Unrein:
We do. We have a series that we call the ByAnnie Basics, and it's four basic patterns that we developed that teach people basically all the skills that they need to know to make our patterns. So we recommend… They're downloadable on our website, they're free patterns, and then we have full step-by-step out on videos that go with them. So they go through, here's how you cut with a rotary cutter and ruler. Here's how you quilt. Everything that you need to know to do those. And so we recommend that you start with our little Petit Four Baskets, which teach you how do you work with Soft and Stable, how when you sew through it it makes it fold how it compresses when you sew through it. So you learn all those tips making a tiny basket that uses two 10-inch squares of fabric. So it's quick and easy to do, but you learn all the basics.
Then we have you make our Piecekeeper, which is a project bag, but you learn to quilt fabric with Soft and Stable. You learn to make your own bias binding and attach it. You learn to attach zipper to a mesh pocket, attach a border, make a simple handle. Then we have you do Call Me, which is a little bag to carry a cell phone, and you learn to work with vinyl, attach a zipper in a quilted fabric pocket, work with fold over elastic and mesh and continue quilting and doing that. And then the last project is called Easy Does It. And in that you're working on a dimensional project. So you learn about making sure that the piece that has the curves is down against the bed of your machine. The piece that has to conform to those is up. You learn how to put a zipper in a zipper side strip and do a flat binding so you don't have a lump when you join your pieces.
So once you've made those four projects, you really know everything that you need to know to make most any of our bags. So then when we do other bag patterns, we don't have to go through all the basics. We just cover the parts that are more unique or more challenging in those projects. And we call those add-on videos. So those, when you buy at one of our patterns, you get a coupon in the pattern. So you get the add-on video free. And they're a great way to learn to make those.
We also do a weekly Facebook Live, and we really stress education in those. So we talk about techniques, we show patterns. We have special guests come on, which is always really fun. And we really work hard to support local quilt shops. We feel like local quilt shops are our boots on the ground. There's no way that we can teach classes in person to all the customers out there everywhere and answer every question. So we really always say, "Shop for this stuff at your local quilt shop first." They're teaching classes, they're there to help you pick out the fabrics and get what you need. Yeah, so we work with that.
But we do our live every week, and we always feature local quilt shops doing that. We do a local quilt shop contest every year in February. It starts on Local Quilt Shop Day and goes through the month. This year we had 40,000 votes for over 2000 stores all around the world. We awarded grand prizes in the US, Canada, Australia, and the UK. And then we did regional prizes in all 50 states, all Canadian provinces, and every country that had winners. And all of those winners received ByAnnie Trunk Shows.
And so make sure you check that out next year in February, vote for your local quilt shops. The grand prize winners all won a prize to the show where we're talking. And stores have told me over and over, "You made it so much fun." What we do is when you vote, we require you to leave a comment about the store, why they're your favorite store, and then you can also leave a story. And shop owners say they're always so sorry when the contest is over because they love reading those comments, those positive comments. They said, "As a store owner, you don't always get all those positive things." And so being able to read what customers love about them just makes it all worthwhile and helps them continue going.
Carolina Moore:
You segued perfectly into what I was going to ask next, which was about the quilt shops. Because I believe the quilt shops are a national treasure and we need to protect them. And they do so much for our industry. And I agree, go check your local quilt shop first, support your local quilt shop. Because if we don't, they won't exist anymore. We can buy things wholesale or we can find things otherwise, but when I need something, I catch my local quilt shop just like anybody else does, and I go pick it up there. And if I can't do that anymore, if none of us can do that anymore, it just makes our hobby that much less fun.
Annie Unrein:
Exactly.
Carolina Moore:
Plus, when you're getting your fabric and they're cutting it, you get to have that conversation with someone about what you're working on and what your next project is, and they give you feedback and they give you ideas, and they have all the classes. It's incredible.
Annie Unrein:
And if they don't have what you need, they can get it.
Carolina Moore:
They're almost always happy to special order.
Annie Unrein:
And they're always happy to do that. Exactly.
Carolina Moore:
Whatever you need. Because often they're so excited to learn about the thing as well. "Have you heard about this thing?" "Oh no. What is that?" "Oh, we're going to get in 20 because everyone else is going to love this as well."
Annie Unrein:
Exactly. Yep. Yeah, I have found… And more and more stores, when they started with ByAnnie stuff, they had a few, and I hear it constantly, "We're doubling our ByAnnie space. We're adding all your zippers. We're doing this. We're creating a new room. The store next to us, went out of business. We're turning that into ByAnnie room." And it's fabulous. Well,
Carolina Moore:
Because bag-making is so much fun because we can't carry our quilts around with us. Our quilts stay home, but our bags we carry. And so we are carrying these gorgeous bags and people say, "Oh, where did you get that?" "Oh, I made it." "You made that? Oh, you're so impressive." "Yes, yes, I am. But you can be too."
Annie Unrein:
Exactly. And the great thing for me, the thing I love about bags is they're doable in hours instead of years, for me. I have so many unfinished quilts. I don't have a single unfinished bag project because-
Carolina Moore:
This is true.
Annie Unrein:
Nothing takes more than a weekend, usually. I send my fabric to a longarm quilter, so that saves me a little bit of time. But for any of you who quilting is the part that stops you from making a bag, here's a tip. I buy two yards of fabric. I get a main aligning, a coordinate. I send that two yard of peace to my longarm quilter because I learned that it costs me basically the same to get two yards quilted as one yard quilted. Because the work for a longarm quilter is putting it on-
Carolina Moore:
Loading it to the machine.
Annie Unrein:
Loading it on the machine. So they usually always have a minimum. It basically starts at about two yards. So I can get two yards quilted. It comes back to me, rolled it up. I have a whole wall of fabric leaning against the wall, and when it's time to make a project, I go grab one of those and cut what I need. I have plenty of fabric left to make coordinating projects to go with it. So if I want a travel duffel bag and a travel essentials and a set of open wide and all that, I've got a whole set that matches. A lot of times I'll make sure that my lining is one that would also work as a main, so I can flip it around and use that side out, which gives me a coordinated but different look.
Carolina Moore:
So while a lot of us have fabric stashed, Annie has a pre-quilted fabric stash. Yes. That's incredible. I love that.
Annie Unrein:
It really saves a lot of time.
Carolina Moore:
I've had so much fun hanging out with you today. Is there anything else that you want to share before we wrap up? Because I see the show is starting and we're about to get a lot of noise around here.
Annie Unrein:
I think we covered most everything I want to talk about. Thank you for inviting me to join you and all of you out there who are sewists, come check us out at byannie.com. We've got lots of videos. We've got a YouTube channel that's at Patterns ByAnnie. You can follow us on Instagram and all of those @patternsbyannie and check us out.
Carolina Moore:
I'll be adding all those links in the show notes as well. So be sure to find those show notes so you can just click right on there and find out all the great things about Annie. Anyone who knew you already has fallen more in love with you, I'm sure. And anyone who hasn't, I hope they'll go learn all about you now. Thank you so much for hanging out with me today.
Annie Unrein:
Thank you. It was fun.
Carolina Moore:
Friends, that's our episode for today. I hope you loved it as much as I loved having this conversation. I love learning all these tidbits and details about our favorite notion designers and the stories behind our favorite notions. Remember that you can find all the details that we talked about in the show notes, and those are all at ilovenotions.com. And make sure to leave this podcast a review in your favorite podcasting app. Leaving it a review will let people know that maybe they should listen as well. And it will help the podcast algorithm show this podcast to other people who love notions just as much as we do. Friends, that's all I have for you today, but I will see you right here real soon. Bye for now.