Calista Ngai – Wonderfil Thread
Wonderfil Thread is a family owned company founded in 1988. They're a Canadian business that began with a single rayon embroidery thread line that has expanded to include threads as fine as 100wt and as heavy as 3wt! 
Now an international company participating in over 100 events worldwide each year, you may have visited the Wonderfil booth at your favorite quilt show. Their current thread lines include cotton, polyester, rayon, metallic, and wool. And, they've expanded to notions as well! We hope you enjoy this interview with Calista Ngai of Wonderfil Specialty Threads!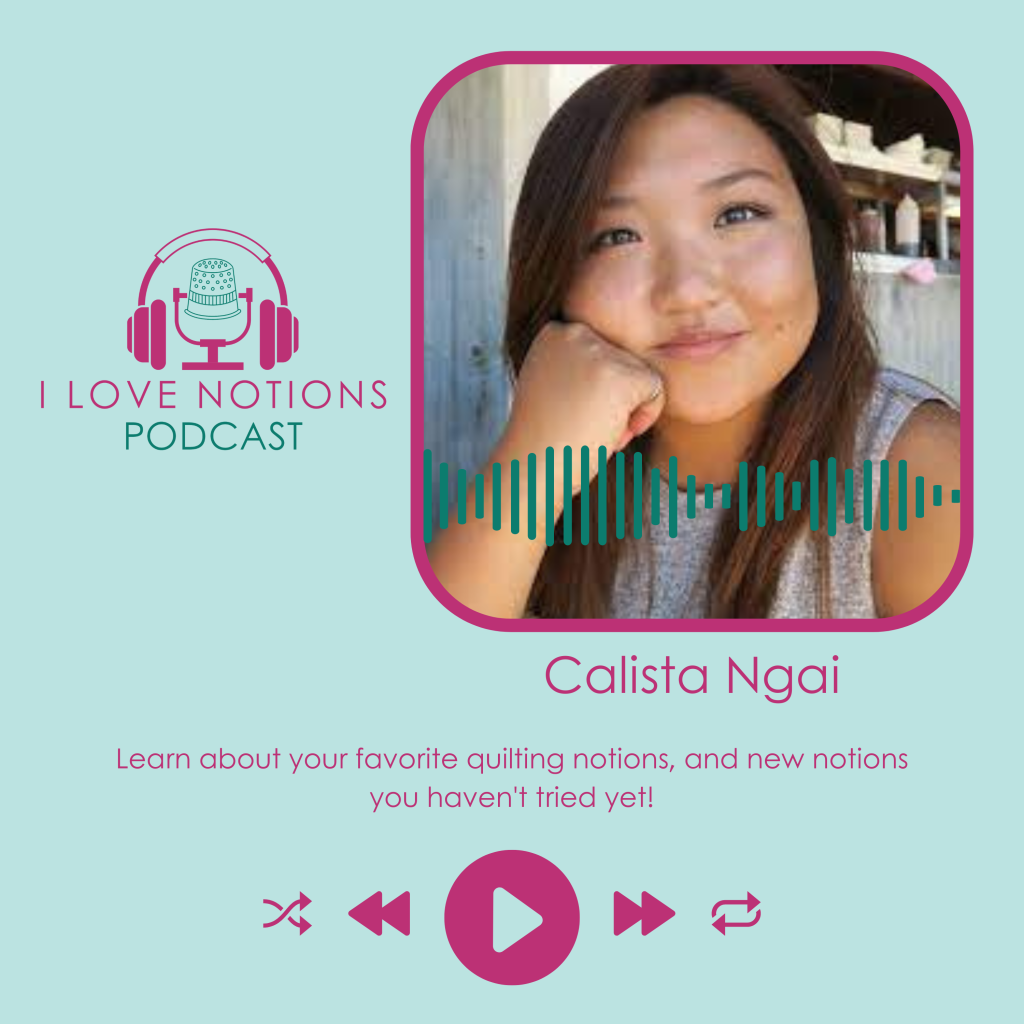 Show Notes for Wonderfil Thread:
Wonderfil Thread Website
Wonderfil Notions:
Thread Tamer
Thread Bank
WonderGuard
Bobbinator
Wonderfil Youtube Channel
Wonderfil on Facebook
Wonderfil on Instagram
Listen to the Wonderfil Thread Episode:
Follow these links to popular podcast players:
Listen and subscribe here on Apple Podcasts
Listen and subscribe here on Spotify
Listen and Subscribe here on Google Podcasts

Transcript of the I Love Notions interview with Calista Ngai:
Carolina Moore:
I love notions and I'm guessing that you do too. Hey there, friend. It's Carolina Moore, your favorite sewing and quilting YouTuber and now podcaster here with another episode.
So welcome, welcome. Today, I have Calista with me, and she's with WonderFil, which is an amazing thread company. I first came across them at Quilt Market years and years ago, and I wandering aisles and just talking to people and Calista was just super friendly and she just started chatting with me and then she knew the products really well, which I always love product experts, and thread and needles are two areas of quilting that I am not a subject matter expert in yet, I don't know, maybe one day, and Calista was able to walk me through all of that. Then I found out, oh, yes, her family owns this company, which was just incredible. So I've invited her on. Most of our guests are people who've actually invented an ocean, but I thought it'd be fun to have someone on who just has all the background of a notion as part of a family run business. So Calista, do you want to get started with your history and then the history of the company a little bit?
Calista Ngai:
Yeah, sure. Well, first of all, thanks for having me on. I'm so excited to be on your podcast and talk more about our threads. It's a topic that I'm very passionate about. So as you know, every time we sit down and chat, we go on and on about threads and all the different things. So tell me if I'm running on too long today.
Carolina Moore:
Not possible.
Calista Ngai:
Not possible.
Carolina Moore:
I want to hear all of this.
Calista Ngai:
Yeah, so just feel like I should just, I guess, recap my background a little bit. So you touched on it a little bit earlier, which is I work for my family's business. It's WonderFil specialty threads. Actually, the company was started by my parents. I think the brand has existed for about, ooh, about 23 years. I think it started right around the year 2000 because I have memories of being a kid making thread packs in the kitchen when I was young.
Carolina Moore:
Oh, that's awesome.
Calista Ngai:
Yeah, so that was my earliest involvement with the business, but throughout junior high or high school and university even, I didn't think that I would actually work for the company. I thought I would do my own thing and carve my own path, but after I finished school and I moved back to Calgary, I was trying to figure out what to do and I just slowly became more and more involved with the business and it just became one of those, "Oh, try it out for a year," and it becomes two and three, and now I think I'm eight or nine years down the road now with WonderFil. So I've always been more on the marketing side of things, but that's why you always see me at trade shows and that sort of thing. Now I do sew and quilt and do hand embroidery as well, which were all new hobbies that I picked up after I started working here.
Carolina Moore:
Yay. We brought you into the quilty cult. Woohoo!
Calista Ngai:
I know. I was like, "I just don't feel like I'll know how to relate if I don't learn how to do it," but I've honestly grown to appreciate it so much, not just doing it myself, but the work that I see all the time at these quilt shows from all these different creators or online and things like that, it's really awesome to see. I just love hearing the stories behind it as well. So I definitely feel like the people, more than anything, have really kept me in this industry.
Carolina Moore:
I hundred percent agree. Quilters are some of the best people to be around. If you have to be around people all day long, definitely pick quilters. They're just phenomenal, but okay. So you absorbed yourself into the family business or the family business absorbed you into it is probably more accurate.
Calista Ngai:
One way or another.
Carolina Moore:
Right? It was a destined match, but why thread? Where did a thread company start from? How does one say, "Hmm, I want to start a thread company"?
Calista Ngai:
Well, the story as I know it is that our background definitely wasn't in anything even really textile before, but my family did some trading, and one of the products that we traded was thread. I think that was a very interesting product and industry that my dad thought of. Then so he explored more into it, and that's really how we got into things. At first, we were more on the industrial side of things, but then we ended up going more towards the hobby industry rather than industrial, and it's been such a fun ride. Working with people that love to sell versus making threads that just go in garments and things like that on the back end of things is definitely way more fun and colorful.
Carolina Moore:
So when you say the industrial side of things, you mean the company was making those big cakes of thread that go into the big industrial machines on big sewing floors where they're making shirts and pants and all those kinds of things?
Calista Ngai:
Yeah, yeah.
Carolina Moore:
Oh, wow. So all of us who went through the pandemic, which really is everyone listening here, knows that with toilet paper, we had an issue with toilet paper early on in the pandemic, and part of it was because everyone working at home needed the smaller rolls of toilet paper that fit at our homes and at our offices or corporate buildings. There are those big industrial size rolls. So it actually really is a process. You can't just switch from, "Oh, we're making these giant cakes of spools to we're making consumer-sized spools," right?
Calista Ngai:
Yeah, I guess that's true, but I am not going to be able to speak on this super well because this happened when I was a lot younger. So I'm not really sure how that switch happened. These are good questions for me to ask as well because I guess I should know a little bit more about our history.
Carolina Moore:
No, no, no. I just think it's interesting because your brain goes to, "Oh, toilet paper is all toilet paper and thread is all thread," and, "Okay, that might be the case," but how we consume toilet paper and then how we consume thread are going to be … If someone were to deliver a giant cake of thread and they're called cakes. I'm saying that right, right? Do you know?
Calista Ngai:
I still think they're spools or cones usually you would call them.
Carolina Moore:
So yeah, one of those giant several pound massive things. I can't put that on my sewing machine and collapse my poor machine.
Calista Ngai:
No, not at all. Actually, you do have to think about different elements of making the thread when it's going on in industrial versus regular, just domestic sewing machines, something that you and I would have in our sewing rooms because the speed at which industrial machines work at, it's a lot faster. So there's actually some threads that just wouldn't work at those speeds. They would probably break all the time. So there's more limited options, I would say, in terms of what you can produce for industrial threads. You wouldn't be able to use our InvisaFil on an industrial machine probably. That'd be way too fast for the thread. It would probably cause it to break and stuff like that, but even just how long these machines operate for as well, they get really hot, and that's another thing that you have to think about as well that you don't really have to be so concerned with on just machines that we have in our homes.
Carolina Moore:
So when we're talking about thread, and you mentioned InvisaFil, which I definitely want to talk about later because it's one of my favorite products that y'all have, but you hear about long staple, right? So if there's long staple, I assume that there's short staple as well. What does that all mean? When someone says, "Oh, this is a long …" Was it a long staple fiber?
Calista Ngai:
Yeah. So usually, you talk about long staple when we're talking about cotton and things like that because cotton thread is made out of staple fibers that come from the plants.
Carolina Moore:
From the cotton ball. It's the filaments or then the staples.
Calista Ngai:
Yeah, it's just a tiny fiber thread.
Carolina Moore:
Like an air.
Calista Ngai:
Yeah, it's very fine. So even when you're talking about long staple, the fibers aren't very long at all. They're not six inches or a foot or even longer or anything like that. They're actually quite short. Long staple cotton is usually about 1.5 to 2 inches per each fiber, and then you take all these fibers and twist them together, that becomes the thread. The reason why this term is often marketed along with a high quality thread or cotton thread is because the longer the staple fibers, the stronger that thread is going to be because there's more grip with a longer piece of … If you just blow up an image of what that would be, if you have a longer section of rope or something like that and you twisted it with another one, it would be a lot stronger than using short sections of rope twisting them altogether, and as well, it's not going to be as linty when you use a longer fiber.
Carolina Moore:
Oh, interesting. I knew that the longer staples woven together, it's more points of friction, more points of connection along a longer staple that keep that thread stronger, but I didn't know that it was less linty if you have longer staples. That's-
Calista Ngai:
Yes. If you think about it, it's like the same thing. It's more points of contact, more friction. That's for sure for the strength part, but if you think about using a lot of smaller pieces of fiber to twist it together, you're going to get a lot of flyaways because at some point that fiber ends and then it just flicks up.
Carolina Moore:
Yes, I feel so much smarter. This makes so much sense to me.
So we're talking about cotton, but cotton is not the only material that thread is made out of, right?
Calista Ngai:
No, I think cotton is just the first one that comes to mind because so many quilters, that's their go-to thread of choice. So we talk a lot about cotton and things like that, but there's actually so many options for thread that can go into pretty much any project. People are always like, "Oh, what's the best thread I can use?" but it really depends on the context of what you're doing as well because although you can use cotton in your quilting, you can also use cotton in embroidery as well, and it gives you a really cool matte finish look if you try something like that.
The reverse as well, I know a lot of people use rayon and trilobal polyester for machine embroidery, but you could actually use those threads in your quilts as well, but obviously, there's different circumstances that make them more or less preferable. So you just have to understand the characteristics. You don't even have to understand them on a really in-depth level, but just understanding what each thread does a little bit will make it really easy when you choose thread for your next project like knowing that rayon is a little bit more delicate, so even if you use that in a quilt, it should be more like an art quilt, something that's not going to get washed a lot, but you can definitely use cotton for something that's going to experience a lot more wear or get washed all the time because it's not affected as much by water as well, whereas rayon weakens a little bit in water. So you definitely only want to use that in a decorative capacity. You don't want to use that for the construction of your quilt, for sure.
Carolina Moore:
Polyester is really strong for construction of a quilt, right?
Calista Ngai:
Exactly, yeah, polyester is really strong, but also, polyester is a super general term because there's a huge umbrella of different types of polyester thread that can range from polyester that looks almost like cotton to polyester that's really shiny that you think about when you reach for an embroidery thread. So to generally be like, "Oh, polyester is good for quilting," or, "Polyester is bad for quilting," you can't really say that because there's just so many different types, and I wouldn't say that all polyesters are bad or all polyesters are good, but you definitely need to understand that there's different types and that they're good for different situations.
For example, an all-purpose polyester is fuzzy, and we use that a lot for surgers and things like that. The thread has a little bit of stretch to it as well, just a little bit, which is actually good for garment construction and things like that because you don't want your seams to pop. You want it to have a little bit of give, but if you're thinking about that for your seams and quilting, that's probably less desirable because you don't want to end up with something that might pucker or things like that.
Whereas there's, like we talked about, InvisaFil. We also have DecoBob. Those two types of polyesters that we have are cottonized polyester. So it's not like a trilobal polyester, but it's not like the spun polys where it looks like cotton. It's more like the type that has no lint on it. We actually treat that thread so it doesn't have any stretch to it, it's not going to be affected by heat. It's a really strong thread as well, and it's great for sewing in your seams. It's great for EPP and just quilting overall.
Carolina Moore:
So EPP, that's English paper piecing for anyone who hasn't tried it yet, and if you haven't, I don't know what's stopping you, you definitely should try it, and the InvisaFil is what I use for my English paper piecing because it is a hundred weight. So when I first started quilting, the choice of what thread do you want, it came down to color like, "What thread do I want to use for this project? Oh, I'm going to use a red thread," or, "I'm going to use a green thread," and that was totally valid. Then we got to a point where I was like, "Okay. Well, I'm just going to use a neutral thread," like a gray thread for everything and then I don't have to switch out my threads all the time, but then it's like, "Well, wait, are you going to use a 40 weight thread or are you going to use a 50 weight thread?"
I think it was when I started machine quilting that I was really introduced to the different weights of, "Oh, you should use a 40 weight thread because it's going to be a little thicker and it's going to have your machine quilting is going to pop out a little more. Oh, whoa. So those numbers mean something?" Then I learned about the hundred weight thread that y'all have. So the bigger the number, the smaller the thread, yes?
Calista Ngai:
Yes. So the higher the number, the finer the thread, and the lower the number, the thicker the thread. I almost feel like it's a little bit counterintuitive in a way, but that's why we use this analogy all the time called the sausage theory to help people remember thread weight, which is-
Carolina Moore:
I can't wait to hear this. Tell me, tell me.
Calista Ngai:
Yeah. So it's summertime, so this is actually relevant now. So imagine if you're having a barbecue and you have a pound of meat that you've prepared and you're going to turn that meat into sausages for the party. So you invite 10 people over. So just visualize in your head how thick each sausage would be for those 10 guests. Now, imagine if word gets out and suddenly there's 50 people coming to your barbecue and you still only have that one pound of meat that you have to feed everyone with. So you're really going to stretch them out and make them real thin so everyone can still get a portion of food or a sausage at your party. So the less people, the thicker the sausage they can have, and the more people you have coming, the less they get with the same amount of material.
Carolina Moore:
The difference being that if you come to a barbecue, you're not hoping for skinny sausage because when do you want not a plate full of meat at a barbecue, right?
Calista Ngai:
Yes, this is true. This is not an ideal barbecue, whatsoever.
Carolina Moore:
With threads, sometimes you do want that skinny, skinny thread because English paper piecing with that handwork, you're making these really tiny stitches and you want them to be as invisible as possible at the end.
Calista Ngai:
Yeah, for sure. So I think that really comes into … That's a big factor. That no longer becomes just a color choice thing. Switching to a different thread weight totally impacts the end result of your work, and using different weights of thread can really change how something looks. If you quilted something with a hundred weight versus quilting something with 50 weight versus quilting something with 12 weight, it's totally different looks and people are always like, "Which one's best?" but really, most of the time there's not truly a best because it really depends on what everyone's personal preferences. It really depends on how you want it to look or what the final result you want to achieve with it is.
Carolina Moore:
No, that makes sense. It's similar to drawing a picture with a pencil versus drawing it with a pen versus drawing it with a Sharpie.
Calista Ngai:
Exactly.
Carolina Moore:
Is the picture better as a pencil drawing than a Sharpie drawing or a pen drawing? It depends on the result that you wanted. So you pick the tool, in this case the thread or the pen, based on the result that you want it to look like at the end.
Calista Ngai:
Exactly, and a lot of times people are afraid to use different thread weights in their machines, but it's like you have these really awesome sewing machine so you shouldn't be afraid to play. It's like if you were told you could only ever use watercolor with this paintbrush and you weren't allowed to use any other type of paint ever with it, that would be really limiting. So I feel like I think about quilting in the same way. You're creating your own art and your own vision and you can really use so many different options and it's actually all mostly okay.
Carolina Moore:
Definitely, and if you don't get the result that you want, maybe you get something better or maybe you go, "Oh, that's what that does," and you learn from it. So you're coming out winning no matter what.
Calista Ngai:
Yeah, like your sewing machine at home takes anything from a hundred weight all the way to a 12 weight thread. So there's really so many different options to play with. We talked about polyester and cotton, but there's rayons and metallics and all sorts of stuff. We have glow in the dark thread as well or reflective thread. There's a lot of different kinds of fun thread to play with and it's not just about the color. There's different weights, there's different material types, they have different sheens and it all gives a different look. You don't have to stick with one type of thread in the same quilt as well. You can definitely play with 12 weight over here and a hundred weight over here. In fact, I usually really encourage that because it creates a lot of layers in your quilting and creates a lot of dimension if you have some thread that pops up more and some areas that recede a little bit more.
Carolina Moore:
Yes, no, I think it was at that first quilt market where I met you that I learned about 12 weight thread, and it changed my life. It was like, "Wait, what is this?" So 12 weight thread, it's almost like as thick as a pearl cotton or almost like an embroidery floss, not quite, but it's getting close to that and it's the thickest-
Calista Ngai:
It feels close, yeah.
Carolina Moore:
Yeah. It's the thickest thread that you can get on a normal sewing machine. So normally when we see things like yarns quilted onto fabric, people have couched it on there, which is a whole different technique, but with your 12 weight thread, I could just run it through my regular sewing machine, and I stitch a little slower because of how thick it is, but other than that, you can just stitch away with this 12 weight.
Calista Ngai:
For sure. You just have to change your needle. That's mainly it. Just use a larger needle eye like a top stitch 9014 or something like that, but the other thing as well is sometimes I always tell people there's a price for pretty. If you want to use the metallics or more specialty threads sometimes, just slow down your speed. Most of the time, that's the main thing when people are like, "Oh, my metallic breaks all the time," I'm like, "Slow down, use the right needle," and usually that fixes most of the problems.
Carolina Moore:
When you're playing with pretty threads, enjoy the ride, slow down, enjoy that view.
Calista Ngai:
I like that.
Carolina Moore:
Yes.
So this is a podcast all about notions and I consider thread a notion because I think anything other than fabric or your sewing machine falls in the notion category, but WonderFil actually has thread notions, so accessories to help your thread.
Calista Ngai:
We do.
Carolina Moore:
Can you talk about some of those? I can talk about some of the ones that I've been playing with, but I'd love to hear you talk about them and if you don't mention the ones that I love, I'll make sure to bring them up.
Calista Ngai:
For sure. I think one of the ones that have been really popular lately is a notion that we launched last year. I believe it's called the Ultimate Thread Dispenser. I wish we had a video so I could just show how it works. I've never had to verbally explain.
Carolina Moore:
I'll link in the show notes to all these things, but it is fun. A lot of people listening to the podcast while they're sewing, so they don't want to get up and go look at something. They want to hear us try to describe it to them and then they can look it up later and see if we did a good job.
Calista Ngai:
Try to describe it and see how closely we did, but yeah, it's essentially a little tool that's going to sit on your spool pin. The spool sits on its own base itself and it turns with very little effort, and it turns really smoothly as well. So there's also a little thread feeder that you thread your thread through and then you sit the whole contraption onto your sewing machine and feed it through your machine as normal. The reason why we have this is so that your spool, when the thread comes off, it's getting fed out perpendicular. So it reduces issues that sometimes happen with, especially more specialty threads or threads that are more slippery that can pool or things like just making the metallic work a little bit nicer because it doesn't induce any extra twist in the thread when it comes off the spool because when it comes off the spool usually, the thread comes off around the spool, but sometimes that can cause issues with tension or just adding extra twist to the thread that if it's more of a finicky thread can have problems sometimes.
When the thread is coming off the spool perpendicular versus how it usually comes off where it goes round and then comes off the thread, it gives it a more even tension throughout when it comes off to the spool and feeds into your machine. It's like how the spool was wound is how it's coming off as well. We have these huge machines that wind these threads perfectly with perfect tension. So when it can come off the same way, there's no extra pull or twist that's happening to the thread and it just reduces issues that happen with sewing with specialty threads sometimes, especially metallics.
We definitely recommend this tool a lot to people that like to sew with metallic thread because metallic has the best memory of any thread, so it remembers its shape on the spool, so it likes to curl itself up a lot of the times, and using a tool like this really just straightens out the thread before it goes into your machine so you don't get any of those issues with it twisting up on itself or breaking before it even goes into your machine as well.
Carolina Moore:
So I have one of these, and I was hoping that this was one of the ones that you would talk about because I loved it the first time I tried it, and to me, I described it as like a little merry-go-round for your spool. So your spool sits on top.
Calista Ngai:
That's okay. You're doing a much better job than me already.
Carolina Moore:
No, no, that's okay. This is also a job of a podcast host. Let me repeat what you said but in different words, and between our two sets of words maybe the image will have been created. So yeah, it's a little merry-go-round for your spool that sits on there, but instead of … Like when I was a kid on, what do you call them? Did we call them merry-go-rounds? The spinning things at the park where you'd have a friend on the outside and they would kick and kick and kick to push the merry-go-round as fast as you could, right? This doesn't have that crazy friend making it go too fast because you're the crazy friend stepping on the pedal making it go really fast and this helps control it.
So yeah, you talked about that pooling of thread when your spool of thread has that residual spin that keeps that centrifugal force of it keeps going around and now it loosens all that thread and it pulls on the bottom. So the next time that you start and you push on that pedal to keep going, that pooling gets tight and ends up almost creating a knot where then the thread snaps.
Calista Ngai:
I want to say this feeds your machine the exact amount of thread it needs. It's not going to have extra slack anywhere.
Carolina Moore:
It was just magical. I actually got it because I have a baby lock machine. I'm a baby lock ambassador, and I have a baby lock machine that I covered in rhinestones because why wouldn't you do that? That's a very normal thing for people to do, right?
Calista Ngai:
Amazing.
Carolina Moore:
The spool, to get the spool to feed off properly now that the base has been covered in rhinestones, you could put a little felt pad there and that does an okay job, but I wanted to use a metallic thread because why would you have a blinged out machine and then not use blinged out thread? That's just silly. So I got some of your ones.
Calista Ngai:
Makes sense.
Carolina Moore:
Right? So I got some WonderFil metallic thread to … Actually, I do piece with it, but not a lot, not with the metallic thread. I do open a little bit because it's just fun, and that's when I started playing with that. See, to me it's called a spool holder, but you had a better name for it. It actually has a right name.
Calista Ngai:
It has a name, the Ultimate Thread Dispenser.
Carolina Moore:
Ultimate Thread Dispenser, yes, and it just worked so well, and it's not a big obtrusive thing on the machine either. If you have it at a retreat, people aren't going to go, "What is that?" and if they do, it's like, "Ooh, what is that? It looks cool," but you have some other thread specific notions. I know you were showing me you have a special caddy holder for all your thread as well.
Calista Ngai:
Are you talking about the thread tamer?
Carolina Moore:
Is it the thread shelf?
Calista Ngai:
Oh, the thread bank.
Carolina Moore:
There you go. Yes, the thread bank.
Calista Ngai:
Yes. The thread bank is also one of our newer notions. Now, this one's not one that actually helps you, but it could in a way that it helps you organize all the thread that you have in your sewing room. People often ask how to best store thread. The main thing that we say … Thread usually isn't too fussy to store. The main thing I would just say is just don't keep it in direct sunlight because the UV can degrade it and the color and stuff like that over time, but the thread bank is a really nifty storage device. I know a lot of us have racks with the pins that we put on the wall, and we usually like to have it organized by color and it looks really aesthetic. That is really nice, but then it's also when you add-
Carolina Moore:
Guilty. I'm so guilty.
Calista Ngai:
You're guilty of that?
Carolina Moore:
Oh, yeah. I have a huge … It's a double rack of thread that's in the background of a lot of my videos. Yup, 100%, totally have it. Yup.
Calista Ngai:
If you end up adding, if it's in rainbow order or something, if you end up adding three spools of red and two spools of blue, then you have to shift everything over by three spools to put the reds back in the red section and to keep it all color coordinated still. It's nice, but it's not a quick, easy system sometimes.
Carolina Moore:
Oh, sure.
Calista Ngai:
Again, this is just another option for people to have, but what this thread bank is, it essentially fits onto any shelf, and they're mini shelves themselves of thread. So you can organize them. We have spots in the front so you can label it. So it just tucks into your wall or into your shelf. The cool thing is when you pull the shelf out, it actually does a 90-degree turn so then you can see all your threads in front of you and easily take one out or put new ones in and then turn it back and slide it into your wall.
Carolina Moore:
Like those really fancy spice shelves that people throw the spices in except this when you pull it out, yeah, it turns 90 degrees, so you're not having to tilt your head over to the side and try to look at it. It tilts to the side.
Calista Ngai:
You don't have to pull the whole system. You don't have to pull the whole system out. It just easily glides out on these rails and then turns to the side so then you can see all the different threat colors that you have or if you want to add more inside, they're easy to just take out and put back in and they're easy to organize as well.
Carolina Moore:
Yes. Now, you mentioned the thread tamer as well. We're just going to go through a whole list of notions.
Calista Ngai:
Thread notion. Well, it is a notions podcast.
Carolina Moore:
Right?
Calista Ngai:
I know we got to talk about all that.
Carolina Moore:
I do. I legit love notions, 100%.
Calista Ngai:
Yeah, the thread tamer was, I think that was actually our first wonderful notion. I hope I'm not wrong about that, but I do think that was the first one that we put out, and that was … It's created for sewing with specialty threads as well, especially with … This was before we had the Ultimate Thread Dispenser. So it's like a thread stand, but there's actually three pins in the back instead of one single pin. The reason is sometimes if you want to sew with two threads through the needle eye, then you can place them in the back of the thread tamer and then feed it up through the thread stand together and so it just is able to feed multiple strands through versus just using one thread at a time when you sew.
The bottom of the thread stand also has couching slots. So if you like to do couching, the threads feed through the bottom so then you can have a really nice way of feeding not just one thread through there as well. You can feed up to three for the couching slots. Also, it comes with a horizontal spool pin as well for more cop sized spools, again, so then you can feed the thread off perpendicular from the cops and get those to work easier and nicer as well.
Carolina Moore:
What did you call it? A cop sized spool?
Calista Ngai:
Yeah, a cop sized spool. They're just smaller spools.
Carolina Moore:
Okay. So the size that InvisaFil comes on?
Calista Ngai:
Even smaller than that, actually. They're a little bit shorter, not as long as the InvisaFil small ones.
Carolina Moore:
Oh, okay. I'm learning all kinds of new things and getting so much smarter. See, that's really why I'm doing the podcast.
Calista Ngai:
So then you can learn as well.
Carolina Moore:
Because I want to learn all these things, right?
Calista Ngai:
For sure. No, yeah, so this tool is also just for sewing in more ways and using more than one thread to sew as well. It can also just be used as a regular thread stand also. So it's like a multifunctional tool.
Carolina Moore:
So cool.
All right, and there's Wonder Guard.
Calista Ngai:
Yeah, Wonder Guard is like a self-adhesive tape thing. They're cut to size for a spool, and so you can actually sew with them on or you can just use them as thread storage as well because you just wrap it tightly around the spool so the thread doesn't come loose when you're storing it away because some threads just like to pool a little bit even when you're not sewing with them, the more slippery threads
Carolina Moore:
They just jump off and dangle down all over.
Calista Ngai:
Exactly. So then you could use something like that to wrap around your threads so they just stay nice and clean and organized as well or if you don't use some spools as much, it just keeps the dust off of it, but when you are using these on your machine, which you can do, it's different than a thread net where I feel like thread nets actually just end up pulling up sometimes from the spool and it doesn't really help regulate the thread off the spool that well, but the great thing about Wonder Guard is you can use it for your storage. You can also use it when you're sewing with it. What you want to do is when you are sewing with it, loosen it so it forms more of a sleeve around the thread and you know you've done it right when you pick up the Wonder Guard and it moves a little freely on the spool, it's not wrapped super tight around such that you can't move the Wonder Guard up and down on it. When you can move it up and down, then that's about how loose you want it to be.
Then you just thread your thread through normal on your machine. It does something similar to the Ultimate Thread Dispenser where it just prevents extra thread from coming off so you don't get too much extra slack and you don't get as much pooling happening, but this is more for if you're sewing with it on your horizontal spool pin because on a vertical spool pin, the thread would want to feed off the side. So it wouldn't really work with the Wonder Guard that way unless you had it on a thread stand.
Carolina Moore:
Oh, see, and I always thought it was just plastic wrap for your spools but cut to size and perfect for the size of your spools, but you can actually use it while you're using your thread.
Calista Ngai:
Exactly. Yeah. We have actually a lot of videos on our YouTube channel as well. So if people are interested or want to know how it works a little bit more, they can always check it out on there.
Carolina Moore:
That's awesome, and definitely I will link all of that in the show notes as well so people can find these. I don't know who's in charge of naming the notions, but I definitely want to know who named the Bobbinator.
Calista Ngai:
Okay. Actually, that's the one tool Andrew didn't name. So Andrew's our founder. He's also my dad.
Carolina Moore:
I love that you call him Andrew. That's hilarious.
Calista Ngai:
I know. It's a habit when I'm at work, but he usually names every product that we have, but I remember when he came out with this tool, which is the Bobbinator, he was stuck on what to name it, I think, and we ended up just doing a poll around the office and everyone submitted different names, and I think someone submitted Bobbinator and that was the one that won so that's the one we went with.
Carolina Moore:
That's awesome. Give them a raise immediately.
Calista Ngai:
I know, right? I think it's one of the most memorable product names that we have.
Carolina Moore:
So how does the Bobbinator work? What does it do? Why do we need one in our lives?
Calista Ngai:
So the Bobbinator is this little device. It almost looks like a little bit of a tube shape, and there's two compartments to it. So on one side, so in this tube there's like a divider and it divides one compartment to hold three spools, and then it divides another compartment to hold or not spools, sorry, three bobbins, and it divides another compartment to hold one bobbin. The compartment that holds one bobbin actually has a slit in it. So you can actually feed your bobbin thread through that slit while it's inside this Bobbinator, and you can use the Bobbinator on your sewing machine to sew. You can turn your bobbin thread into normal sewing thread. So that's one usage of it. You can use your bob and thread, especially if you have random bobbins laying around where you want to use the last bit of thread. It's a great way to use up that thread and be able to sew with it on the top.
Carolina Moore:
Yup. I love using that thread, those random bobbin bits for making the rope bowl cozy, like the rope bowls, and so zigzagging with all the different random using up all those threads. Fabulous for that.
Calista Ngai:
Yeah, one way … That's actually a great way to use it. Another thing is a lot of people love to EPP or applique with our DecoBob, which is the 80 weight thread that we have. So all our pre-wound bobbins are wound with this 80 weight DecoBob. So with the Bobbinator, it becomes a little bit of a transportation device as well where you can store a couple colors and it keeps all your threads neat and tidy within this one device, and it's easy to carry around in your pouch or your little sewing kit when you're stitching on the road or wherever you are or if you just want to pull out a couple threads. It's just a really easy organizational tool, and you can put a bunch of bobbin colors in it and it's just great for that.
Carolina Moore:
When someone ask you, "What is that?" you can say, "Oh, that's my Bobbinator."
Calista Ngai:
Yeah, exactly
Carolina Moore:
Right?
Calista Ngai:
Yeah, I know a lot of people really like using that for their hand sewing and just carrying a couple colors around. It makes it really easy, especially if you ever go to classes or retreats and things like that and you just need a little bit of thread and you don't want to carry big spools around, this is perfect, especially because the DecoBob pre-wound bobbins holds so much thread on them. The class 15 ones hold 135 yards each. So even in this really small device, which is probably a couple inches tall, it can hold four to 500 yards of thread in a few different colors.
Carolina Moore:
That's crazy. I don't sports team, so I don't know how many football fields that is, but it's a lot of football fields. It's a lot of them. Oh, and I love that you use yards because you're in Canada, and in Canada, are y'all yards people or are you meters people in Canada?
Calista Ngai:
We're on the metric system. I feel like sometimes it's a little bit of a mix though maybe because we are so close to you guys, but most things are mainly metric, but because I come and do a lot of events and stuff in the US and a lot of our customers are in the US, I've learned to do some quick conversions in my head, but the one I can't figure out is Celsius and Fahrenheit. I get very confused with that one.
Carolina Moore:
Yeah, no, nobody can do that one in their head. That one, mm-mm, no, no, no. It's just, "It's really, really cold," and then someone tells you a number, they're like, "It's this many cold," and you go, "Oh, wow, that's cold." That's the answer. You don't actually know. You don't know the translation what that is. It's just a number and they're impressed with how cold it is so that's really cold or, "It's so hot. It is this many hot." "Oh, wow, that's really hot." You just-
Calista Ngai:
Usually we don't have to talk about how hot it is because where our head office is in Calgary, it doesn't get that scorching hot, but usually in the winter that's when it gets really cold and I often tell more stories about how cold it is.
Carolina Moore:
Yeah, it's summer here and we've been having a heat wave and where my mom lives, I think it got to 117 Fahrenheit, and I don't know what that is in Celsius, but I can tell you that's really, really hot. It's really hot.
Calista Ngai:
I can imagine because last year I was in Palm Springs for a event and it was in July and I think it was 110 and I think that was the hottest I've been in my life. So I can't even imagine it being seven degrees hotter.
Carolina Moore:
No, no. Your body just starts cooking at that point. The world is just trying to bake you. It's not fun.
Calista Ngai:
I was going to say I know we got a little off topic, but we were talking about bobbins, and I wanted to say bobbins are actually, I feel like that's an important notion to talk about too because I know a lot of people maybe don't think that there's really a need for pre-wound bobbins sometimes, but pre-wound bobbins I would say, I talk about the convenience factor last. It is really nice to not have to wind your own bobbin and that is a big feature of pre-wound bobbins, but the thing is pre-wounds actually give you better tension and the results of your stitching are going to be, they're going to be noticeably better than a self-wound bobbin because these bobbins are wound so perfectly at the factory and they have perfect tension on them.
So especially if you're doing embroidery, it's very noticeable, and if you're doing multi-directional sewing, you're not going to get any additional tension problems from the bobbin at least. It is important because you're moving your machine and moving it side to side. You don't want there to be any additional tension issues, whether that's from your bobbin or your top thread that makes your thread break while you're doing all your free motion quilting.
Carolina Moore:
So I've heard some people say that you should put the same thread in your bobbin that you have on the top, but that's not the case, right?
Calista Ngai:
No, absolutely not, especially because earlier we were talking about 12 weight thread, right?
Carolina Moore:
Yes.
Calista Ngai:
There's no way that 12 weight thread on the top and bottom of your machine would work well. I think your machine would be making a lot of clunky noises if that happened. So it's definitely a myth that I would like to bust here today. You don't need to have the same thread top and bottom to get … I know people usually think that's the thing to get their tension to match and be correct and stuff like that, but you can use any thread on the top that's from a hundred weight to 12 weight. For the bobbin thread though, we usually do like to recommend a lighter weight thread. For one, a finer thread is going to last longer in your bobbin so you don't have to change it as often, which is always a plus. Two, there's no reason usually you would want to add more weight or bulk to your projects than you actually need. There wouldn't be a purpose to use more thread than you actually need in your quilts.
So by using a lighter weight thread, you're making your quilts softer. If you're using a lighter weight thread, it won't be as stiff, and especially with machine embroidery as well, using a lighter weight bobbin thread, your embroidery is going to feel a lot softer than if you used 40 weight top and bottom. It's going to be a lot more stiff. Sometimes that just doesn't look nice either. It's like you have a embroidery that just never moves on your shirt and it looks like a little plate on your chest. So using lighter weight thread is often preferable, especially if you're piecing as well because you want to reduce the bulk in your seams whenever you can so then you get flatter seams and it's easier to match everything up.
I would definitely say lighter weight thread in your bobbin, and then it doesn't really matter what you have with it on the top. I always say your threads are just holding hands and you don't have to be the same height to hold hands in real life. You can be a tall person and a short person and you can still hold hands, and that's the same with your thread. They can be a higher weight thread and a lower weight thread and they can still get along fine.
I would also say if you're worried about how your stitches look or your tension or anything like that, it's always good to sew on a test piece. So if you're going to be quilting on a quilt sandwich, then test it on a quilt sandwich. Replicate your stitches on the same thing you're about to sew on because that'll give you the most accurate test. If you tension your machine on a single piece of fabric versus then going to your quilt sandwich, I'm wondering why it doesn't look the same anymore, it's because your machine is not tension for the same amount of material that you're about to sew on. So it's really important that when you test your tension as well, that you're testing it on the same type of thing that you're about to sew on so you can get the most accurate representation of how it's going to look like.
Carolina Moore:
That makes total sense. You mentioned something and you said it really quick, but I think it's really huge, especially since your pre-wound bobbins are all the 80 weight DecoBob. When I sew, usually our top thread is somewhere a 40 weight thread is pretty common for a top thread or maybe a 50 weight, somewhere in there. Yeah, probably 50 weight, right? So 50 weight thread is pretty common, but your bobbins are an 80 weight, which means that you've got more sausage for less people, which means your thread is skinnier. So that means you got more sausage on that bobbin to be able to have it last longer and you get more seams out of that bobbin because it's that finer thread.
Calista Ngai:
Exactly. Yeah, because it's finer, it lasts a lot longer, which is a plus because no one loves changing their bobbins all the time.
Carolina Moore:
No. Shocking. None of us love it.
Calista Ngai:
No, and it's actually really crazy because I feel like if you sew a seam and you use your normal thread, if you go or normally what you do and you use a 50 weight top and bottom versus if you go and use an 80 weight top and bottom for your piecing, you're going to be able to tell immediately how much flatter all your seams lay. With using lighter weight threads for piecing, you're actually able to reduce your stitch length and get a stronger seam because you have more stitches per inch holding it together and it still is flatter than using 50 weight top and bottom.
Carolina Moore:
That's so awesome.
Calista Ngai:
You get more accuracy as well because you have a shorter stitch length, especially if you're doing projects that are small or if you have curves in your project or you need really precise piecing, using a finer weight thread is amazing for that.
Carolina Moore:
You're like, "And, and, and, and here's all the reasons that it's so good," and I'm just sitting here nodding, which I'm assuming everyone else as well. We're just nodding, "Oh, yeah. Yup, that makes sense. Oh, yeah, yeah. I'm sold. I'm sold." Oh, this has been so fun chatting with you.
Calista Ngai:
I know.
Carolina Moore:
Is there anything else that we want to make sure to add?
Calista Ngai:
Honestly, this is going to become a two-hour episode, I think, if I keep talking about different types of threads, but I think we covered a lot of our notions that we have and we did cover a little bit of understanding some thread basics and stuff like that. So I hope this actually gets people interested in learning more about thread as well. Like you said earlier, a lot of the times the first thing you think about is really choosing what color versus thinking about the make of the thread or the weight of the thread, but I hope people start thinking about those as well and realizing what a difference thread can make in your work.
Carolina Moore:
Yes, for sure, and people have to let us know if they want you back for season two where we can just go through the whole lineup of all the different threads. I don't know, that might be cross between season two and season three, depending on how much we have to talk about the weather.
Calista Ngai:
Anytime. Just let me know.
Carolina Moore:
All right. Let people know where they can find you, and also, you have Threaducators if they know a shop and they want to have their shop bringing a Threaducator or they've got a guild that should bring in a Threaducator, right?
Calista Ngai:
Exactly. So first of all, I'll start with our social media. You guys can find us on Instagram at WonderFil Specialty Thread, and we post lots of hints and tips and thread knowledge on there. So definitely follow along and a lot of inspiration as well. We have a Facebook, that's WonderFil. I think you would just look WonderFil Specialty Threads as well, and a YouTube page as well, which we show sometimes technique-based videos, sometimes project-based videos. You can also join our newsletter if you want to know what events we'll be at. Sometimes we do make and takes, educational sessions at events that we'll be at and for whether you're a store owner or if you're part of a guild that's looking for more thread education, we do do events as well. So you can reach out to us anytime on any of our social platforms or on our website, wonderfil.ca. There's a Contact Us section so you can find us there or email us there as well, but any way that you choose to contact us, I'm sure we'll get back to you no matter where it is.
Carolina Moore:
You are awesome. Thank you so much for this time. I've learned so much. I hope everyone else has learned more as well, and even maybe has questions that they want to go find the answers to and learn more about thread. So thanks for coming.
Calista Ngai:
Thanks for having me. It was so fun talking about thread today.
Carolina Moore:
Bye.
Friends, that's our episode for today. I hope you loved it as much as I loved having this conversation. Remember that you can find all the details that we talked about in the show notes, and those are all at ilovenotions.com, and make sure to leave this podcast a review in your favorite podcasting app. Leaving it a review will help the podcast algorithm show this podcast to other people who love notions just as much as we do. Friends, that's all I have for you today, but I will see you right here real soon. Bye for now.