Patti Carey of Patti's Patchwork
Patti lives in Southern Ontario, and has held many roles in the marketing department since she started with Northcott in 1986. She is currently their Vice President – Public Relations. She travels to quilt guilds and shops to inspire and educate quilters with interesting and entertaining presentations on how fabric is designed, and how to use it to our best advantage.
Her quilting journey began in 1987 when Northcott made the transition from fashion to quilting fabric. She has designed many quilts for Northcott and for numerous quilting magazines since 1995 including The Quilter magazine, Love of Quilting and Easy Quilts and continue to contribute to the Golden Peak Media group of publications including McCall's Quilting and Quiltmaker. In 2008 she started publishing her comprehensive line of quilt patterns that utilize efficient and time-saving techniques. She specializes in designing quilts using panels and border stripes.
Her first fabric collection released in 2019, and she is the inventor of the E-Z miter tool!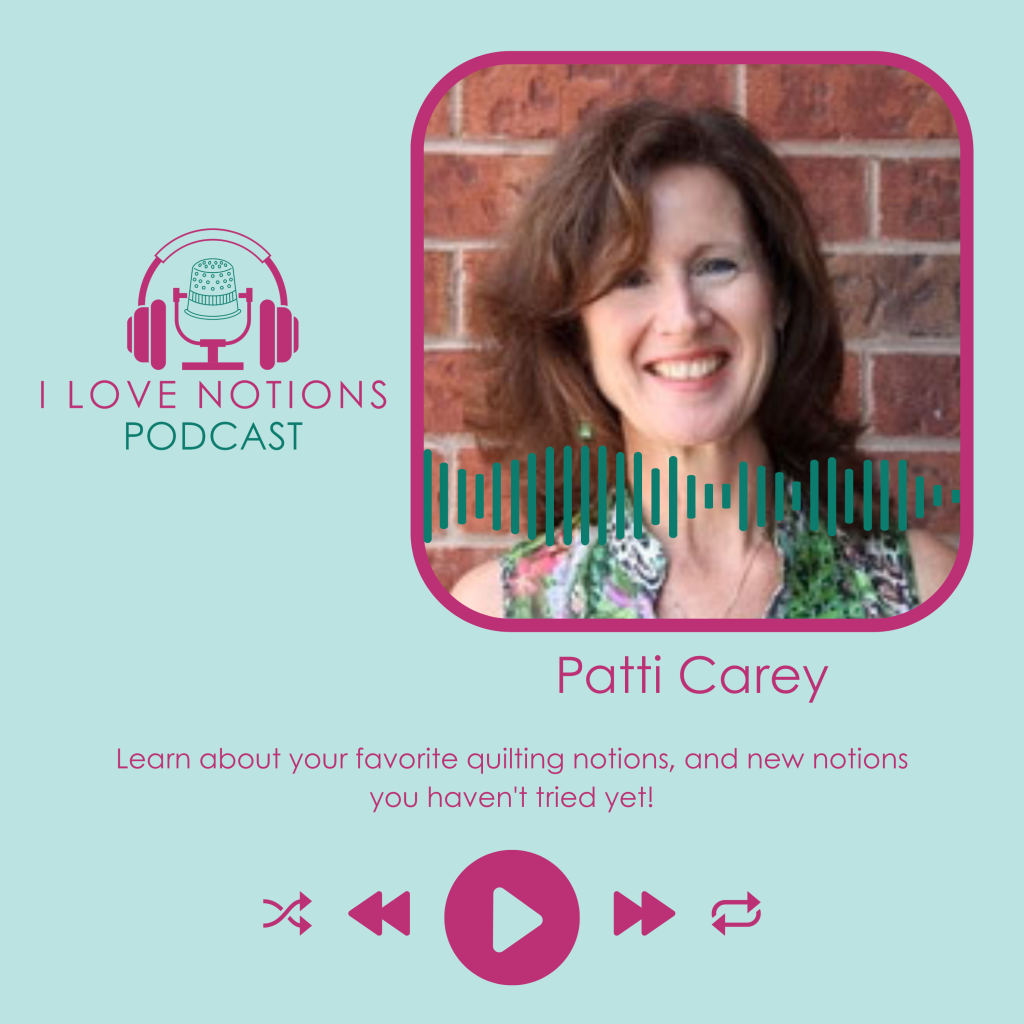 Show Notes:
Get details on Patti's World of Quilts Travel, Deb Roberts cruise in February here
Check here for updates on the 2024 Alaskan Cruise with Watergirl Quilts
Find Patti's website here
Shop for the EZ Miter tool here
Follow Patti on Facebook
Check out Patti's Instagram
Subscribe to Patti's Youtube Channel

Listen to the episode with Patti Carey:
Follow these links to popular podcast players:
Listen and subscribe here on Apple Podcasts
Listen and subscribe here on Spotify
Listen and Subscribe here on Google Podcasts

Transcript of the interview with Patti Carey:
Carolina Moore:
I love notions and I'm guessing that you do too. Hey there, friend. It's Carolina Moore, your favorite sewing and quilting YouTuber, and now podcaster, here with another episode. So today, I'm here with Patti Carey of Patti's Patchwork. We'll get into her notion, which helps with binding in a little bit. But first I want to introduce you to Patti and we can learn a little bit about her story. Patti, welcome to the podcast.
Patti:
Thanks for having me, Carolina. This is great.
Carolina Moore:
Yeah, I'm so glad that we could connect. So tell me about your journey into quilting. How did quilting find you or how did you find quilting?
Patti:
Well, I wear many hats. One of those hats is as the marketing director for Northcott Fabrics. I have been with Northcott for over 35 years.
Carolina Moore:
Oh, wow.
Patti:
I know. Pretty awesome. It's a really awesome company to be associated with. In fact, many of our employees have… Our team, actually, we are a team, have been there almost as long as I have. So it's quite awesome. So at the time I joined Northcott, we were doing fashion fabrics, designing and printing fashion fabrics for the sewers out in the world who were making garments. And that market changed in the late '80s, and we converted to quilting fabrics because quilters were using our summer cotton prints for making quilts. So we changed to quilting and I had to learn how to quilt because I was responsible for making the displays when we went to our trade shows. So I just kind of learned how to quilt. And gradually, as any quilter knows, quilting kind of takes over your life.
I used to do lots of other hobbies, but gradually, quilting started creeping into my time to do all those other hobbies, and it became rather consuming for me. So quite a few years ago, when as part of my job at Northcott, getting pattern designers to design with our fabrics, kind of a plan that I devised to help our marketing team, we had some collections that pattern designers weren't necessarily wanting to work with, and I thought, "We need patterns for these." So I jumped in and said, "This is a good use of this fabric. Let me design a quilt using this fabric." And so that's how my pattern journey started. And so now I work part-time with Northcott on their management team, and the bulk of my time is spent working on my pattern business, which is Patti's Patchwork.
Carolina Moore:
That's incredible. And if there's any pattern designers listening, I'm sure they're jealous that you started out your pattern design career already with a backing of a major fabric company. That's incredible.
Patti:
It has definitely helped. But when I look at designing a quilt, I look at it from the opposite end of how most quilters do. Most of my quilt patterns, my quilt designs start with the fabric collection as opposed to wanting to design a quilt. So I'm looking at the fabrics and I'm trying to find what I think is the best use for those fabrics. So I want to use those fabrics to their best advantage. And what type of quilt design can I come up with to do that, to showcase that? So, and over the years, I've traveled to speak to many guilds, do workshops. I've been on quilting cruises that I've taught on. And I was doing one of my favorite workshops, and it's on doing different types of borders, including mitered borders. I've been doing mitered borders on my quilts for years because I find that they're, especially when I do multiple bordered quilts… So a quilt that might have three or four borders on it, it's faster and easier to sew all those borders together as single strips because strip piecing is fast and quilters do it all the time.
So sew all those strips together and miter it and put it on the quilt. And most cultures seem to be deathly afraid of miters, but once I show them how to do that, then they're sold with this as well. So when we do the mitered borders, we measure the quilt, we miter the border before we put it on the quilt using the measurements, just taking the measurements from the quilt, and that way, you get a perfect 45-degree angle because you're cutting that 45-degree angle before you start. And so once you put those borders on the quilt, then you just sew the miters closed, and bam, you're done. So I was teaching this workshop at a guild that was about a four-hour drive away from me. And when I was doing the workshop, the quilters really got the concept of the mitered borders, but what they struggled with was where to mark, where to start and stop sewing because you need to start and stop sewing on the seam line.
And they were measuring incorrectly when they were trying to mark, some of them were. And I thought, "How can I make it easier for them?" And so on my long four-hour drive home from that guild, I thought, "I really need something, just thing that will help them with that. And that's where I came up with my E-Z Miter & Lone Star tool. It's just this tiny little, like an inch and a half by three inch acrylic piece that has holes that are perfectly positioned to mark where to start and stop sewing the miters, and you just plunk it down in that mitered angle that you've already cut. The instructions are in the tool as far as how to measure, and you plunk it down and mark your dots, and then you sew from to dot and it works just like a charm.
Carolina Moore:
You touched on a lot of things that I want to ask you about, and the first is a concept. There are certain things within the quilting industry that just fascinate me, and one is notions. I love notions, hence the entire reason for a podcast. But another thing that fascinates me in the quilting industry is this fear that we create around a idea or a technique.
Patti:
Absolutely.
Carolina Moore:
Curves is a common one. And it's funny because there'll be people who say, "Oh, no, no, I don't sew curves." And then you'll ask them, "Well, what quilt did you try sewing curves on?" And they'll say, "Oh, no, no, I've never done it, but Jan told me that curves are hard, and if Jan can't do it, then I don't want to do it." And then you find Jan and you say, "Jan, I'm curious. I heard that you're afraid of curves, and I'm wondering what quilt you tried sewing curves on." And Jan will say, "Oh, well, I mean, Margaret told me that curves were scary. So if Margaret can't do it, then I definitely don't want to do it. And so I don't sew curves."
And so you find Margaret, and Margaret's like, "Well, I learned from Susie, and Susie doesn't do curves. And if the person who taught me how to quilt doesn't do curves, then there's no way that I…" And so we've created this generational fear within generations of quilters of "I can't do a thing because if she can't do the thing, then clearly I can't do the thing as well." I was guilty of this very early on in my quilting career as well. So I think that calling it out and naming that and knowing, hey, just because this fear exists from previous people doesn't mean that it's legitimate for them even, let alone that it should be legitimate for you. So I don't know. Is that an experience that you've had with quilting fears?
Patti:
Yes, I think so. I guess I started off with the sewing background because my mom taught me to sew when I was a kid because I wanted to. I wanted to learn how to sew. I was very craft-oriented. And she was a beautiful sewer, made all our clothes when we were kids, so we were the dorky kids going to school.
Carolina Moore:
Oh, I don't think you were the dorky… You were probably the kids with the custom clothes that everyone was like, "Oh, we're all wearing the same clothes that came from the same department store. But you have specialists."
Patti:
Yes, but we had the homemade jeans and we always wanted the Levi's jeans, but maybe our friends thought, "Oh, we want those homemade jeans." So I guess coming from the sewing background where curves are something that you sew when you're sewing a sleeve, you're sewing curves, I guess I have that background. But I think quilters, I like to tell them they're better at things than they think they are. They do way more math. Quilters say, "Oh, I hate math." But they are actually very good at math because every quilt pattern has math in it. They sew a scant 1/4-inch seam. That is not an easy thing to do, when you come from garment sewing, that's a five-eights inch seam. There's lots of wiggle room there, but when you have a 1/4-inch seam on a quilt, there is very little wiggle room or else your blocks don't fit, your piece order doesn't fit. So quilters really do have very fine motor skills and can do a lot more than I think they give themselves credit for.
Carolina Moore:
I agree. I think that's a good way of putting it.
Patti:
Yeah.
Carolina Moore:
A mitered border. Can you describe what a mitered border is in a quilt for people who either have never made a quilt with any borders at all or who have just done traditional straight edge borders but have never tried that mitered corner before?
Patti:
Yeah, a mitered border is, I like to think of borders, now that I do a lot of modern quilts now as well as traditional quilts, but to me, a border on a quilt is like a frame. And so it's just like that picture frame. When you imagine a picture frame in your mind, it has those angled seams at the four corners. And carpenter will tell you those are 45-degree angles. So the angle is, in quilting math, it's 90 degrees, it's a square, and ideally two 45-degree angles, which is a miter for most square quilts. That will make those two pieces of fabric line up beautifully. Now, carpenter will tell you a 46 and a 44 add up to 90, but it's not as pretty as two 45-degree angles. Especially, I started doing mitered borders a lot because Northcott did a lot of, and still does, a lot of border stripes.
And how better to showcase that beautiful floral border stripe or Christmas border stripe or even just a really nice stripe than to put it in the border of a quilt. But when you do that, you don't necessarily want to do straight seams, you want to do miters, so you get all those stripes to line up to match. And that's the beauty of a mitered border. And they're really not hard to sew if you cut it on a 45-degree angle, which we do. We just lay the strip set down on our cutting mat and we use the 45-degree line on our cutting mat or the 45-degree line on our ruler. And then we've got our 45-degree angle. And it's just a case of when I sew them together, even if I miscut ever so slightly, I'll match the stripes instead of getting the pieces of fabric to line up. You can kind of fudge factor those things into your quilting. We do it all the time.
Carolina Moore:
Yeah, I like to say that fabric is organic, and so it has a heart and a mind, and you can sometimes speak to that heart and mind and say, "All right, let's work with me a little bit here. It's not stone, it's not immovable stone."
Patti:
No, fabric is fluid as opposed to, and I see that with Northcott. We design on paper with ink and we print on fabric with dye. So they are different processes. Fabric is fluid, it shifts and moves as it's printed. It shifts and moves as we sew it, so let's get it to shift and move to our advantage.
Carolina Moore:
Absolutely. So you were saying that you were in your car as you came up with this idea, so you were leaving a talk with a guild or a class with a guild, and you were trying to figure out in your mind a way to come up with a solution for this. At that time, was it just a mitered border tool or did you already know, "Oh, hey, this will also work for Lone Stars"?
Patti:
It is funny that you asked that because the first thing that I did think was, "Oh, yes, it's for mitered borders." And then I talked about the concept with a friend. I don't even know if I had designed it and had some produced at that point, maybe I had. And she said, "Oh, it would be perfect for Lone Stars too." And I went, "Oh, my gosh." There was just a light bulb moment for me because I love doing Lone Stars. I love teaching Lone Stars. I do so many quilts that have stars that are the Lone Stars type of quilt. And I thought, "Oh, that's perfect. Absolutely perfect." And it does work beautifully for that. I started marketing it then as the E-Z Miter & Lone Star tool so that quilters can use it for both, because quilters that maybe are afraid of doing mitered borders, but think Lone Stars are easy. You can use it for that, and it makes it so much easier to line up the points on your diamonds for the Lone Star with the setting squares and triangles that you are sewing the diamonds to.
Carolina Moore:
So I've done, well, this is essentially a Y seam, and for someone who's heard, "Oh, Y seams are scary," I'm sure Patti will tell us all, they're really not, especially with this tool, but a Y seam is a seam that looks like the letter Y. Instead of being a traditional like a T seam where there's four pieces coming together in the form of an X or a cross, it's where three seams are coming together. So the shape of a Y has three seams coming together. It's also sometimes called an inset seam.
Patti:
Yes, that's a great way to describe it. The shape of a Y. And quilters are used to doing edge to edge sewing. So we strip piece, which is just the most efficient way to get things done. You cannot sew from edge to edge or strip piece when we are doing those Y seams, those mitered borders or Lone Star seams. We do need to sew to the seam line to where the next seam is going to start, and we have to backstitch, secure our stitches in some way and then take it out of the machine. But it allows us to be able to press the fabric, the seams, in a direction that will work for us, and to get the other pieces to fit in there as well.
Carolina Moore:
Yes. So it sounds like the hole in your tool is where you mark that stopping point, because I've been trying Y seams and inset seams. Sometimes I'll get them perfect, and sometimes if I stitch just too far, I end up getting a little pleat or pucker in that point where everything's coming together.
Patti:
Yes. And I've done so many mitered borders. I've probably done… I haven't even kept count of how many quilts I've done, but I've probably done 800 quilts in the time I've been working with Northcott and doing my own patterns. So that's a lot of quilts.
Carolina Moore:
Yes.
Patti:
And a lot of those quilts, like I say, if I've put multiple borders on them, I'm going to strip piece all those border strips together, miter it and put it on. So most, I would say over half of my quilts, have mitered borders, I could do those in my sleep. I just know now. When I do my workshop, I get people to mark, I show them how to mark, even if they're not using the tool, if they're just using a ruler, I show them how to mark where this 1/4-inch seam is going to cross that 1/4-inch seam, and right where those lines intersect, that's where you have to start and stop sewing or just plunk the roll it down.
I don't need to mark anymore. I know where that is. But I have found, and this really surprised me once I had my tool manufactured, and I thought, "Okay," even though I can know where to sew, I thought, "I just started using it because it made it faster, it made it foolproof, it took all the guesswork out." So I am using my tool to do my Lone Stars and my mitered borders, which really surprised me because like I say, I could do this in my sleep, but it's faster and easier.
Carolina Moore:
I love that.
Patti:
Yeah, it's really kind of cool when you show people that the whole concept of the mitered borders. And when I walk them through it in the border class that I do, they leave the class going, "Oh, yeah, okay, now I can do mitered borders. Yep." No hesitation.
Carolina Moore:
They could do mitered borders before they walked in the class, but now they have the confidence to be able to know that it's successful. And I think that for quilters, when we're walking into a project, it's that confidence of, is this going to look good and knowing that? And then also, I learned this later on in quilting when I worked at a quilt shop and people would bring in projects. There's quilters' technique envy where you show off a quilt and people say, "Oh, my gosh, you did mitered borders?" And then you get to say, "Yes. Yes, I did. And I could show you how you could do it too." And that's really fun that you're at this level of, yes, I've done this really fancy technique, but it doesn't have to be a secret. We can all do this.
Patti:
Yeah, exactly. That's what I love about the quilting world. There are so many different ways to do things, and somebody might try the mitered border and say, "Oh, no, it doesn't work for me." But I say, "Okay, well give it a try. Give it a try this way." There's more than one way to skin a cat. There are so many different ways to do so many different things. And I encourage quilters to try every way.
I learn things sometimes when I'm teaching a workshop, somebody will show me something, a different way of doing something, and I go, "Okay, I like that better." Maybe I'll use that technique now instead of the technique I was using before, because I can see that it will make my life easier. And that's really what I am trying to do with my patterns and with my workshops, is I want the quilters to enjoy what they're doing. I mean, if you're not enjoying what you're doing, find another hobby. But quilting is our passion. We love doing it, and let's make it as enjoyable as possible. That's why I'm always on Northcott. Oh, the fabrics feel, we say cottons that feel like silk. Fondling those fabrics, running your hands over, quilters are so tactile. We love the feel of fabric. We want to touch. We want to just hold it in our hands and work with it because it gives us pleasure.
Carolina Moore:
Now, I want to take you back to that moment that you were in the car and you've got this four-hour drive and you're puzzling through, "Okay, what is the solution to help my students find this success?" And your brain comes up with this idea of the E-Z Miter tool that eventually becomes the E-Z Miter & Lone Star tool. And I think many of us have been in that situation either in the shower or long car drives. Something about those is very hypnotic where we come up with these ideas, but there's that huge jump of turning an idea into a reality. And what did that jump look like for you?
Patti:
Yeah, it was interesting. I had to use Dr. Google to try. I thought, "Okay, so what do I want this to be?" Something that is acrylic, fit the bill perfectly. And I needed the holes to be very precise. They had to be exactly a scant 1/4 inch. So if you picture a mitered angle, one section of a Y seam, you have that one angled edge going to a straight edge. So there had to be a dot there that was at the scant 1/4-inch mark. And then I needed a square corner because you're sewing the border piece to your quilt center, which is hopefully square or has square corners on it. So I needed a square corner. And then recently I've added another dot to it that is at the outer tip of that angle. So it would be the outer edge of the quilt where that angled steam would be.
And that dot is for making Lone Star quilts that are not just Lone Star, that are broken star. Because I do a lot of those too. So a broken star quilt is like the eight diamonds in the center, and then it has another ring of diamonds around that. Well, that adds another level of sewing from seam to seam. And I had a pattern out a few years ago that was quite popular, and as I was making my sample, I thought, "I'm using my E-Z Miter Lone Star tool for this because it was a broken star quilt, so Lone Star based, but how to mark those outer tips? So okay, let's add another dot to the tool, which I just did, because I just ordered another batch of them. So now the tool has three dots in it. So it's super handy for marking any type of Lone Star, broken star, Star of Bethlehem, whatever. They go by many names, but it's super handy for that.
So I would say probably it might get more use for doing Lone Stars even than mitered borders. So I have the advantage of being close to a major center, Toronto, Canada. And I searched online who might do acrylic cutting, and there happened to be a company that was somewhat local. So I reached out to a few companies, asked them to quote on prices, and they sent me back information. And then I used one of them, chose one of them, and proceeded with that, and then figured out what the instructions needed to look like because the instructions really are key. The acrylic, it's there. And the instructions, they're there for anybody. Anybody can make the mitered borders using the instructions, but the tool really makes the life easier. It's plunking that tool down in the corner and marking it. So I just started producing them.
Carolina Moore:
Was that a scary moment for you as you were like, "Okay, I've come up with this idea." I think it's amazing. I've talked to a couple of friends, they think it's amazing. Were you confident that the quilting world was going to say, "Oh, this is amazing," or were you nervous about making that jump?
Patti:
Oh, a little nervous. A little nervous, I must say. It's a leap of faith.
Carolina Moore:
Yes.
Patti:
Having a batch. And a batch, my first batch, it just made economical sense. The manufacturer said, "Well, I can give you a volume discount if you order this number." Well, of course. So there was my first batch of 1,500 tools. So now-
Carolina Moore:
Oh, wow! But it's one of those, the more you buy, the more you save. And it's like, yes-
Patti:
Yes, exactly.
Carolina Moore:
But the bigger check that I'm going to write and that I am going to cross my fingers that I won't have 1,500 units sitting in my garage for the next 20 years.
Patti:
And so fortunately, I've sold them and I've had my second batch produced. I'm partway through selling those as well. So this is working. It's just a case of getting the word out and there are… You know you're reaching out to people, interviewing different people. There are thousands of gadgets out there. It's just a case of finding the gadgets and knowing what the gadget does. For me, trying to show people what the gadget does. When it's hanging on a shelf in a store, how can I make this jump out at someone so they'll say, "Oh, what is that? I need it."
Carolina Moore:
Yes.
Patti:
And I come from a marketing background, so I'm very aware of that, and interested, how can I market this? How can I make the packaging say what it is? Because there are some products that we use that just don't sell themselves, like interfacing. Interfacing sits under the counter at the quilt shop. You have to ask for it because a bolt of interfacing on the shelf does not look interesting. So quilters will not, they'll walk right past it. So how can I bring my gadget to quilters' attentions when they're walking past a wall of gadgets in a quilt shop?
Carolina Moore:
I mean, the notions wall is my favorite part in a quilt shop and looking at the notions. But it's so easy to make an assumption about what an notion does. Like, "Oh, that's a pen," but it's not just a pen. It's a magic pen, and it does a magic thing. But I don't know what that magic is. If I just gloss over and go, "Oh, that looks like a pen." It must be a pen. And then I move on to the next one.
Patti:
So it's up to me as the manufacturer of that to make my packaging tell the story about what this does, because I can't be there to show people. So how can I get them to pick it up and want to buy it?
Carolina Moore:
Wouldn't it be amazing if we could just be in all the quilt shops and hold people's hands and say, "Look, this is how this works. This is how we're going to do this."
Patti:
Yes, my next step is putting that QR code on that takes them to a video that shows what it does. So that's right there on the front of the packaging.
Carolina Moore:
Oh, that's smart. Definitely smart.
Patti:
Yeah.
Carolina Moore:
So you've launched this notion, it's out in the world. People are loving it, buying it. They can get it from their local quilt shops. And so anyone who's listening and is intrigued by this, I definitely encourage you to go to your local quilt shop and ask them if they either have it in stock or if not, if they'll special order it. Because most quilt shops are excited to special order a product for you to get it in your hands, but also to get it on their shelves. Because if it's something that you're excited about, chances are it's something that other customers will be excited about as well. But is this a bug for you now that you like, "Oh, I love creating notions and I want to create more," or is it, "This is my notion, I love this notion and I don't need to create any more after this"?
Patti:
Right now I'm thinking I don't have a burning desire to create any more. But having said that, this notion was born out of a need to help realtors accomplish something and to make their life easier. And if I find down the road of my quilting journey that there is another need that isn't being met, and I can develop a product that will help meet that need, then by all means, I'll jump in and figure out how to go about doing it.
I have the advantage of having a lot of contacts in the quilting industry through my association with Northcott and speaking to many, many pattern designers over the years who have designed patterns for Northcott. And I was fortunate to be able to reach out to a couple of them who I knew were already doing something along these lines, and they willingly shared information with me, which was invaluable to help me market the tool, to help me source people to make the tool for me, because I don't have an acrylic cutter. So I need to source that out, have somebody manufacture that, but I can certainly do the packaging. Okay, where do I find the packaging supplies, all of that good stuff? All the information that I really need to make my product easy for the stores to sell and easy for consumers to use.
Carolina Moore:
Yes, I love that. So what's next for you then? What are you working on?
Patti:
Oh, life is very busy.
Carolina Moore:
I love it.
Patti:
I know my husband is retired. He retired seven years ago. So part of… Like I said, I wear many hats. I'm part-time retired. I'm part-time working with Northcott and part-time Patti's Patchwork. I must say that Patti's Patchwork seems to be taking up almost full-time, so it's hard to squeeze everything else in.
But one of those things that I've been fortunate enough to do, especially recently, is teach on some quilting cruises. So there are two quilting cruises coming up in 2024 that I'm teaching on. One is with World of Quilts Travel, Deb Roberts, in February, going to the Caribbean. And the other one is an Alaskan cruise that is first week of September, and that is through a local shop, Watergirl Quilts. And she's just getting all the ducks in a row for that. And as you know, quilting and cruising is a perfect fit. Because you were just on a quilting cruise that you taught on, and how fun it is to be able to do two wonderful things at the same time, see the world on a cruise ship, which is so luxurious, and also spend time quilting, especially on those days at sea when there might not be so much to do.
So filling those days with quilting with like-minded wonderful individuals is just a fantastic way. I've met some great friends over the years that I've been teaching on quilting cruises, so I'm doing that plus doing a lot of pattern designing. I've probably come out with about 15 new patterns every year, so that's keeping me busy and off the streets.
Carolina Moore:
Keeping you busy and off the streets. That's funny. But that's not so much a concern with us quilters. I think all of our extra cash is being spent on fabric and on fun notions and on things like quilting cruises, which I did my first quilting cruise back in January, and then at the time of recording this, I'm getting ready to go on my second in August, at the end of August. So yes, for sure, two loves of travel, seeing the world and quilting, and hanging out with quilting friends and meeting new quilting friends. So I guess it's like eight loves all at the same time, all wrapped in one ship where you get to see all these different places without having to repack your suitcase between every port. I definitely love that.
Patti:
Yes.
Carolina Moore:
Yep. Although the one thing that unsettled me, my first quilting cruise was also my first ever cruise. And I'm not a high anxiety person, but I was finding myself that first day especially, and then into that second day, having a lot of anxiety while teaching. And it would just be these kind of sudden waves of anxiety that would hit me. And it wasn't just the anxiety that was bothering me, but was I had anxiety about having anxiety because why is this happening and this is not normal for me? And I realized that those bouts of anxiety coincided with the rough seas that we were having a little bit on that journey.
Patti:
Oh, yeah.
Carolina Moore:
Because I mean, you're in Canada, but I grew up in California and live in California. And in California when the ground moves, you dive under a table because there's an earthquake and you don't want the ceiling to fall on your head.
And that's what we've been trained from kindergarten on up is that you duck and cover, we had duck and cover drills, you go underneath your desk. And so when we were having these seas that, I mean they weren't… You could totally still quilt, but you kind of feel your feet kind of rolling underneath you a little bit, very much like an earthquake. And that's the anxiety that I was having of you need to be diving under a table right now, Caroline, because the cruise ship is going to be on your head. You're in a constant earthquake. And once I was able to recognize that, then it was like, "Okay, no, this is not an earthquake."
Patti:
Then you could enjoy yourself.
Carolina Moore:
Yeah. Well, and I could definitely laugh at myself because it's funny. I mean, it's similar to those things that we train ourselves as quilters to be afraid of things. I've trained myself to be afraid of the ground moving, but on a boat, it does move a little bit, and that's okay.
Patti:
It always moves. And then you got your story, you're standing on the pier and you think, "Why is the pier moving?" But it's not. You have your sea legs and now everything when you go ashore feels like you're used to that constant roll that sway back and forth.
Carolina Moore:
Yes. Well, that's fun. It has been so much fun hanging out with you today. Where can people find you online, and other places that you're teaching? I mean, you've mentioned the two cruises, so definitely people… I'll put those in the show notes and people can find those and if there's still tickets available for those, they can book that. But where else can they find you?
Patti:
So my website is pattispatchwork.com. I'm also on Facebook as Patti's Patchwork, and Instagram, and I have a YouTube channel. I'm hoping to be posting some more videos. I'm a, I guess, a hesitant YouTuber. Getting in front of the camera is, it's not so easy, but I try because there are things that I do want to share, and I'd like to do a new video to show how to use the E-Z Miter tool that includes the third hole that I now have in the tool. So I will be doing that sometime shortly, and so there's my YouTube channel as well.
Carolina Moore:
Perfect. I'll make sure that all those links are in the show notes, and you can find those show notes at ilovenotions.com. Anything else you want to add before we close out the show today?
Patti:
I think this has been fabulous, and I look forward to all of your podcasts so I can find some new notions too, because you can never have enough.
Carolina Moore:
Right. I am a certified notions addict, and I definitely need all the notions. They make my quilting life easier, more fun, and also when I'm quilting with the notions that I know the stories behind and the people behind, it always feels like even if I'm alone in my sewing room, I'm quilting with friends. So that's definitely fun.
Patti:
Oh, absolutely. That's a great way to think of it. Excellent.
Carolina Moore:
All right, Patti, thanks so much for hanging out with me today.
Patti:
It was wonderful. Thank you so much.
Carolina Moore:
Friends, that's our episode for today. I hope you loved it as much as I loved having this conversation. Remember that you can find all the details that we talked about in the show notes, and those are all at ilovenotions.com. And make sure to leave this podcast a review in your favorite podcasting app. Leaving a review will let people know that maybe they should listen as well, and it will help the podcast algorithm show this podcast to other people who love notions just as much as we do. Friends, that's all I have for you today, but I will see you right here real soon. Bye for now.